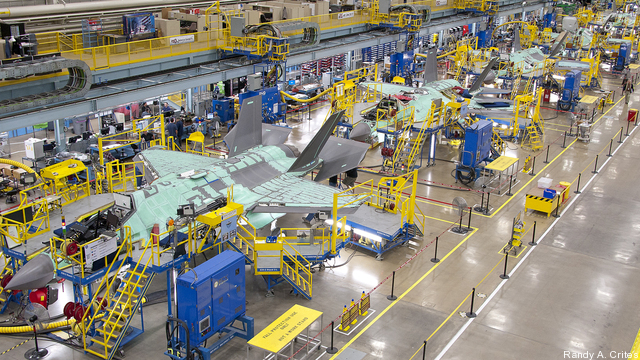 PARIS AIR SHOW: Critics of the F-35 have long wondered why friends and allies have stuck with the program. It can't be, they argue, because of the aircraft's capabilities. It is, they say, years behind schedule, billions over budget and won't be able to deliver all its weapons for years.
Ah, grasshopper, but there are other reasons — aside from the fact the critics are suffering from the time lag, since the program's fixed many of the problems raised by those incredibly careful Government Accountability Office audits and the efforts of the Director of Operational Test and Evaluation.
Some $5 billion of those reasons were on display yesterday when the Danish company Terma and Lockheed Martin signed an MOU giving Terma, Denmark's defense company, a whole lot of business should a new Danish government approve purchase of the F-35.
Terma signed a long-term agreement with Lockheed Martin two years ago for manufacture of composite and bonded assembly parts for the three variants of the F-35. It has also signed agreements for other F-35 work with Northrop Grumman, BAE Systems, General Dynamics, and Marvin Engineering.
I asked Terma CEO Jens Maaløe how many jobs the new agreement might mean for Denmark. He said it would mean doubling the size of his company's workforce from 300 to as many as 700 workers. He declined to estimate how many follow-on jobs it might mean for Danish suppliers to his company. He also said it would mean $5 billion or more for Denmark over the next few years. With a GDP of $335 billion, that is not chump change for tiny Denmark.
Danes head to the polls on Thursday. If the current government stays in power then a decision on whether to fully commit to the F-35 is expected relatively quickly. Should the opposition win, they will need time to analyze the data and the country's finances before coming to what most observers expect will be the decision to stick with the program and buy at least 24 F-35As.
Denmark has been a Joint Strike Fighter partner since 2002. However, as good stewards of their taxpayer's money, the current government is analyzing the F-35A, Boeing's F/A-18 Super Hornet and the Eurofighter Typhoon for the $4.5 billion contract. Each company presented bids for 24, 30 and 36 combat aircraft.
Finland is also expected to make a decision on whether to buy F-35s to replace its fleet of 55 mostly F/A-18Cs quite soon. The French Dassault Rafale, the Eurofighter Typhoon, and the E model of the Super Hornet are all in the running.