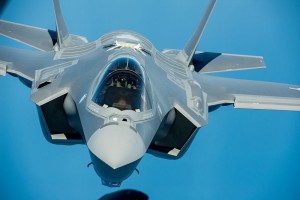 WASHINGTON: The authoritative Congressional Research Service has just published a report asking the questions in the headline.
It;'s a basic problem we've written about before. The Air Force faces a funding crunch in the next six years as the F-35 and the tanker programs ramp up. the B-3 (Long Range Strike Bomber) program gets rolling and the service keeps buying drones and C-130s.
As report author J.J. Gertler of CRS notes, "the four procurement programs (F-35A, KC-46, C-130, and RPA) account for 99% of the Air Force's aircraft acquisition budget" in fiscal 2016. Add these weapons: the proposed T-X trainer, JSTARS recapitalization, Combat Rescue Helicopter and new Air Force Ones; and you've got one big wave. In fact, it may be a budget tsunami, but Gertler doest't call it that — yet..
"The net effect of starting these new programs atop a full procurement budget is a classic 'bow wave' of procurement, with increasing numbers of programs with growing budgets all trying to fit within a fixed budget topline at the same time while building requirements for increased future funding," Gertler notes.
(Breaking D readers will remember that Frank Kendall, head of Pentagon acquisition, has said that the F-35 is no longer protected from budget depredations.)
Is the lifting of the Budget Control Act spending caps enough to fix things? It "does not necessarily offer sufficient relief to avoid program cuts or other funding approaches," the CRS report finds.
So, then come the hard choices. Here are some of the decisions Gertler concludes may be necessary (He's careful to note there may be other ways to fix things):
 Raising the Air Force topline (and/or the aviation modernization share);
 Pusharounds or reductions in Air Force programs and activities other than modernization;
 Reducing annual quantities of the F-35A;
 Further retarding the growth of R&D programs;
 Deferring the KC-Y follow-on tanker;
 Funding the long-range strike bomber (LRSB) through a non-Air Force budget.
None of those are going to be very appealing to Air Force leaders, except for the last one: creating a separate fund outside the Air Force budget, similar to the National Sea-Based Deterrent Fund outside the Navy budget created by Congress for the Ohio Replacement Program, so we can build nuclear missile submarines at the same time we rebuild our surface fleet.
But the fiscal 2017 budget is coming up and part of CRS' job is to make sure its congressional masters can make decisions based on reason and facts. Now they have some. Whether they or the Air Force will pay much attention and act before the crunch comes is, at best, an open question.
(Shameless plug: Check the footnotes in the report!)