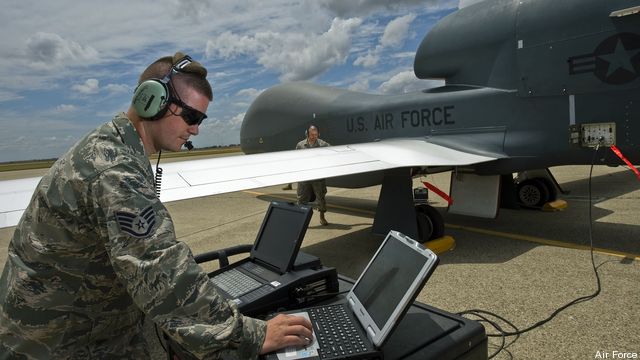 PENTAGON CITY: Hungry for answers on how to make more effective use of the tens of thousands of hours of video gathered by Predators, Global Hawks and other military eyes in the sky, Air Force officials recently visited NASCAR, the car racing people, to learn better and faster ways of mining video data.
"We have a lot of ISR (Intelligence, Surveillance and Reconnaissance) information. We have too much ISR information," Frank Konieczny, the service's Chief Technology Officer, told a Monday lunch organized by the Armed Forces Communications and Electronics Association (AFCEA). "We can tag the data, what latitude and longitude it has… but unless someone can quickly go through it on the spot we can't correlate the data." Most data is tagged by intelligence analysts or airmen days or weeks after a flight so it can be used for change detection analysis, to build more accurate maps or to add data to existing maps.
Why did the Air Force go to NASCAR, you ask? Sports television has pioneered many of the techniques for marking and finding data in a video. For each NASCAR race they deploy a team of six or more data taggers, whose job is to watch the event and –with the help of directors — spot what's interesting and immediately assign it a data tag. That lets directors quickly search through the video, pull the exciting crash, for example, pull it and do an instant replay or build a highlights video.
Watching the NASCAR folks, "we were surprised how fast they did it," Konieczny told me after the lunch. But the Air Force doesn't have enough people to station six or more at a video console to tag the data while each drone is aloft, he added.
The Air Force Special Operations Command does some tagging, he said. The major Special Operations Command sometimes tags videos during high value surveillance. And the National Security Agency is known to tag some of its data in near real time. But Remotely Piloted Vehicles (as the Air Force calls drones) often require more people to fly than do manned aircraft. Adding another half dozen airmen or more to each RPV flight would be an unbearable burden for a shrinking service.
Of course, the issue of tagging is simply another layer added to the woes faced by those who want good data and want it fast and searchable. It has become a monumental task to shift data between the various unmanned systems and move them into the processing, exploitation and dissemination (PED) cycle, as we've previously reported.
Konieczny knows how hungry the Air Force is for ways to better and more quickly scan videos in the constant search for better intelligence and targeting information. He told me they "will probably talk" to NASCAR again, soon. Breaking Defense readers will want to watch our coverage of Geoint 2012 next week when we are likely to write more on how to get more value more quickly from video and other forms of data, one of the hottest topics in the intelligence world.