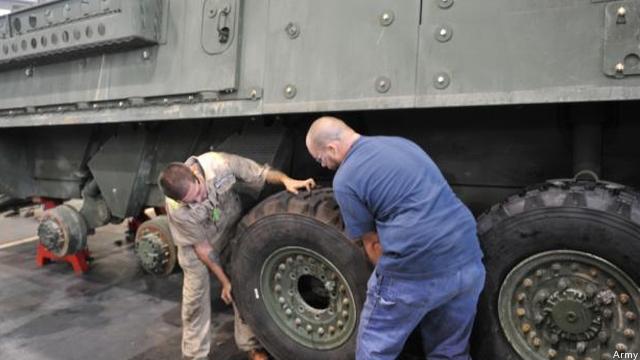 WASHINGTON: As the wars draw down and budgets shrink, the massive Army Materiel Command — 70,000 military and civilian personnel at arsenals, depots, and other facilities in all 50 states — is shifting gears and taking on new missions.
Some longstanding efforts are winding down, explained Lt. Gen. Patricia McQuistion, AMC's new deputy commander, at a breakfast hosted this morning by the Association of the US Army. The command is buying less ammunition and more of what it buys will be training ammo as opposed to live rounds for combat. Likewise, after a massive investment in uparmored Humvees and MRAPs, the Army has more trucks than it expects to need, and it's up to AMC to get rid of them. "As tactical wheeled vehicles come down, we'll be able to divest some of those," McQuistion said.
Some of that surplus will be sold to Iraq, Afghanistan, and other partners as part of the administration's new focus on aid and advisors as alternatives to direct US intervention. "Foreign military sales is a huge growth area for us," McQuistion said, with a record $29 billion in sales in fiscal year 2012.
At the same time, some crucial equipment is in short supply, especially communications gear, where the Army is always racing to catch up to Moore's Law governing chip speed improvements. There's not enough for everyone, so the Army must play musical chairs, and it's up to AMC to shuffle such gear from unit to unit so that troops about to go abroad get what they need, if necessary at the expense of forces that further from their deployment dates.
The huge and hurried investments in communications, counter-IED jammers to defeat roadside bombs, and other equipment meant for Afghanistan and Iraq has undermined the old "G.I." (general issue) model where everyone in the Army had exactly the same kit. That diversity will only continue as the Army moves to modernizing itself in installments, buying the latest "capability set" of upgraded gear for only a few brigades at a time. AMC has actually built a complex web-based program to help supply clerks figure out what unit has what equipment where, down to the specific model year, and how much time and money it will take to ship it where it's needed. (Rolled out last December but still being upgraded, the software goes by the unlovely name of LMI DST, Lead Materiel Integrator Decision Support Tool).
Finally, in a major internal Army reshuffle, Army Materiel Command is taking over logistics operations at every Army base around the world, a function formerly run by Installation Management Command (IMCOM). The transfer of the bases "Directors of Logistics" will be formally complete next week. AMC is taking advantage of its new authority to consolidate contracts for base support services and to squeeze more savings out of industry under a new contracting proces it's ambitiously named EAGLE (Enhanced Army Global Logistics Enterprise).
"As of last Friday they had received 101 proposals," McQuistion said. "47 BOAs [basic ordering agreements] are now in place" — 27 awarded to large businesses, 20 to small — and early in 2013, AMC will "start awarding task orders by installation." Showing a slide of AMC's always extensive and now much-increased array of locations around the US and the world, McQuistion pointedly told the industry representatives in the audience, "What you should see as you look at this chart is opportunities for partnering. We do a lot of public-private partnerships throughout the industrial base."