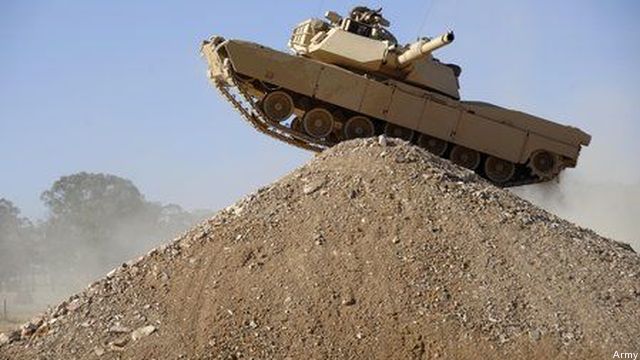 In the difficult years since the 9-11 attacks, the U.S. Army has become proficient at quickly fielding equipment needed by troops at war. From improved night-vision devices to digital radios to up-armored vehicles, the Army's acquisition community has proven it can be responsive when soldiers' lives are on the line.
But a very different story has been unfolding elsewhere in the service's acquisition system. First the Army canceled big-ticket programs deemed to have been overtaken by a new style of warfare, most notably the Crusader self-propelled howitzer in 2002 and the Comanche reconnaissance helicopter in 2004. Two years after the Comanchekill, the service terminated a program called the Aerial Common Sensor that was supposed to replace its aging fleet of planes used to identify and target hostile emitters in wartime.
Then, after a few years of investment in successor programs, the service came back and started canceling them too. In 2008 it killed the Armed Reconnaissance Helicopter that was conceived to replace Comanche. In 2010 it killed the Non-Line-of-Sight Launch System that might have taken over some of the precision-fire missions envisioned for Crusader. And late last year its leaders began sending confusing signals about the fate of the program that was supposed to take the place of the aerial sensor.
Those decisions wasted about $12 billion. But while they were unfolding, Army leaders also managed to expend $18 billion and a huge amount of political capital on a family of networked combat vehicles called the Future Combat System. Described as the centerpiece of Army modernization, that program was canceled in 2009 by defense secretary Robert Gates, who felt it failed to address the lessons of the Iraq war.
The service subsequently canceled both of its next-generation air-defense systems and a "software-reconfigurable" tactical radio that had been under development for a decade. So, after a dozen years of not being able to make up its mind on what soldiers will need to fight future threats, the Army has managed to spend well over $30 billion with very little to show for its efforts. The only part of its modernization portfolio that looks to be in halfway decent shape is helicopters, where it has largely elected to upgrade helicopters developed in the Reagan years or earlier, rather than buy new airframes.
The nicest thing you can say about this non-stop chronicle of wasted money and weak leadership is that the Army has been distracted by more pressing concerns since 9-11. Military transformation was an appealing idea, but it couldn't compete with improvised explosive devices for the attention of senior officers. The Army had a war to fight. In fact, it had two of them.
But with the Army now extricated from one conflict and beginning to wind down its role in the second, service leaders need to give more thought to how they will modernize their fleet of combat vehicles and weapons systems. Unfortunately, there isn't much evidence they have learned from past mistakes.
Their program to buy a next-generation troop carrier called the Ground Combat Vehicle is certain to falter, because it proposes to counter hundred-dollar IEDs with super-heavy vehicles that will cost over $10 million each. Their pricey next-generation jeep, the Joint Light Tactical Vehicle, has recently suffered a near-death experience on Capitol Hill. And a plan to modernize battlefield communication networks — supposedly the service's top modernization priority — is coming unraveled due to the meltdown of a joint radio architecture and pressure from policymakers to reprogram half the funding for the backbone of the warfighter network.
So there is reason to suspect the Army's latest modernization initiatives won't fare much better than earlier projects did. You'd think service leaders would draw the obvious conclusion and hedge their bets by preserving the handful of programs that are going well, but in fact they are proposing to shut down much of the Army's remaining industrial base in order to generate money for new initiatives.
A case in point is the 50-year-old plant that BAE Systems operates in West Manchester Township, Pennsylvania, where the Bradley fighting vehicle is manufactured along with most of the other vehicles used in armored brigades. The Army is proposing to shut down Bradley production, which currently employs about two-thirds of the 1200 workers at the plant. The shutdown would only last for three years, but BAE Systems says it would cost $750 million stop and restart — due mainly to the lengthy effort required to reconstitute the skilled workforce and supplier base. The contractor also contends shutdown will have an adverse impact on other systems that are assembled at the plant today or may be in the future — including a proposed successor to the Bradley. The Army expects the Bradley to remain in the active force until at least 2035.
A similar story is playing out at the Army's only remaining tank plant in Lima, Ohio, where the service wants to lay away equipment in 2014 and then resume upgrades to the Abrams tank three years later. Contractor General Dynamics says continuing low-rate production of Abrams upgrades would be much more cost-effective in terms of equipping active and reserve components with a "pure fleet" of identical tanks and preserving specialized skills, but the Army is pushing ahead with closure plans. Lima's mayor frets that any temporary shutdown is likely to prove permanent — a real possibility in the current budget environment.
A different story with similar implications is playing out in the Army's truck community, where the service unexpectedly decided last year to drastically cut back its planned purchase of medium trucks over the next five years. Oshkosh Corporation bid very aggressively on a big contract in 2009 to displace incumbent BAE Systems, but the terms of its proposal were tied to a level of demand that now will never materialize.The Army's abrupt decision to eliminate $2 billion in spending over the next five years will deliver a heavy blow to a company that was relying on Army business to help extricate it from some bad commercial bets made during the sub-prime housing boom.
And then there are the electronics companies in the Army's industrial base, which were expecting the service to field a new generation of software-defined digital radios that would greatly enhance battlefield connectivity and situational awareness. That story began to come apart with cancellation of Boeing's Ground Mobile Radio for combat vehicles last year. The Army had persuasive price and performance reasons for killing the program, but it was part of a future communications architecture that now looks endangered.
dThe service has conducted field tests of alternatives, but contractors are beginning to doubt those tests will ever coalesce into a real plan for modernizing tactical communications. Their fears were reinforced when Army planners delivered a reprogramming request to senior policymakers in early May that would cut funding in half for a warfighter information network long described as the backbone of future communications capabilities.
Obviously, the truck and communications industries are not going to disappear because the Army can't make up its mind what soldiers will need in tomorrow's war. But the segments of those industries dedicated to Army needs might drift away to other opportunities if service leaders can't get their act together. As for the companies that make armored vehicles, they are run by financial managers who have plenty of other places to invest if the Army customer proves to be an unreliable source of demand. Although service leaders are accustomed to dealing with a captive supplier base, their efforts to rely increasingly on commercial sources and standards are making them dependent on suppliers who have lots of options outside the military market.
For all the Obama Administration's talk about revitalizing the manufacturing sector and sustaining a robust defense industrial base, there just isn't much evidence that military planners give the subject any thought. There always seem to be a dozen more pressing concerns facing Army leaders before the subject of the industrial base comes up. But after a dozen years of bad decisions and mismanagement in modernization programs, the Army has finally brought its supplier community to a point where it could atrophy quickly once spending on overseas conflicts ends. If the service can't start thinking coherently about what it must have for the future, it may soon find itself unable to obtain much of anything in a timely or affordable fashion.
Loren Thompson, a member of the Breaking Defense Board of Contributors, is a defense consultant, an analyst at the Lexington Institute and author of the Early Warning blog.