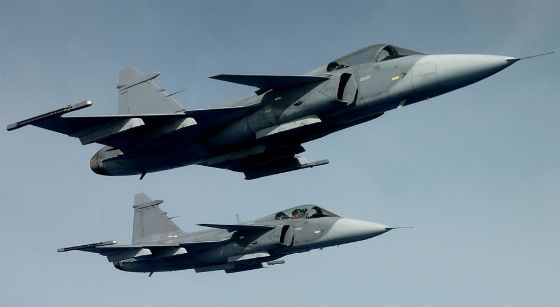 The Swedes who build the Gripen fighter are known for being practical, producing advanced fighters that are relatively cheap (at least compared to almost everyone else).
At the Paris Air Show the Gripen folks, SaaB Group. very deliberately floated an interesting idea. Since the Gripen uses fly-by-wire technology and advanced avionics which virtually eliminate the need for a pilot during normal flight, why not take the software to the next step and turn the fighters into optionally manned aircraft that can be controlled by a pilot in another Gripen.
The goal, as uttered in Paris by SAAB CEO Håkan Buskhe, would be to provide Europe with a cheaper intelligence, reconnaissance and surveillance (ISR) platform. But there appears to be more to it. I spoke with a Gripen source at the show who went much further. He said one of the main uses would be for a Gripen pilot in a manned plane to accompany and guide a group of unmanned aircraft when necessary, making it much cheaper to ferry planes from point A to point B. Also, since the Gripen's support system already exists countries would not have to develop a separate maintenance system with its own parts, which could be a major draw for some countries.
The Gripen source said that SAAB floated the idea at the show to gauge the willingness of European aviation authorities and the general public to accept drones operating in European airspace and going into operations such as Mali, where France just didn't have enough ISR assets.
The larger picture here is that Europe's attempts to build medium altitude, long endurance (MALE) UAVs are foundering. Germany dropped its Global Hawk buy, alarmed by the costs.
Saab is one of six European partners who are building the very cool looking nEUROn combat UAV (think UCLASS). France's Dassault Aviation leads the effort.
If you want some idea just how hungry some in Europe are for ISR capabilities — Germany notwithstanding — consider that France wants to buy at least two Reapers from us to use in Mali. That will probably be part of a larger $1.5 billion buy of as many as 16 Reapers, which was disclosed June 28 in a Foreign Military Sales notification to Congress.
A French source told me the last day of the Paris Air Show this deal was in the works but I dropped the ball. My understanding is that these two Reapers will be bought. The rest of the deal is much less certain. France and three of Europe's biggest defense companies, EADS, Dassault and Finmeccanica want to build a MALE system. France wants it so they don't have to mess with ITAR and American arms export licensing and to develop their own version of what everyone agrees is a key capability for the battlefield. The companies want to guarantee their presence in a key market. And, as always in Europe, high paying, high tech jobs are a key draw for everyone.
That takes us back to Gripen. In their open letter virtually begging to build a MALE system,  the three companies said "European sovereignty and independence in the management of information and intelligence would be guaranteed," They also said they would design in the aircraft technologies that would answer the problem that has bedeviled drone makers in Europe and in the US — the ability to convince policymakers that they are safe flying around in the same airspace as civilian planes with lots of people sitting in them. The Gripen solution, with a pilot on the scene able to control the unmanned aircraft, might well meet that need.
Meanwhile, the Israelis still hope to sell France some of its Herons, which were on display almost directly across from the French Defense Ministry at the air show.