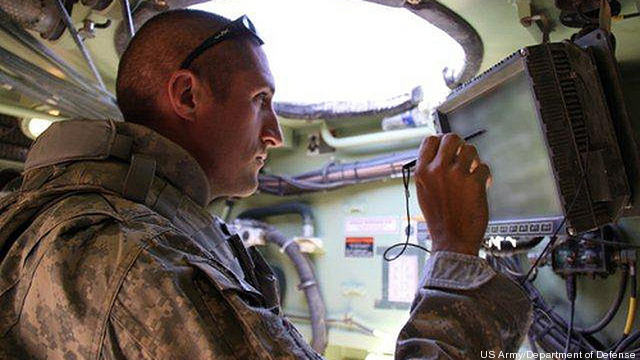 UPDATED 10:55 with Deputy Assistant Secretary Miller comments
HUNTSVILLE, ALA: After 20 years of costly and cancelled programs, the US Army wants to break its weapons-buying system wide open. This time, service leaders swear, will be different from previous, failed reforms.
The pinnacle of the new process will be something called the Army Warfighting Assessment, an annual wargame at Fort Bliss, Texas that's intended to put innovative new technology in the hands of real soldiers in field conditions. The problem is that the Army's tried something similar before and it didn't work — Network Integration Evaluations. They proved more of a chokepoint than a shortcut for acquiring new technology.
"They need to get to the professional staff on the Hill and explain this is more than just NIE," said Bruce Hock, a former Senate Armed Services Committee staffer himself, speaking Tuesday to the Association of the US Army conference here. "NIE is viewed as expensive, both to industry and to the defense budget, with no payoff."
AWA won't be like NIE, promised Brig. Gen. John Charlton, head of Fort Bliss-based Brigade Modernization Command. NIE's fundamental problem, Charlton said, was that it had to serve two masters: free-wheeling experimentation with innovative new technology and rigorous operational testing of technologies about to be fielded. For all its bad press, he said, NIE really is a great venue for testing a brigade-sized network as a whole in realistic conditions, with all the latest hardware and software, and certifying that package of upgrades ready for combat units. The Army will continue to do NIEs, although only one a year instead of two.
"It is absolutely the best way to modernize our tactical network, but it's not good for innovation because of those test constraints," Charlton said. "There've been several times where we've had new innovations, new capabilities that we had to push to the side because of a network test that was going on."
AWA will not involve operational testing. It will focus purely on exploring new ideas, not just for technology, but on tactics and concepts as well. "We want to see prototypes, we want to see surrogates, we want to see new ideas and help develop those," said Charlton, "so it's going to be greatly different from the NIE in that regard."
The Army will even reimburse companies for some costs incurred bringing equipment and personnel to the AWA, addressing a chronic complaint about NIE.
Companies proposing technologies for the AWA, Charlton said, must explain how their product addresses one of the 20 major problems — the "Army Warfighting Challenges" — set forth in the service's new Army Operating Concept. These are broad mandates that cut across traditional Army specialties, such as "assure uninterrupted access to critical communications" or "conduct effective air-ground combined arms reconnaissance."
But candidate technologies will not have to match an existing Army requirement or formally identified need (aka a "capability gap"). "That was one of my frustrations with the NIE," said Charlton. "These tech calls would go out…usually tied to some requirement somewhere, based on some gap, and it kind of narrowed the scope of what we were going to even look at, unnecessarily."
So. rather than insisting technologies must match an existing requirement before they can play at AWA, the Army will look at technologies' performance at AWA as a guide to revising requirements or writing entirely new ones.
"A lot of times in the requirement process, we [the Army] don't know what the art of the possible is," Charlton said. The Army's Training and Doctrine Command (TRADOC) can use the AWA as "an opportunity to refine and develop requirements," he said. "Maybe we come out with an initial idea, and after two or thee exercises that idea becomes refined and improved to the point where we really know what we want."
"It's more of an incremental approach than we've focused on in the past," added Charlton's superior, TRADOC chief of staff Lt. Gen. Kevin Mangum. It also goes beyond AWA. And AWA is not the only path the Army offers. There are more than 20 other experiments, both in the field and in simulation, he said, that will help inform requirements.
"I think that my former colleagues on the professional (congressional) staff will like this new approach to requirements determination, because we've always seen that as the biggest problem for the Army [in] coming up with programs," said Hock. "If the professional staff understands what the Army concept is now for requirements determination, I really think they'll buy in."
In fact, if the Army does a good job with the new process — and successfully communicates the fact — it could influence upcoming legislation, Hock said: "I really think that this is an opportunity for the Army to help shape what Rep. Thornberry and Sen. McCain want to do with their acquisition reform efforts."
That said, the Army needn't wait for Congress to make significant reforms. All too often, the military's refrain is "it's Congress's fault, they've got to change the laws," said TRADOC commander Gen. David Perkins. But in fact, "there's a lot of things within TRADOC that I have the authority to decide right now…and it does not require an amendment to the NDAA."
Historically, Perkins said, institutions try all sorts of ways to foster innovation, from reorganizing — which rarely works — to improving the flow of information across the organization — which sometimes does. How that general principle manifests in Army acquisition, said Perkins' deputy for future developments, Lt. Gen. H.R. McMaster, is "early collaboration in the development of requirements" across a wide range of stakeholders: not just TRADOC's many internal fiefdoms but the Army Materiel Command, theater component commands, the Army's Pentagon staff, and more.
"H.R. McMaster, his arrival there at [TRADOC] has been game changing in terms of his collaboration and his outreach across all the organizations that are involved," said Army Materiel Command chief Gen. Dennis Via, "not only just at AMC but also ASA(ALT) and the Army staff."
Overall, "collaboration [is] at a level that's never been seen before, at least in my 30 years in the Army," said Mary Miller, the service's deputy assistant secretary for research and technology. A lot of that is driven by the Army's new 30-year modernization plans, which force scientists, requirements writers, acquisitions officers, and budgeteers to the table together to address all aspects of a weapons program, she told me after a panel this morning at AUSA.
"With requirements [specifically], the fact is while we've been at war, the requirements development process has been overtaken by the need to get things out there to the soldier right now," Miller told me, "so we're rebuilding the relationship to inform requirements. [For example,] now we're getting folks that understand the limits of technology to help inform the requirements writing, because often you have requirements guys and they write what they want but it's not technically feasible." (This was arguably the downfall of the infamous Future Combat System). "Now we're putting guys [in] who understand the laws of physics."
Casting a wide net for collaborators will prevent fixation on any single solution, Perkins said. So will evaluating individual technologies in the wider context of the Army Warfighting Assessment and in terms of the Army Warfighting Challenges.
"Our focus is building capability to win, not buying things to fight," Perkins said. "We will buy things, don't worry, those of you that sell things" — the contractor-heavy crowd erupted in laughter — "but we're going to put it into context of, 'does that thing add to my capability to win?'"
In the past, Perkins added, "a lot of times when we probably may have lost our way a little bit, we were focusing on a plan to buy something, versus a strategy to build a capability."