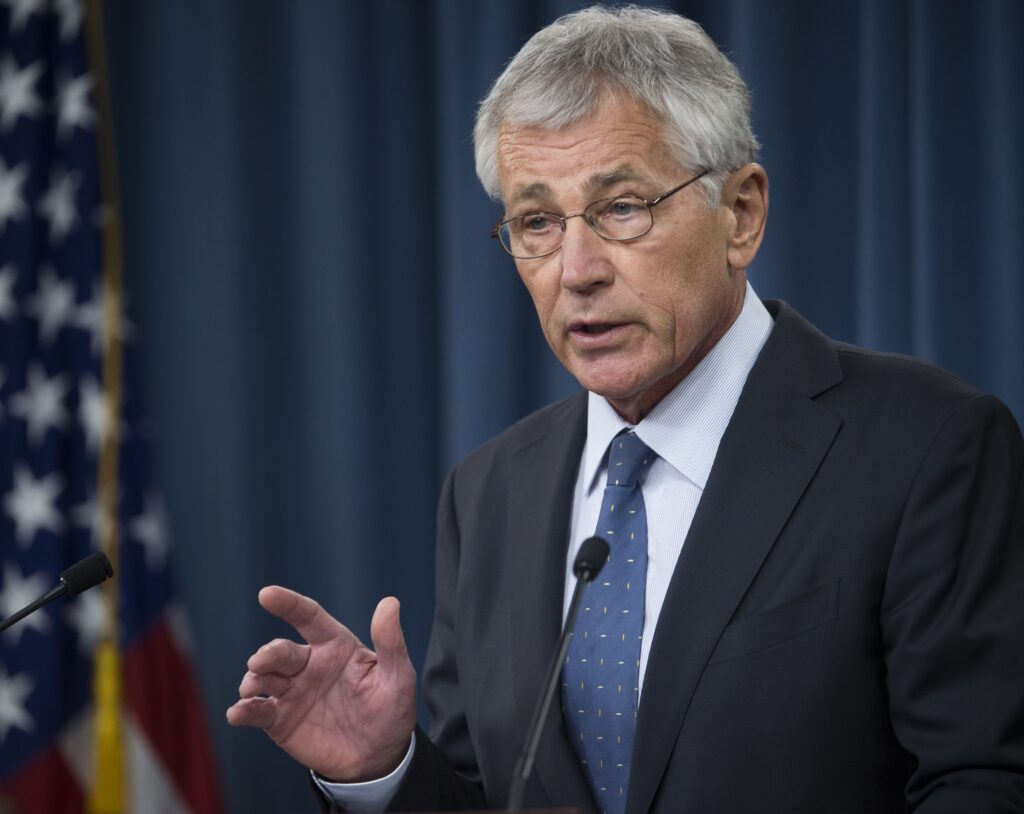 UPDATED: Sen. Leahy, 12 Other Senators, Decry Planned Guard Cuts To Hagel (6:20 PM Monday)
PENTAGON: Congress and the Pentagon are likely to battle for most of the rest of this year over the administration's budget plans: to retire the U-2 (again); to retire half the Navy's current cruiser fleet; to trim and consolidate pay and some benefits; to close bases, to retire the A-10 fleet; to whack the Army back, as all the headlines have it, to pre-World War II levels.
Defense Secretary Chuck Hagel unveiled most of the major budget details in a briefing today at the Pentagon. The formal budget rollout comes March 4.
We've already been pinged by Sen. Kelly Ayotte's office about the A-10, clearly positioning the New Hampshire lawmaker to appear as the staunch advocate for the ugly and adored Wart Hog.  Her husband is a former A-10 pilot. 
"Instead of cutting its best and least expensive close air support aircraft in an attempt to save money, the Air Force could achieve similar savings elsewhere in its budget without putting our troops at increased risk," Ayotte says in an email. "As a member of the Armed Services Committee, I plan to work with my colleagues to prevent the Pentagon from making this serious mistake that I believe could cost the lives of our brave servicemen and women in future conflicts."
The Air Force says eliminating the entire A-10 fleet would save $3.7 billion over three years. We won't offer all the material Ayotte's office sent. Here's one example. Air Force Chief of Staff Gen. Mark Welsh and his colleagues argue that in these days of declining budgets and the demands of enormous theaters such as the Pacific they must buy multi-role aircraft like the F-35 and the new Long Range Strike system. Single-mission aircraft, no matter how well suited they are to that mission, are just too expensive and limited, they say.
Ayotte's office said this: "It is not accurate to say the A-10 is a single mission aircraft. For example, the A-10 conducts close air support (CAS), forward air controller-airborne (FAC-A), combat search and rescue (CSAR), and strike coordination and reconnaissance (SCAR) missions."
That response came less than two hours after Hagel finished his speech, pretty rapid for such a complex issue.
The other issue likely to generate quite a bit of legislative heat is a new $26 billion fund — the Opportunity, Growth and Security Initiative — designed to bolster military readiness. Hagel provided very few details about the fund other than noting its part of a larger $58 billion government-wide fund. On the face of it, it sounds like the sort of thing the House GOP would love to hate and appropriators in both chambers would approach with great skepticism. It may be a new incarnation of the wonderful Overseas Contingency Operations (OCO) funds that have paid for our operations in Iraq and Afghanistan and helped buy much of what the Pentagon said it needed to wage the war against terrorism over the last 13 years.
Democratic Rep. Adam Smith, ranking member of the House Armed Services Committee, offered a relatively supportive statement, noting how sequestration had reduced the Pentagon's readiness budgets. "If Congress does not act, sequestration will go back into effect in fiscal year 2016 and beyond. Secretary Hagel clearly articulated that future uncertainty is making it difficult for the Department to plan," he said in an emailed statement. "Under these conditions, our military leaders are doing their best to put forward a budget that provides national security. The preview outlines some tough choices, and I look forward to reviewing the budget in its entirety."
Among the other issues sure to attract congressional scrutiny is the plan to trim the National Guard and the reserves, as well as transfer all Apache helicopters from the Guard to the active Army.
"Today, the Army National Guard numbers about 355,000 soldiers and the Reserves about 205,000 soldiers. By 2017, under our recommendations, there would be 335,000 soldiers in the Army National Guard force structure and 195,000 in the Reserves. If sequestration returns in 2016, the Army National Guard would continue drawing down further, to 315,000. Army Reserves would draw down to 185,000," Hagel said today in his speech. "We have protected the National Guard and Reserves from cuts to the extent possible, but to maintain a ready and capable force at a time of fiscal constraints, no component of DoD can be entirely exempted from reductions."
That clearly did not convince Sen. Patrick Leahy, co-chair of the Senate National Guard Caucus.
"It is greatly disappointing that even after more than a decade of overseas deployments in Iraq and Afghanistan, the Pentagon refuses to recognize the versatility and effectiveness of the National Guard. The men and women of the National Guard have proven again and again, beyond any question, that they can do any job they are assigned, at high-levels of performance indistinguishable from their active component counterparts," Leahy said.  "As co-chair of the Senate National Guard Caucus and as one who has closely watched the phenomenal work of the Guard in Vermont and other states, I believe the Senate should not and cannot support a long-term plan that guts our citizen-soldier force." He and 12 colleagues wrote Hagel expressing their opposition to the cuts.
The bottom line for Hagel? "We made choices based on strategic priorities, clear facts, unbiased analysis, and fiscal realities… and with the bottom line focus on how best we can defend the United States."
Next, the budget battles move to the Hill. In a few weeks professional staff will get the detailed line-item breakout and they can begin analyzing what's really happening with each program.
Corrected Tuesday am: Some idiot put Sen. Ayotte in Arizona. I have talked to that fella and corrected his mistake. Sigh. The Editor.