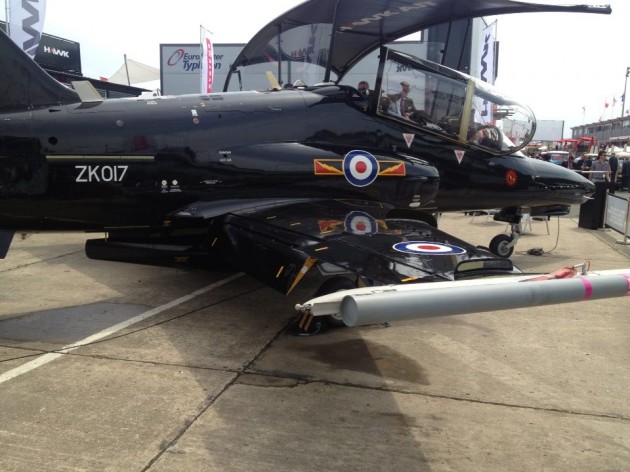 PARIS AIR SHOW: It is one of the hottest competitions for which there is not yet a formal Pentagon program. The Air Force's next generation trainer — known as T-X — will be worth some $11 billion for some 350 planes. Lockheed Martin and the South Korean maker of the T-50 have teamed up to offer the South Korean trainer. General Dynamics said early this year that it would partner with the Italian company Alenia Aermacchi and plump down the Italian M-346. And there is the company many assume is the front runner, BAE Systems, who plan to offer their plane, called the Hawk. BAE has supplied Britain, Canada and Australia, our three closest allies with trainers and the first British squadrons trained in the Hawk have just graduated.
But the Air Force senior leadership, which has told reporters and industry that it really, really needs a new trainer to replace Northrop Grumman's T-38 trainer, which is on average almost 45 years old. In fact, Air Force Chief of Staff Gen. Mark Welsh said yesterday in Washington that it's going to happen.
"We're on track… to have a new trainer by 2023 or '24," Gen. Welsh said Monday at an Air Force Association breakfast. "It comes up in every discussion," he added. "A new trainer is like the tide." But unlike the tide, it's not clear when it will actually come in. It certainly sounds as if Welsh is signaling there's going to be money in the 2015 budget.
That said, Welsh went on, there are questions the Air Force has yet to answer about its pilot training program and how many different types of trainers the service needs to buy. "Do you need three aircraft? Do you need two aircraft?" he said. "Does pilot training need to fundamentally change?"
BAE flew one of the British trainers here and very pointedly has the handsome all-black aircraft on display, complete with two British instructor pilots to talk to reporters:
But, as BAE officials acknowledge, the Air Force has yet to commit to the program in the one way that really matters: with money. The latest test will be the 2015 budget, which is in the early stages now. Senior Office of Secretary of Defense officials are very supportive of the program but the Air Force must take money from one pot and put in the T-X pot. For that matter, they still have to create the T-X pot if they are serious. Once a budget line item is created, the race will be on in earnest.