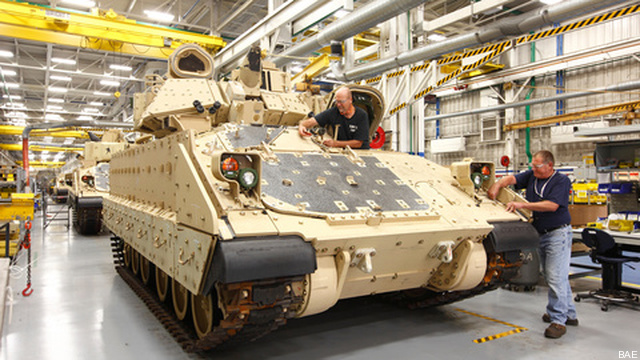 WASHINGTON: A $140 million congressional plus-up to the Army's Bradley fighting vehicle program has made it past every legislative hurdle into the spending bill now headed for the Senate floor. But with amendments and House-Senate conference still to go, and with the Army still (at least officially) unenthused about the unrequested funds, Bradley manufacturer BAE is leaving nothing to chance and has launched a major campaign online, in the media, and on the Hill to ensure all goes well.
Looking ahead, the total 2013 Bradley bill of $248 million — half from the Pentagon's initial request, half added by Congress — is just the down payment to keep BAE's York, Penn. plant running until the Army starts building new armored vehicles circa 2017. While a quarter-billion a year is relatively modest in a Pentagon context, it's scarce funds that the Army is reluctant to spend in the current budget crisis — even though it may cost more in the long term to shut York down only to reopen it three years later.
"There is a good chance BAE, and others, will seek to do something in FY14 to keep the line in operation," a Hill staffer told Breaking Defense. "[But] keep in mind that the FY13 NDAA [National Defense Authorization Act] and the about-to-be-done FY13 appropriations bill already include a big Bradley increase," the staffer went on. "The Army hasn't spent any of that yet" — since Congress has yet to pass a 2013 appropriations bill — "so those extra funds may mitigate some of the FY14/FY15 shortfalls at the York facility," since the government has three years to spend the money. In the final analysis, the staffer said, "[it] depends on how and when the Army plans to spend it."
If Congress goes back down to the amount the administration's originally requested for Bradley, BAE spokesperson Stephanie Serkhoshian told Breaking Defense, "the workload at York will be "significantly less than our Minimum Economic Sustaining Rate," business jargon that boils down to "we'll all slowly starve to death." Serkhoshian continued, "if all the proposed [$140 million additional] funds are allocated to the Bradley line at the York facility" — there are other places that could do some limited Bradley upgrades, at least in theory — "then the levels would most likely be sustained through 2014."
The state of the defense industrial base is getting ugly, and the drawdown's hardly begun. Currently, York is not manufacturing new war machines, only refurbishing existing ones: about 240 Bradleys and 36 M109 Paladin howitzers a year. BAE is also seeking Army money to overhaul M888 Hercules vehicles, which are a type of tracked and armored tow truck to haul broken-down tanks off the battlefield.
All told, in recent years, there has been only a trickle of work to keep the lights on both in York and at the nation's only other facility for manufacturing armored fighting vehicles (AFVs), the tank plant in Lima, Ohio. Lima is owned by the government but operated by General Dynamics, which makes the M1 Abrams main battle tank and the eight-wheel-drive Stryker. Strykers are the only AFV the Army is still buying new, as opposed to just upgrading what it already has.
Both BAE and GD are trying to ride the recent boom in foreign military sales to make up for declining defense budgets in the US. BAE, for instance, has a "very small order of new (not refurbished) M88A2s" for an unnamed "foreign customer," Serkhoshian said.
But when you look at the bottom line, the AFV industry — like American shipbuilders and combat aircraft manufacturers — is essentially an unhealthy monopsony, a market with only one buyer and, at best, two potential bidders on any given program. So while acquisition officials like Undersecretary Frank Kendall praise the virtues of competition to keep prices down and quality up, the market for many military goods has degenerated to the point where government has to dole out the work. (By contrast, the makers of uparmored Humvees, MRAPs, and other military trucks are much less dependent on government work and much more integrated with the commercial world: There's a civilian market for trucks, after all, not so much for tanks). Ultimately it's up to the Pentagon to keep York and Lima on life support — and it decided not to.
While administration requested some funds for work at York and Lima in fiscal year 2013, it plans to shut both down in 2014. It will then reopen them circa 2017 for further upgrades to existing, aging vehicles like the M1 and M2 and, more dramatically, for the first new tracked AFVs in decades, the Armored Multi-Purpose Vehicle and, in 2019, the Ground Combat Vehicle. (Strykers are relatively lightweight wheeled AFVs). BAE and General Dynamics are competing for both AMPV and GCV, and — assuming neither program is cancelled — development contracts will keep their design teams in business for a while, but not their manufacturing plants.
The companies and their congressional allies argue that it will cost less in the long run to keep the plants operating through 2017 than to close and reopen them again — assuming that specialized suppliers and workers can be lured back into the business at all: There are not a lot of people who know how to, for example, weld heavy armor. So the current version of the appropriations bill, which may yet be amended, adds not only $140 million to the Army's request for M2 Bradley upgrade but $181 million for M1 Abrams and $52 million for M888 as well. (See page 75 of Senate Appropriations Committee's 231 pages of line items for Defense, downloadable here). Counting these and other, smaller programs, the total AFV budget for 2013 will be $1.5 billion.
In terms of the roughly half-trillion-dollar Pentagon budget, this is small change, but small change adds up. Whatever happens to the Bradley line in York, the bigger issue is how an increasingly fragile defense industrial base stays alive under increasingly tight budgets.