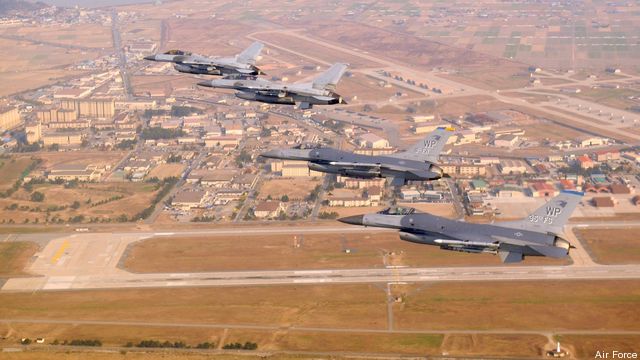 FARNBOROUGH AIR SHOW: You can tell the U.S. defense budget is shrinking when one of the more interesting stories during an international air show centers on a plane, the F-16, first delivered in 1979.
But BAE Systems' press conference focused on just that, providing upgrades to the worldwide fleet of some 2,500 airplanes in what the company's lead man on the upgrades, Floyd McConnell, called a market of "several billion."
In echoes of the now defunct F-35 engine competition much of McConnell's pitch centered on the value proposition of competition. "Competition is the best leverage for the customer," he told us. BAE played a major role in building the aircraft's original avionics, supplying almost 40 percent of mission equipment.
The immediate target would be the South Korean Air Force's 130 F-16s.
The average age of an F-16 is 20 years, meaning most of the airplanes are using technology that predates cell phones, AESA radar and the Internet's wholesale adoption by the public. At the heart of the BAE upgrades will be the plane's fire control system, the Commercial Fire Control Computer, which McConnell claimed has the "highest throughput," compared to those supplied by that other company — Lockheed Martin.
The original prime for the plane will be offering something called the Combat Avionics Programed Extension Suite (CAPES). Lockheed has argued here that most customers want to do what the U.S. Air Force has decided to do, which is work with Lockheed on a Service Life Extension Program centered on CAPES.
BAE's joint nationality — American and British — will be a virtue for the company as it moves forward, McConnell said when I asked him about how this might affect their prospects. Given the international politics at play in any arms competition it may be true. But Lockheed's grip on the U.S. Air Force business will be a powerful argument to many countries.