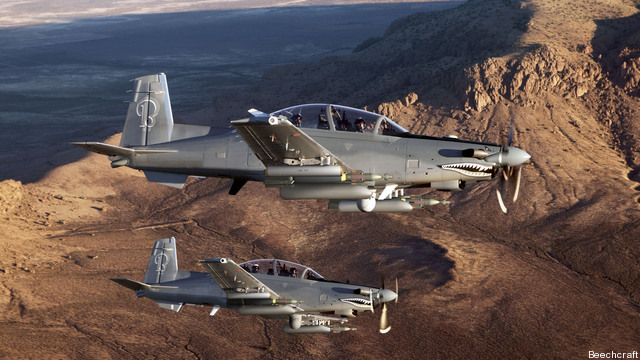 WASHINGTON: Wichita Congressman Mike Pompeo and Kansas senators Pat Roberts and Jerry Moran have written the Pentagon to protest Wichita-based Beechcraft's loss of the bitterly contested Light Air Support contract, Rep. Pompeo told Breaking Defense this afternoon. Beechcraft, which had offered its AT-6 Texan II aircraft, announced plans earlier today to file a formal protest against the award to Sierra Nevada Corp., which offered the Brazilian-designed Embraer Super Tucano. Depending on how you count, this marks the second or third time the military has tried to buy Super Tucanos only to run afoul of Beechcraft and its backers.
"Had Beechcraft not been best value, I don't think you would hear a peep from anyone in the Kansas delegation," Pompeo said, minutes before the letter went out to newly-installed Defense Secretary Chuck Hagel. "[But] they chose the less qualified, more expensive aircraft," he said — and, the Kansan claimed, the Air Force's own assessment backs him up.
"More expensive" is clearly true. The Air Force announced that Sierra Nevada would provide 20 aircraft plus spare parts, training, and other support for $427 million. Beechcraft's bid for its AT-6 Texan II was about 30 percent less, $297 million.
"Less qualified," however, gets very complicated, as a series of confidential conversations quickly revealed. What people can say on or off the record is tightly limited by the laws governing competitions, protests, and proprietary data — click here for Sierra Nevada's statement and here for Beechcraft's — but here's what Breaking Defense has figured out so far:
Beechcraft and the AT-6 scored "excellent" in five of five criteria for "mission capability," criteria ranging from the technical performance of the aircraft to the kind of training programs the company could provide. The Super Tucano only got "excellent" on four of five. That's apparently the basis for Rep. Pompeo's claim that the Air Force itself ruled the Beechcraft plane was better.
But that's only part of the story and of the scoring system. It's entirely possible for Beechcraft to get more "excellent" marks and still lose overall. First, the Air Force doesn't just grade inadequate/good/excellent on each aspect of each aircraft: It also applies a risk factor saying how certain it was that each competitor could actually deliver on that excellence in the future.
We don't know those risk ratings, but the Beechcraft company just emerged from bankruptcy, and the AT-6 aircraft is still in prototype: While Beechcraft has built thousands of T-6 trainers for the US and its allies, the specific variant on offer — the armed ground-attack version, the AT-6 — is significantly different and not entirely proven. Competitor Sierra Nevada is hardly risk-free either, because their Florida factory has yet to build a single aircraft, but they would be making the exact same plane already mass-produced in Brazil and in service with nine nations. So there are both business and technological reasons the Air Force might have rated the Beechcraft AT-6 as higher risk.
In fact, alongside "mission capability" and price, the Air Force applies a whole third set of criteria, "past performance." The Super Tucano boasts an extensive track record of service in countries from Colombia, where it's seen combat against drug traffickers, to Mauritania. The basic T-6 has an even longer track record as the standard trainer for both the US Air Force and Navy, but only two prototypes of the specific AT-6 combat variant (both pictured above) even exist. If the US were choosing an aircraft for itself, the AT-6 would be a slam dunk, because it's the big brother of something the American military knows and loves. But these planes are being bought on behalf of the fledging Afghan air force, and Afghanistan's capabilities are a lot more like Mauritania's than America's. So the Super Tucano's "past performance" track record looks both stronger and more relevant than the AT-6's.
Of course, there is the definite possibility that the Air Force screwed up the contest. That's what the Air Force's own "command directed investigation" (CDI), the Government Accountability Office (GAO), and a federal judge all found about the previous attempt to award the contract to the Super Tucano, in December 2011. "The court finds that ample evidence was before the Air Force to support its concern that the procurement was likely tainted by bias," the judge wrote in November 2012, "bias in favor of SNC [Sierra Nevada Corp.]." So the Air Force tore up the 2012 award and started over — only to re-award the contract to Sierra Nevada last week.
Even before the Air Force's fiasco, the Navy and US Central Command had attempted to acquire Super Tucanos to support Special Operations forces under programs known as "Imminent Fury" and "Combat Dragon." Congress shot them down — some say because of interference from the Kansas delegation on behalf of Beechcraft, others because CENTCOM simply hadn't done its homework on how to run the program.
Meanwhile, Beechcraft backers argue that the administration is tilting the scales to appease Brazil, noting that Deputy Secretary of Defense Ash Carter called Brazil's defense minister to offer his congratulations within hours of the 2012 award. Beechcraft mobilized a massive "buy American" campaign in favor of its aircraft, even though Sierra Nevada insists it would build its Brazilian-designed airplane in its (yet to be completed) Florida factory.
So the Light Air Support contract has been a rolling, multi-year disaster, a microcosm of everything that's wrong with the military acquisitions system: meddling by politicians, incompetence by bureaucrats, and legal wrangling by the contractors. (Sierra Nevada filed suit itself at one point). Meanwhile US troops and their Afghan allies are without a lightweight, low-altitude air support plane that commanders first said was necessary in August 2009. Even without any further delay, the first planes — whichever plane is chosen — won't arrive in Afghanistan until after most US forces have withdrawn.
"I certainly don't want to delay this" any further, Pompeo told Breaking Defense. "I am not asking for the Air Force to select the Beechcraft product. I would never do a such a thing. I'm asking them to run a fair and competitive bid process…. The Air Force, ultimately, by making the decision to completely start over, admitted that their first process was flawed."
"It certainly seems reasonable," Pompeo said, "to ask a question or two."
Edited at 8:50 pm.