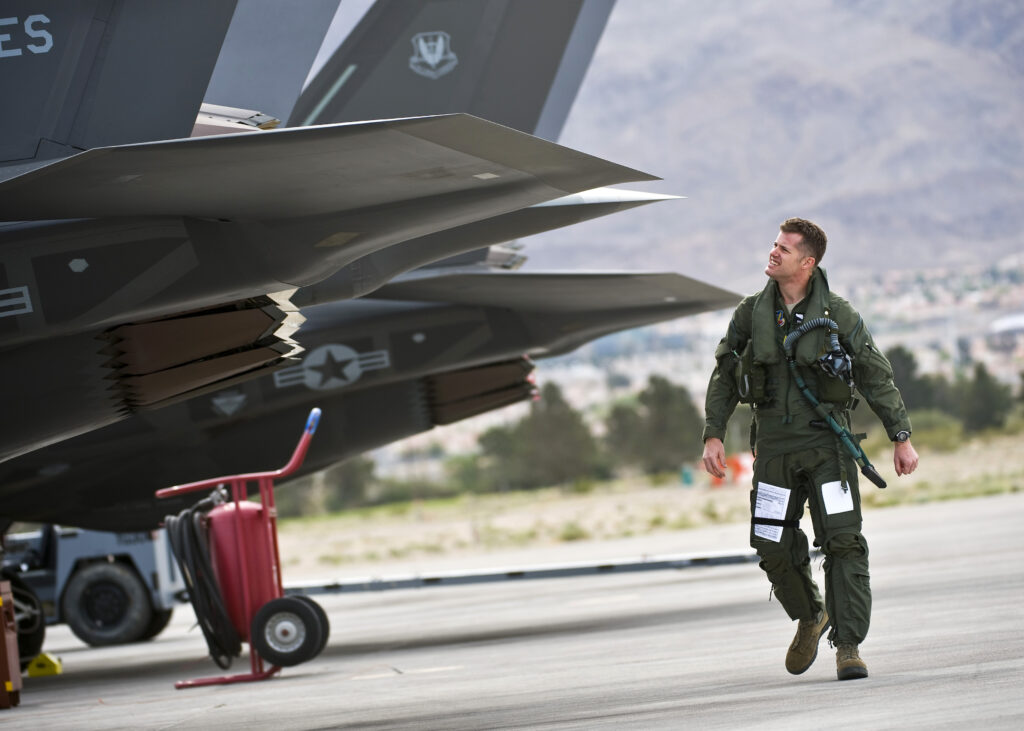 CAPITOL HILL: While Congress and the media focus on immediate issues with the F-35's ejection seat, the program has begun working on a long-range modernization plan to upgrade the Joint Strike Fighter's combat power.
This modernization package, with the so-called Block 4 software upgrade at its core, is essential to the aircraft reaching its "full warfighting capability," Maj. Gen. Jeffrey Harrigian, the Air Force's F-35 integration director, told Congress yesterday. The Air Force F-35A model will reach Initial Operating Capability (IOC) in December 2016, but it won't have all the advertised features — i.e. full capability — at that time. The modernization effort will cost $2.6 billion in R&D through 2020 alone.
"We will improve electronic attack [e.g. jamming]. We will improve electronic warfare [in general]. We will improve the radar," said Lt. Gen. Christopher Bogdan, head of the F-35 Joint Program Office, speaking to reporters after the House air-land forces subcommittee hearing. "We will add many weapons in Block 4, many unique weapons that the [foreign] partners need and use." Those first two improvements are particularly important because the Air Force has said the F-35 won't need the help of dedicated jamming aircraft like the Navy's EA-18G Growler.
But there's a problem, Bogdan freely admitted. With wish-lists coming from three US armed services and eight foreign partners — seven if Canada drops out (more on that below) — the upgrade package has swollen beyond what's feasible or affordable, Bogdan said. The next six to eight months will be crucial as the program office, US services, and foreign partners wrestle over those requirements. If they can't whittle them down, then the F-35 modernization effort may suffer the same cost overruns and schedule slips as many programs in the past, including the original F-35 program itself.
"I know that these further upgrades are essential, but I think it's important for us to try to get a handle on this before it gets out of whack as we've seen [on] this project from the very beginning," longtime F-35 skeptic Loretta Sanchez, the top Democrat on the committee, told Bogdan.  "So," she asked pointedly, "does the F-35 program have a prioritized list [of requirements]?"
"We have a large amount of requirements that I today believe are unaffordable," he said frankly. "I've learned a lot of lessons in the last three years about what the original EMD (Engineering, Manufacturing and Development) program looked like; I don't want the follow-on program to look anything like that."
The basic issue with the requirements list is that "it grew over time as threats evolved," Harrigian told reporters. "It grew to, frankly, an unacceptable list that we are now working through to determine what no-kidding capabilities…do we need to have on this airplane to ensure we stay ahead of the threat.
"Over the course of the next couple of months, we're going to be working through that to lay out what modernization looks like, in a prioritized fashion, and then map that to what we can afford," Harrigian went on. To begin with, "the right action officers are getting together over the course of the next couple of weeks from across the services, partners, and JPO [Joint Program Office] to sort through that."
By December, the requirements document will be ready for review by the Air Force Requirements Oversight Council and the Joint Requirements Oversight Council. The AFROC and JROC, in turn, should be done with the requirements sometime in the spring. There will also be a "parallel" review by the nine-nation JSF Executive Steering Board (JESB), Bogdan added, though he didn't specify dates. The modernization effort actually kicks off the following year, in October 2017 (fiscal year 2018).
The wish list won't be easy to whittle down, Harrigian warned Congress. "We are working hard… to make sure we've got it right," he said, but "it's important to remember that the threat is not sitting on their hands, they continue to evolve."
Given how difficult this is, and how much money is involved, asked Rep. Sanchez, shouldn't the modernization effort be officially designated a major sub-program, or even a program unto itself, to improve transparency and ease congressional oversight?
"No, ma'am, and I'll tell you why not," said Bogdan. "To make this a separate program…brings a whole host of administrative burdens that Mr. [Frank] Kendall" — the Pentagon's procurement chief — "wants to avoid."
We can make the modernization effort transparent without the bureaucratic complication of making it an independent program, Bogdan continued. He's already talking to congressional staff, he said, about what kind of transparency they need to do their job.
Nevertheless, Sanchez has a point: This could go wrong. Even when and if the requirements wishlist is trimmed, the modernization program's problems will be far from over. The services have a long history of skimping on modernization programs, which makes the more likely to fail or fall behind schedule, a senior aerospace analyst warned me.
"The problem with modernization programs, of course, is people always prioritize cash for more new aircraft, so there tends to be inadequate funding," said Richard Aboulafia of the Teal Group. "When in doubt, build new stuff. Worry about readiness, modernization, and sustainment later." If you don't get that extra aircraft in this year's budget, you may never get it — but once you have a plane in service, you can always beg Congress to upgrade it later.
The pressure to "build new stuff" instead of upgrading the stuff you already have will be especially intense on F-35. A central selling point of the aircraft is that so many partners are buying so many planes that everyone gets economies of scale. Lt. Gen. Bogdan's goal is to get the price of the simplest variant, the F-35A, down to $80-$85 million dollars (including engine), which in turn is tied to getting production rates up to the planned 170 planes per year.
The problem with efficiencies of scale, however, is that you start to lose them if any partner pulls out or cuts their buy. That raises the price for everyone who's left, which causes more cutbacks and dropouts, which raise the price still further in a vicious circle. It is such a downward spiral that people worry about when they see Canada has elected a new prime minister committed to canceling that country's F-35s.
Oh, Canada
Monday's Canadian elections swept to power Liberal candidate Justin Trudeau, whose party has pledged to pull Canadian aircraft out of the anti-ISIS campaign and to cancel procurement of F-35s. That's embarrassing for the program because Canada is one of the core partner nations. However, Bogdan argued, the practical impact is marginal.
There are three phases of the program to consider, Bogdan said: development, production, and follow-on — which covers both modernization (as discussed above) and long-term sustainment. Canada has already paid its full contribution to the development phase, which is on budget, so that aspect of F-35 is completely unaffected.
Production would take a hit, he said, but a small one. If Canada does indeed cancel its purchase, that's a total of 65 planes, out of the estimated 3,000-plus total orders worldwide. On an annual basis, it would be four to eight planes a year out of a peak production of 170. So losing 65 aircraft would raise the price for everyone else by "point seven to one percent," said Bogdan, "about $1 million a copy." Also, Finland, Singapore and other nations are likely to commit to buy F-35s and make up those Canadian numbers.
Bogdan didn't give a figure for the follow-on phase — modernization and long-term sustainment — but he did say Canada's share of that bill is 2.1 percent. If they canceled, that one-fiftieth of the cost would have to be spread among the remaining partners.
"I don't think a whole lot of people regarded Canada as bread and butter," said analyst Aboulafia. "UK, Italy, Japan, South Korea, Israel, [and] Australia… those are the ones that really build the ramp [to full production]. Canada was always regarded as icing on the cake."
Canada, under the Liberals, will probably buy Boeing F/A-18-E/F Super Hornets instead, complementing the older-model Hornets it already has, said Aboulafia. With Trudeau refusing to conduct airstrikes alongside the US, he said, Canada doesn't need cutting-edge jets like the F-35.
But good news for the Hornet program may be bad news for F-35, argued Capital Alpha analyst Byron Callan in a recent newsletter: "Canada's exit from the program will likely result in further extension of either Boeing or Dassault fighter production lines and thereby keep the F/A-18, F-15 or Rafale as viable alternatives to the F-35 well into next decade." That means countries considering F-35 will always be tempted by cheaper alternatives.
"He's super smart," Aboulafia said of Callan, "but there was other stuff that guaranteed those lines [already]": The US Navy is extending its Super Hornet and Growler purchases, while Mideastern nations have bought up Rafales. So Canada's relatively small purchases don't make much difference to those other aircraft, either.
While it's too bad for the F-35 program that Canada may pull out, Aboulafia added, the international trend — driven by fear of Russia and China — has been the other way. Countries that had sat out of the F-35 program, such as Finland, are looking to join in.