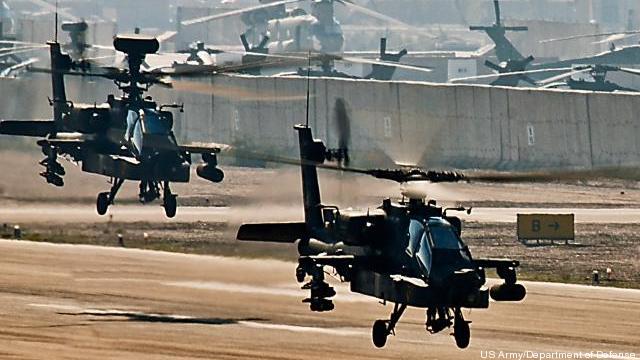 Washington: Defense giant Boeing is wasting no time pushing its newest attack helicopter onto the international market.
Boeing is already fielding informal solicitations from a number of foreign militaries about the newest version of the Army's AH-64 Apache. Representatives from several foreign militaries visited Boeing's facility in Mesa, Arizona to commemorate the delivery of the first Block III Apache to the Army, Mike Burke, director of business development for the company's attack helicopter division, said yesterday.
Those visiting military officials were doing "a little window shopping" on the new helicopter, according to Burke. Upgrades to the helicopter's engine, communications and command and control systems makes Block III Apache "faster and stronger than any Apache in the past," Army program manager Lt. Col. Dan Bailey, said yesterday. That cluster of capabilities has already drawn the attention of the Indian, South Korean and Taiwanese militaries, Burke said.
The Block III is the only helicopter left in the ongoing attack helicopter competition being held by India. Officials in New Delhi had been looking at the Apache and a version of the UH-1N Huey. The Huey was recently dropped from consideration, leaving the Apache as the sole competitor, Burke said. Taiwan is scheduled to get its first Block III trainer aircraft mid-2012. Company officials plan to pitch the new Apache for South Korea's upcoming AH-X competition for a new combat chopper.
That said, Burke was confident that several international militaries "will be flying" the Apache within months.
The new Apache is following in the footsteps of the Navy's new MH-60S helicopter in terms of international sales. Lockheed Martin officials, who build the new S models, have locked in sales to Thailand and Australia. Company officials are eying possible sales to the Danish, South Korean and Saudi Arabian militaries. The Australian helicopters are set to be delivered by fiscal year 2014, Navy officials say.