After heading off a government shutdown with a "clean" temporary spending bill on December 7th, lawmakers are scrambling to reach a consensus under a new Continuing Resolution that funds the government beyond December 22nd. If leaders cannot come to a final agreement on spending levels and other thorny policy issues for a government spending deal before then, there may be a brief government shutdown.
How did we get here? On December 12th, President Trump signed the 2018 National Defense Authorization Act into law, authorizing the first increase to military endstrength in seven years, the largest pay increase in eight, and a topline of $700 billion dollars. While Trump praised House Armed Services Committee Chairman Mac Thornberry for his work to secure this higher topline, he cautioned that the military has "got to be perfecto" and submitted a list of concerns about Congress' proposal.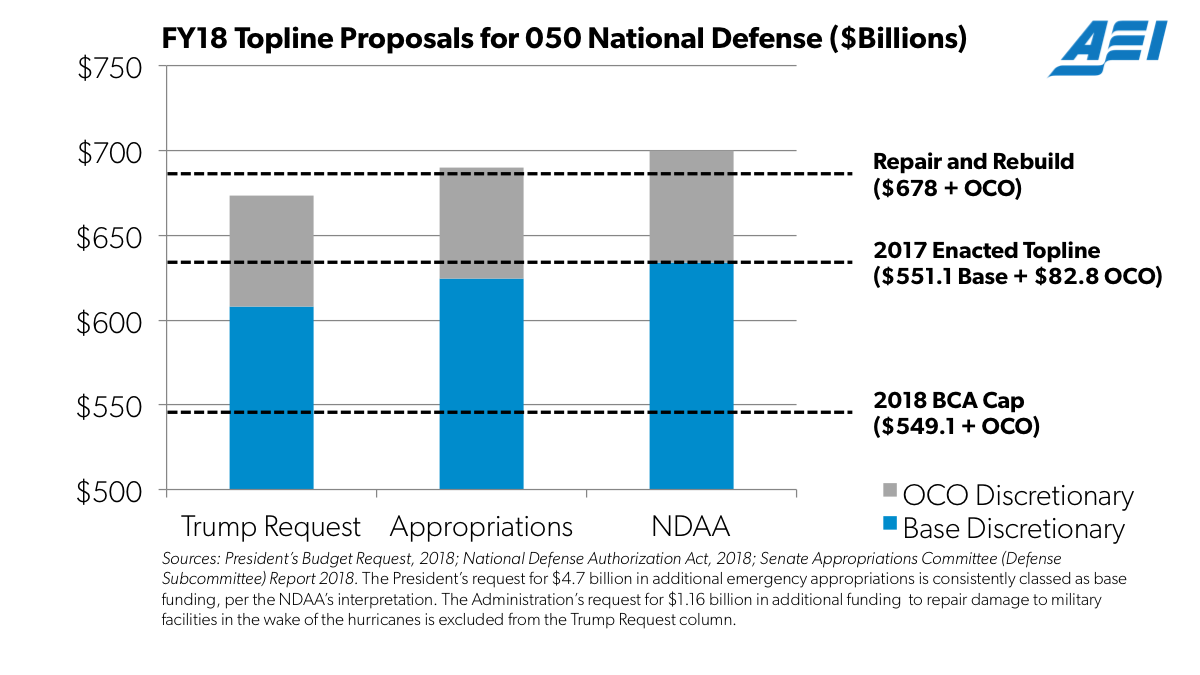 While several of these worries—particularly the lack of action on Base Realignment and Closure (BRAC)—are justified, they pale in comparison with the "bigly-est" elephant in the room.
The $634 in base defense spending for fiscal year (FY) 2018 authorized by the bill is $85 billion dollars above the annual Budget Control Act cap spending limit for national defense. What does this mean?
Right now, the law contradicts itself. Even though the National Defense Authorization Act is current law, funding defense at those levels would breach the Budget Control Act (BCA) spending caps and trigger a sequester. Predictably, the result has been confusion in Washington.
Nevertheless, Congress' efforts to boost defense spending above levels requested by President Trump will pay off and lawmakers will get to yes. While there are still many variables at this point, there are a fair amount of knowns. Here's a roundup of what to expect from the end of the year:
Congress will pass a two-year mini deal to amend the Budget Control Act.
At some point soon, likely in the next month, Congress will pass a two-year plan to raise the Budget Control Act spending caps. In the wake of 2013's government shutdown, President Obama signed a bill just after Christmas raising defense and nondefense limits by $22.4 billion in 2013 and $9.3 billion the next year. This proposal cleared the House by a 332-94 vote and the Senate by 64-36.
At the expiration of that deal, Congress sought to raise caps again. Intended to be prophylactic rather than reactionary, it was signed into law on November 2nd, 2015, barely a month into the fiscal year. While the law once again cleared the Senate with 64 votes, it only secured 266 votes in the House of Representatives.
In part, this was due to the plan's controversial handling of Overseas Contingency Operations (OCO) funding. In addition to raising federal discretionary spending by $80 billion over fiscal 2016 and fiscal '17, the plan authorized a $7.9 billion increase in the 2016 request for defense-related OCO, despite this account being exempt from statutory caps. This increase was matched by a proportionate plus-up to State Department OCO—more than doubling the President's request—and an understanding that FY17 OCO would be at least equivalent to what was received in 2016.
These changes more or less codified the use and abuse of OCO as an escape valve to fund State and Pentagon base budget needs to alleviate fiscal pressure on other agencies. Actual 2017 OCO was much higher than the deal suggested, netting $82.8 billion for defense and $20.8 billion for the State Department.
All indicators suggest there will be no letup in the OCO accounting gimmicks to stave off calls for deficit reduction in the coming third mini deal to amend the Budget Control Act. Given the impending midterms and the political costs of supporting massive cuts to programs that benefit constituents, it's simply too easy not to. House appropriators have already demonstrated their reticence to go along with the administration's drastic proposed cuts to the State Department and other international aid programs, which the President's budget request touted as amounting to a 29 percent reduction from anticipated 2017 spending. With the need to bring Democrats aboard and placate constituents in their home states, there is little reason to believe the deep cuts proposed by Trump to Agriculture, Commerce, Education, Energy, Health and Human Services, Housing and Urban Development, and the departments of the Interior, Justice, Labor, and the Treasury will materialize.
Biggest BCA "Fix" Yet
Where the 2013 "Ryan-Murray" deal added $63.4 billion in new spending above previous limits and the 2015 Bipartisan Budget Act added $80 billion (discounting its OCO shenanigans), raising just the defense cap for 2018 to accommodate the 2018 NDAA's topline would cost $85 billion. That doesn't include any increase to the $515.6 billion cap on nondefense spending for FY18, which will be required to secure enough votes in the Senate for bipartisan passage.
The most commonly cited number in the rumor mill for a new two-year deal is $200 billion in new discretionary spending. Yet owing to the massive defense need, there are only three ways to reach that level of spending: break the parity between defense and nondefense increases, as Republicans are proposing, set unrealistic expectations for the 2019 caps, or rely more heavily on OCO spending to cover base budget needs. Or some combination thereof.
The price of any budget deal will be near-parity increases for defense and non-defense discretionary spending.
Equal dollar-for-dollar increases to defense and nondefense spending have been the bedrock of both previous bipartisan budget deals. Republicans are now seeking to use their majorities in both chambers of Congress to secure a disproportionate increase for defense spending.
On December 13th, House Appropriations Chairman Rodney Frelinghuysen introduced a proposal to fully fund national defense for the rest of the fiscal year as part of a Continuing Resolution that funded the rest of the government through January 19th. By supporting this proposal, Democrats would give up their political leverage to use defense increases to secure proportionate increases to domestic programs. Consequently, anything that is not parity or very close to it will not become law. For proof, look no further than the negotiations and outcome of the 2017 government funding bill.
As of now, other rumored Republican plans are to fund defense increases of $60 billion to $70 billion, coupled with nondefense increases of $50 to $60 billion each year for two years. That is the minimum Democrats will likely accept for any spending deal. A recent letter organized by Senate Minority Leader Chuck Schumer (D-NY) pledging to oppose any deal without proportional increases was signed by 44 of the 48 Democratic senators, denying Republicans the 60 Senate votes they need to avoid a filibuster. Given Democrats' overwhelming leverage, they're likely to secure 1:1 parity for defense and nondefense, or very close to it.
Like the previous two deals, the spending increases will be higher in the first year than the second.
In the 2013 BCA deal, 71 percent of the total additions to the caps was for 2014. Likewise, 63 percent of the increases brought about by the 2015 plan were for year one of the deal. The impulse behind these decisions is obvious; it's always easier to put off spending cuts for another year in the name of instant political gratification. Congress will likely attempt a similar ploy this year, shortchanging fiscal 2019 spending in favor of higher toplines now. Unfortunately for them, military realities—and public testimony by defense leaders—demand a defense increase in FY19 that is more than an afterthought.
Budget negotiators are boxed in by the testimony of defense leadership: the 2019 defense budget must continue to grow.
As Defense Secretary Jim Mattis and Chairman of the Joint Chiefs Gen. Joseph Dunford jointly testified this summer, the Pentagon must sustain annual real growth of between 3 percent and 5 percent each year over the next three years in order to fully resource the needs of the military based upon the forthcoming National Defense Strategy. In independent testimony over the fall, General Dunford went so far as to suggest that the Pentagon might need as much as 7 percent annual growth to keep pace with the worsening international threat environment.
Depending on which starting point one uses—2017 enacted defense spending, President Trump's budget request for 2018 as amended in November, or the recent National Defense Authorization Act—and the rate of growth, the future fiscal health of the Pentagon varies widely. By the sunset of the Budget Control Act in 2021, this growth could result in a base defense budget anywhere between $660 billion and $777 billion in then-year dollars, far above the $590 billion BCA cap for FY21. For comparison, my analysis of what the Pentagon would need to fulfill all its global requirements suggests a $730 billion dollar topline by 2021.
Expect Congress to again use OCO as an relief valve to make up the difference in defense spending between their levels and the White House's.
With breaking parity between defense and nondefense spending and shortchanging 2019 defense budgets both unlikely, the most probable result is the further misuse of OCO far beyond that for which it was originally intended. Something in the ballpark of the topline recommended by the National Defense Authorization Act, or slightly less, will likely emerge, but with some $30 billion included in that act's base budget instead funded out of "supplemental" OCO accounts that do not count against the deficit.
Considering the White House's crusade to curtail OCO under Office of Management and Budget director Mick Mulvaney, who first campaigned against the account while a Representative from South Carolina in 2014, there is a considerable amount of irony baked into this approach. If OCO remains at its current level and receives more than an additional $30 billion in funding, the Administration may well bear responsibility for the largest level of OCO spending since the Budget Control Act despite its initial plans to slash it to just $10 billion by 2023. In fact, Trump's original 2018 budget was so aggressive in its efforts to curtail OCO that it would have resulted in just 1.1 compounded annual growth for defense spending, resulting in a decline in defense spending when measured in real terms during the nine out-years of Trump's 10-year budget.
Despite rhetoric to the contrary, so far the White House has obfuscated rather than clarified the Pentagon's financial situation. The most evident example was the decision to designate $4.7 billion of Trump's most recent $5.9 billion supplemental defense funding request as "emergency" funding and the rest as OCO—both of which are exempt from the caps. Usually, emergency funding is reserved for situations such as hurricane relief. Its use in a defense context has generated confusion in Congress, with the National Defense Authorization Act classifying such money as base and appropriators already designating it as OCO.
Wrapping up fiscal year 2018 negotiations will look a lot like the chaos of the 2017 omnibus, including lopsided policy and spending victories for the minority.
President Trump entered negotiations for the 2017 Consolidated Appropriations Act seeking an $18 billion reduction in discretionary spending to compensate for his proposed increases to defense and homeland security. However, the trillion-dollar-plus spending omnibus wound up rejecting all of these cuts and upheld domestic spending at the level set forth in the FY17 nondefense cap. Some programs opposed by Trump even saw major wins; for example, while Trump had proposed slashing funds for the National Institutes of Health (NIH), the omnibus wound up increasing the NIH budget by $2 billion instead.
What increases the president did secure for defense and homeland security (each less than half of his request) all came through as emergency funding. While this did not alter the caps in any way, it did represent a disproportionate increase of defense spending without a corresponding increase the nondefense topline, representing one of the clearest breaks in parity between the two accounts since the BCA took effect.
Yet Republicans paid for this in spades; the minority party was also able to rack up a litany of major policy victories in the year-end deal. These included protection for Planned Parenthood funding, no cuts in funding for so-called "sanctuary cities," a permanent extension of health care for coal miners, funds to help Puerto Rico make up a projected shortfall in Medicaid, and a continuation of Affordable Care Act subsidies to insurers. All funding for a border wall was stripped from the President's request for additional homeland security funding.
The policy price Republicans paid for a lapse in proportionate increases between nondefense and defense spending in the omnibus suggests that parity is likely to return with a vengeance in the forthcoming deal on the caps.
Time to End the BCA
From the 2013 deal for $63.4 billion to the current plans for almost $200 billion in BCA relief over the next two years, the ballooning size of revisions to the caps suggests just how frivolous they have become. With OCO now accepted by even its staunchest opponents as a convenient loophole to get around statutory limits on spending, the perpetuation of arbitrary spending caps disconnected from strategic realities does little except cause D.C. drama.
While lawmakers will likely take the easy way out with a deal to raise the caps now and a fourth and final extension for fiscal 2020 and 2021 down the road, the most sensible recourse for all would be to acknowledge that the Budget Control Act is a failed experiment. That would be the greatest Christmas present Congress could hope to give the American people.