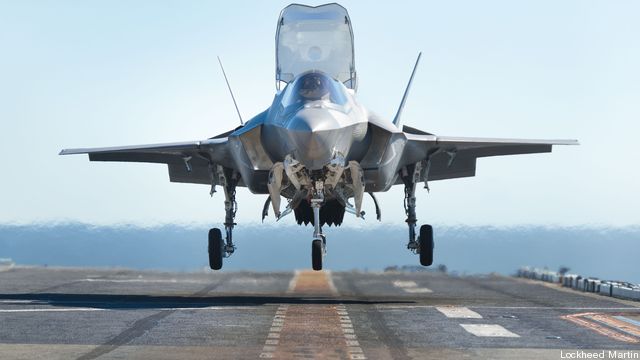 AFA WINTER, ORLANDO: Some 9,400 hours of ground testing of the F-35B exposed serious cracks in the plane's aluminum bulkheads, sending the Joint Strike Fighter program and contractor Lockheed Martin scrambling to come up with long-term engineering solutions.
The Marines say any correction will be made later to their aircraft and will not slow initial fielding of the most complex version of the Joint Strike Fighter.
"The bulkhead crack was found in the ground test vehicle during durability testing after more than 9,400 hours," Capt. Richard Ulsh, aviation spokesman for the Marines, said in an email. "This event does not impact the IOC date of the F-35B, which the Marine Corps still plans to achieve in July 2015. This finding only affects the future modification schedules to our aircraft so they can achieve the intended service life of the aircraft, which is 8,000 hours."
Ulsh noted that the goal of durability testing is to stress "the aircraft to its structural limits so that issues and corrective actions can be identified. These discoveries are expected and planned for in a developmental program."
Ground testing was halted after the extent of the cracks became clear because the test had accomplished its goal of finding out what happens to the aircraft when stressed beyond its expected lifetime, a program source said.
The cockpit bulkheads of the F-35A and C, the Air Force and Navy versions, are built of titanium. The program source said they were not likely to use titanium for the Marine fixes, but are more likely to come up with a combination of maintenance and structural reinforcements to manage the cracks over the aircraft's expected life. Given the history of America's military aircraft, the F-35B is likely to be in the air for a very long time and may substantially exceed that 9,480 hours.
The greatest challenge for the engineers is posed by the thin remaining weight margins for the complex plane, which can land vertically and take off in a very short space.
The annual Operational Test and Evaluation report says only 202 pounds remains to work with, a tiny margin. Frank Kendall, head of Pentagon acquisition, told colleague Tony Capaccio that the cracks problem is "significant but by no means catastrophic."
The program office said in s statement that the bulkhead repairs are expected to begin in March. Once they figure out the combination of maintenance and engineering to deal with this issue, they will restart ground testing around September.