TAMPA: The head of the Intelligence Community, Director of National Intelligence James Clapper, told the world's biggest intelligence conference that he has recommended to the White House that it approve significantly higher resolutions for the nation's one remaining commercial spy satellite company.
Currently, the United States limits the sale of commercial imagery to half a meter. The lowest current official resolution is 41 centimeters, although I understand the next DigitalGlobe bird, WorldView 3, will be able to supply photos with significantly lower resolutions to government clients such as the National Geospatial Intelligence Agency. So if DigitalGlobe has an image at a higher resolution, it actually has to make it blurrier before it can sell the image on the commercial market. A recent example of this is the satellite photos that DigitalGlobe supplied to Australia in the search for Malaysian Airlines flight 370.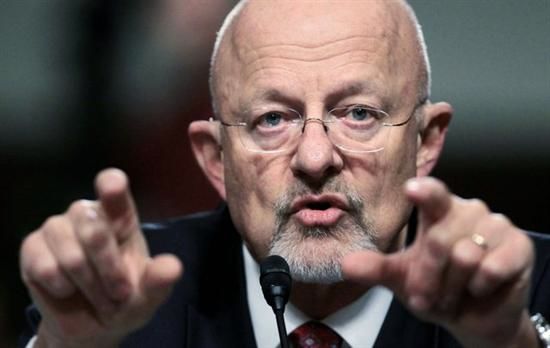 Clapper didn't exactly make all this clear during his speech at the tenth annual Geoint conference, noting only that he made his recommendation to the White House and that it "bodes well" for industry. But a DNI spokesman confirmed that Clapper's recommendation is that resolutions be higher.
Actual imagery licenses are granted by NOAA, the National Oceanic and Atmospheric Administration (NOAA), which is better known for making highly complex and accurate weather predictions. I contacted NOAA for a statement but have not heard back from them.
DigitialGlobe, which recently gobbled up its competitor, GeoEye, has been pressing for this decision for most of the last year. Walter Scott, DigitalGlobe's founder and now executive VP and chief technical officer, told me in August last year there is "significant demand" for quarter-meter resolution from the international market. That's why the company applied for a change to the resolution they can be licensed for from half a meter to a quarter meter. And Clapper has now made a recommendation that it be approved.
"DigitalGlobe appreciates the Intelligence Community's support for reforms to the current U.S. regulations on the resolution of commercial satellite imagery," Scott said in a statement this morning. "We are hopeful that the administration will act promptly on this issue to advance the nation's commanding lead in this strategically important industry, fuel innovation, and create new high-tech jobs."
DigitalGlobe's newest satellite, WorldView 3, is scheduled to launch this August. The new satellite will fly at an altitude of 617 km, and provides 31 centimeter panchromatic resolution, 1.24 meter multispectral resolution, and 3.7 meter short-wave infrared resolution. That lower, official, resolution is why DigitalGlobe wants the White House to move as quickly as possible.