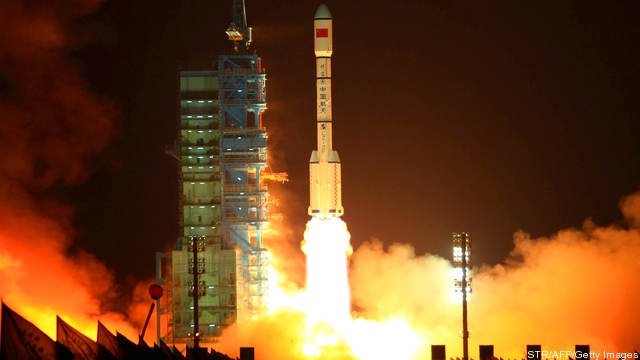 CAPITOL HILL: After a two-year delay, the Pentagon and State department finally released a report on how they would change satellite exports, which have been crippled by legislation and strict State Department controls, and recommended that Congress generally cede control of satellite exports to the White House.
As numerous studies have documented over the last decade, the market share and value of the exports of US satellites have dropped precipitously since Congress, in a fit of anti-China mania, passed legislation transferring control of them to the State Department's Munitions List.
The legislation called for in the report would lead to the removal of "hundreds of thousands" of items from the U.S. Munitions List, Gregory Schulte, deputy assistant secretary of defense for space policy, told reporters at the National Space Symposium. It will allow export of commercial communications satellites and their parts, as well as some remote imaging satellites and their parts.
Since Israel, Germany, Britain and other countries have their own remote imaging satellites, or build the sensors for them, that would seem pretty reasonable. Schulte was careful to note that the so-called Tienanmen Square sanctions remain in place. They bar the launch of any U.S. satellite on a Chinese rocket and also restrict the sale of satellites and their parts to China. There are also restrictions on exports to what Schulte called the "usual suspects," Iran, North Korea and a smattering of other states.
Schulte said he and his staff spent two days briefing the six congressional committees that oversee arms exports and believed he had made clear his message that loosening or easing the restrictions on such exports — the only items specifically placed on the Munitions List by legislation — "can strengthen our national security by doing this" had been heard and understood.
One of the most important committees, House Foreign Affairs, already has a bill — HR 3288 — on its docket that would accomplish a great deal of what the Pentagon and State departments would like.
However, Rep. Mike Turner, chair of the House Armed Services strategic forces subcommittee, didn't sound very welcoming in his reaction.
"However, the Administration's request for blanket authority to relax our export control regime over thousands of space technologies would not make this country safer, or further our goals. For four years the State Department has dragged its feet on enforcing the current regime; specifically when it comes to companies the Department believes have illegally diverted our space technology to China," Turner said in a statement. "Asking for this authority, with those facts in mind, suggests a lack of seriousness about the Administration's commitment to protecting U.S. space technology."
A congressional aide who knows arms export issues predicted the joint report made the bill's chances of passage "a lot better" in the end. He said Turner appeared to be referring to a case involving Thales-Alenia Space. They famously marketed what they called an "ITAR-free" satellite, which has been sold to China.
The aide flipped Turner's concerns on their head, arguing that the very fact that the European company marketed a satellite as free of U.S. controlled components simply "shows the degree to which the current export controls have failed to effectively cut China out of the launch biz, since it has encouraged companies to design-out US parts."
The joint report is part of an ongoing effort by the Obama administration to relax, loosen, ease — pick whatever verb is least likely to attract fearful congressional reaction — U.S. arms export controls. They have been cast convincingly by the aerospace industry as a cost burden and an occasionally negative influence on the ability of US companies to export weapons that European and other countries are only to happy to sell to countries who might otherwise buy from the U.S.
That has been truest of all for satellites, as Schulte acknowledged. "If you just look at the share of satellite manufacturing over the last decade, there's been a significant decrease in that," he told reporters.
One of the areas that will remain closely controlled is something North Korea would love to get some of — most things associated with launching men and satellites into space, as well as satellite failures and anomalies. The report, in an annex on China, notes that the PRC executed 15 launches in 2010, compared to 14 for the U.S., 31 by Russia and eight for Europe. Because China's civilian and military space programs are virtually indistinguishable, and it continues to work very hard to stealing technology from the U.S. and Europe, the U.S. "must walk a fine line and limit its transfers to China," the report concludes.
The report's annex on China includes mention of an attempt by China to "buy a fully functional European imaging satellite constellation." Because the satellites included parts subject to the U.S. Munitions List, the seller had to ask the State Department for permission. It was denied. The European company was not identified but it sounds a lot like RapidEye, a former German company bought last year by a Canadian firm. They had five imaging satellites in orbit.