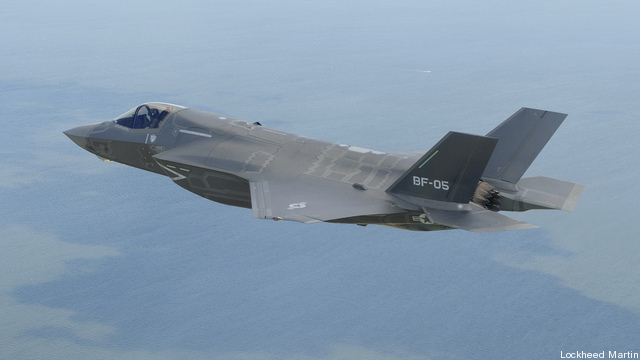 Washington: The Pentagon is digging in on the Korean peninsula and increasing its commitment throughout the rest of the Pacific. That would seem to augur well for sales of F-35s to South Korea.
Defense Secretary Leon Panetta recently announced the United States' 28,000-man garrison in South Korea would be staying indefinitely. Washington and Seoul continue to hammer out a deal to sell the Air Force's Global Hawk unmanned intelligence, reconnaissance and surveillance aircraft to the Asian nation.
Could the next step be bringing in South Korea as the next partner in the F-35 Joint Strike Fighter program? The answer should be a resounding yes, according to one defense analyst and consultant.
The United States is already shifting focus to the Pacific to counter regional threats from China and North Korea. America will look to regional powers like South Korea to help address those threats, defense consultant and former NSC staffer Robbin Laird says. (He is a member of Breaking Defense's Board of Contributors.)
The Pentagon needs its partners in the Pacific to shift from their static and defensive force posture to one that's more agile and flexible, Laird argues. A key part to that is getting the F-35 into their hands.
A South Korean-flagged fleet of F-35s would dramatically expand the country's options in responding to increased aggression from Pyongyang and Beijing. The JSF would also ensure that American and South Korean forces will be able to coordinate air operations if tensions flare up in the region.
A JSF deal could also put South Korea in the driver's seat of a growing regional effort to push back against China and North Korea.
The move won't end up being a "NATO in Asia," Mike Green, a defense analyst at the Center for Strategic and International Studies, told me earlier this month. But it shows that regional powers are warming up to the notion that Chinese aggression can only be checked with unified action. "Jointness is a capability," especially in light of the defense budget crunches facing Washington, he added.
To date, Australia and Singapore are the only JSF partners in the Pacific region. Australia is a member of the original nine partner nations including the United States. Singapore joined the program as "security cooperation partner" and is not a full-fledged member of the JSF consortium in 2003.
Japan is actively seeking a fifth-generation fighter and unsuccessfully lobbied the Pentagon to buy the F-22A in 2007. The F-35 is a distinct possibility for Japan.