WASHINGTON: Either Lockheed Martin's legendary U-2 spy plane does things that Northrop Grumman's Global Hawk drone can't, or it doesn't.
If the U-2 doesn't, then, the Air Force argues, it should be retired by 2019. After several flip flops in recent years, that is the service's current position: We need to retire the U-2 because we're upgrading the sensors for Global Hawk and it can fly for much longer periods than can the U-2. Even the very respected Charlie Allen, formerly of CIA, predicts the coming end of manned aircraft for Intelligence, Surveillance and Reconnaissance (ISR) missions.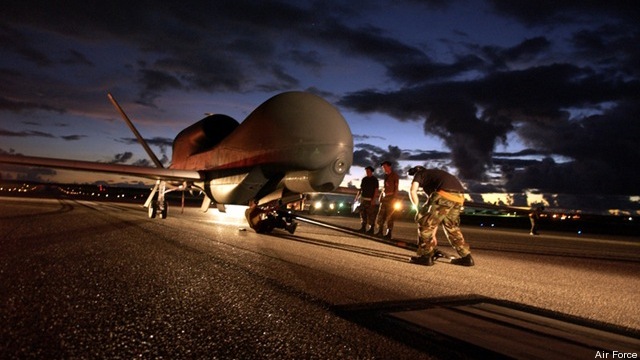 But Lockheed's Skunk Works folks have been very clever in using the Air Force's Open Mission System work to demonstrate new sensors and thus boost the U-2 apparent flexibility and longevity. (Northrop Grumman has also done OMS work on Global Hawk.)
Today, Lockheed was rewarded for its ingenuity (and congressional muscle) with a letter to Air Force Secretary Deborah Lee James from the second-most powerful member of the Senate Intelligence Committee and a senior member of the Senate Appropriations defense subcommittee, Dianne Feinstein, her counterpart on the House Permanent Select Committee on Intelligence, Rep. Adam Schiff, leading a bipartisan group of 12 other California lawmakers. (Where is Palmdale, home of Skunk Works? No extra points if you guessed California!)
"We understand that the U-2 fleet has almost 80% of its airframe life remaining, making it sustainable well beyond FY2019. Retirement of the U-2 in the coming years is expected to result in a reduction in high altitude ISR capacity, including the loss of the U-2's unique intelligence gathering capabilities," the letter says.
The lawmakers "encourage the Air Force to consider" flying both U-2 and Global Hawk aircraft "to prevent a gap in both capability and capacity."
The authors present no data or specific capability gaps that might occur should the U-2 retire in 2019. Instead, they tell James that the Air Force is effectively making it difficult to upgrade the plane as much as it needs to last longer, because the retirement date is 2019. They generously argue that deferring U-2 retirement "would also allow the Air Force time to plan for follow-on systems capable of meeting the full spectrum of high altitude ISR requirements well into the future."
Feinstein's fellow Californian, Sen. Barbara Boxer, signed, as did Reps. Kevin McCarthy Majority Leader), Ken Calvert (HAC-D), Loretta Sanchez (HASC ranking on strategic forces), Devin Nunes, John Garamendi, Doug LaMalfa, Ted Lieu, Steve Knight, Eric Swalwell, Tony Cárdenas and Alan Lowenthal.