UPDATED: Confirmed–No White House principals or staff coming to Farnborough Air Show.
LONDON: Two days after a senior Lockheed Martin official told me that Lot 11 of the Joint Strike Fighter program was still being negotiated, word from the Pentagon is that the two sides have a "handshake agreement" on the hard-fought deal for 141 planes.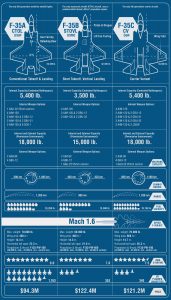 Lockheed came under public pressure from Joint Program Office chief Vice Adm. Mat Winter last February when he told assembled reporters that the company "could be much more collaborative and cooperative but they aren't… They could, but they choose not to."
My colleague Mike Stone at Reuters got the scoop this morning that the new average price is about $89 million per plane for this deal, a six percent drop from Lot 10. Breaking D readers will remember that the average price for an F-35A in Lot 10's 66 planes was $94.3 million, including the engine. The F-35A is supposed to cost about $80 million in the next two or three years, a target first put on the table two years ago by then -Program Executive Officer Lt. Gen. Chris Bogdan.
Lockheed would not confirm Mike's information is correct. They said only that "the unit price for all three F-35 variants went down significantly in the latest negotiation…" Then they focused on the so-called Block Buy, as Lots 12-14 are called, saying it would "generate additional savings for our customers."
The company did reaffirm they are "on track to reduce the cost of an F-35A to $80 million by 2020, at which point the F-35 will be equal to or less than the cost of legacy fighters, while providing a transformational leap in capability." Bogdan, of course, had said they would reach that cost by 2019, but who's gonna quibble when inflation will mean that's an even better price?
We've got this quote from Ellen Lord, head of Pentagon acquisition: "The JPO and Lockheed Martin have made progress and are in the final stages of negotiation on the Lot 11 production contract.  We have a handshake agreement which symbolizes the Department of Defense's commitment to not only equip our warfighters with the world's greatest 5th generation aircraft, but it also represents great value to the U.S. taxpayers, our allies and international partners."
Meanwhile, the supposedly "historic" high-level delegation the Trump administration was supposed to be sending to Farnborough keeps getting less and less historic. First we saw Ellen Lord drop out last week because of that ubiquitous threat faced by all hard-working officials — "scheduling changes." Now, the icing on the US cake, Peter Navarro, President Trump's top trade warrior, has dropped out, faced with the same urgent threat from his schedule. (Tip of the hat to my colleague Aaron Mehta at Defense News who broke the news about Navarro not coming. I'm waiting to hear from our WH contact on this.)
Is the administration pulling in its horns after the drubbing it received at the NATO summit, eager to limit any damage the hard-charging Navarro might cause in London? Or perhaps the Chinese, Canadian and European Union trade wars need more hands on deck?