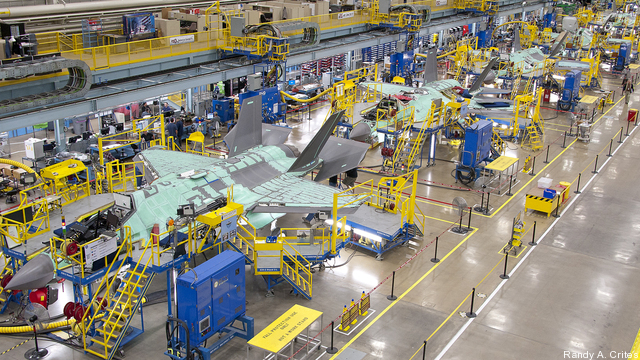 WASHINGTON: The Pentagon and F-35 maker Lockheed Martin have agreed on the terms of a deal for the Defense Department to buy two lots of F-35s for $7 billion.
The big question now is the average price per plane for each tranche (LRIP 6 and 7). While we've confirmed with two sources that the deal is as Reuter's Andrea Shalal-Esa has reported it, no one has yet squealed on the money question. This will be the number that JSF critics probably will fasten on. The last batch (LRIP 5) of 32 F-35s went for $3.8 billion.
While they didn't release the price per plane, Lockheed did say this morning that the price will come down 8 percent from LRIP 5.
"Cost details will be released once both contracts are finalized; however, in general, the unit prices for all three variants of the U.S. air vehicles in LRIP-6 are roughly four percent lower than the previous contract," Lockheed and the Pentagon's Joint Program Office said in a joint statement. "LRIP-7 air vehicle unit prices will show an additional four percent reduction. The LRIP-7 price represents about an eight percent reduction from the LRIP-5 contract signed in December 2012."
Perhaps the most important part of this agreement is its timing. Once the deal is inked that locks the planes in to the Pentagon budget and guarantees numbers for production and maintains the program's pace for testing. At a time of enormous budget uncertainty, this commitment looms large as a sign of the Pentagon's belief in the program as it now stands. The head of acquisition, Frank Kendall, and Deputy Defense Secretary Ash Carter clearly have decided to move as briskly as is prudent to lock in as many big deals as possible. Witness the multiyear deals for the V-22 and Chinook helicopters. Just before the Paris Air Show, the Pentagon announced the deals: $4.89 billion deal for 99 Ospreys; the Chinook deal for 177 aircraft included an option for another 38 choppers and could be worth up to $4 billion.
But a few immediate clouds do loom over the F-35 program, as Andrea pointed out in her piece. Civilian furloughs imposed by sequestration are likely to result in testing delays of a month. While that isn't really within control of the program, it won't help the program's optics if they can't point to being on schedule for testing after all the problems they have faced over the last five years.