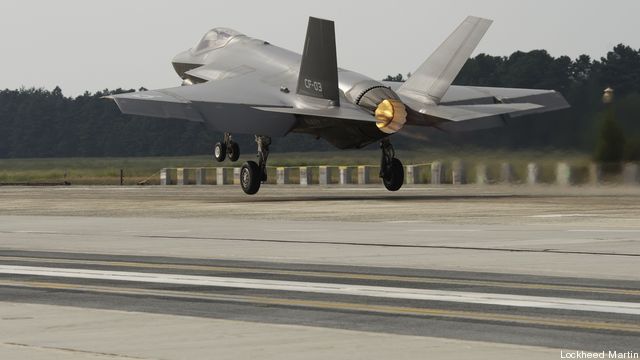 The program executive officer for the problem-plagued F-35 said Thursday he has "great confidence" the multi-service fighter can deliver the oft-promised stealth and the sophisticated package of sensors.
Vice Adm. David Venlet said he has "measured data" to show that.
In a late afternoon address to an audience of defense and financial industry representatives, Venlet said all the current problems with the Lockheed Martin-built aircraft that have been highlighted in the media and congressional hearings "are in the normal range of fighter aircraft development."
The problems Venlet cited included the sophisticated helmet that should allow the pilot to see on a visor all the flight information and sensor readings needed to fly and fight the aircraft, which has experienced flutter in the projected imagery and poor night vision. While the contractor works on those problems, the program office is funding a possible alternative, he said.
"We're going to work all of them long enough and hard enough until we get them right," he said.
The admiral said expected solutions to the design problem that cause the tail hook on the carrier version to skip over the arresting wire have been developed and will be tested this summer.
Expected solutions also have been found, he said, to problems with a fuel dump valve and with frequently failing hinges on the large hatches on the short take off and vertical landing (STOVL) version of the F-35.
"If we stick with the fundamentals, stay with reality, I'm very positive about this program," Venlet said.
The F-35 is intended to be the primary fighter-attack aircraft for the Air Force and the Marine Corps and a major part of the Navy's future carrier air wings. The three services are expected to buy 2,443 F-35s, and at least 10 other nations are partners in the program or have expressed interest in buying the fighter.
However, the program has been plagued by technical and development problems, resulting in the expected cost nearly doubling to a current projected cost of more than $332 billion, and it its expected operational status is years behind schedule. Because the delayed test program has revealed problems that will have to be corrected later, the Defense Department has reduced expected annual buys three years in a row, further delaying possible operational status.
But Venlet said the F-35 "really is a capability like no other aircraft." Although many critics, including Arizona Sen. John McCain, top Republican on the Senate Armed Services Committee, want the program cancelled, the admiral said, "those who would set out the F-35 will have to wait 15 years" for a possible alternative.
Venlet said the F-35 is fully supported by all the service leaders, the Defense Department and Congress and he was not aware that any of the expected international buyers are thinking of dropping out. Several of the international partners, however, have reduced their expected buys or delayed delivery.
Earlier in today's conference hosted by Credit Suisse, Deputy Defense Secretary Ashton Carter said, "we want the Joint Strike Fighter. We need the Joint Strike Fighter. It is key to all three of our services tactical air programs. We don't want it to be a casualty of this budget environment."