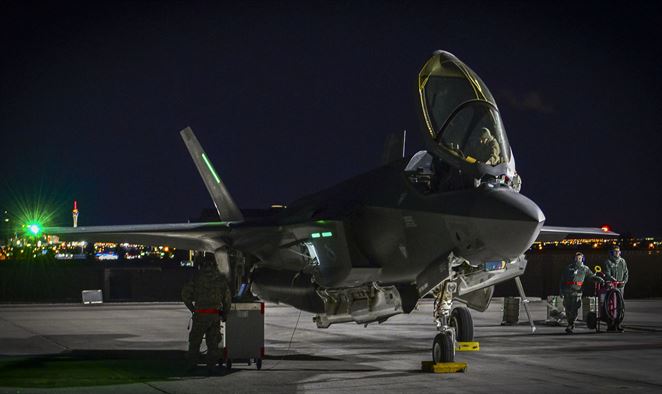 WASHINGTON: All indications from the pilots and commanders at Red Flag are that the F-35A performed far better than recent reports from the Director of Operational Test and Evaluation seemed to indicate.
[Read about F-35 combat performance at Red Flag 2017]
The now-departed Director of Operational Test and Evaluation, Michael Gilmore, said the Lockheed Martin-built aircraft is "not effective and not suitable across the required mission areas and against currently fielded threats" and detailed 64 pages of problems, many of them with to do with the aircraft's software.
The view from Red Flag was quite different. The 13 F-35As maintained a 90 percent mission capable rate during the three-week exercise, respectable for any combat aircraft. Planes did have problems, including one that lost a generator, but every issue was dealt with inside of 24 hours, according to two Air Force officers talking to reporters today at the end of the exercises.
"We flew these jets hard. We flew a ton of missions in Red Flag during those four weeks. I would strongly disagree (with the proposition) that the jets are not ready. We are ready to take these jets on the road whenever we're asked to," Lt. Col. George Watkins, 34th Fighter Squadron commander, told us. And he said the 3i software that controls the plane, its weapons, and sensors performed extremely well.
And the mission systems, which enable most of the plane's combat capabilities, performed beyond pilots' expectations. "All our mission systems were up every time," Watkins said, noting that he would often fly his F-16 with one or more of its mission systems down and just have to find work-arounds. "For the F-35 at this Red Flag, every mission system was up every time."
While Boeing continues to press the Navy to buy F/A-18E/F Super Hornets for the carrier fleet and Defense Secretary Jim Mattis has ordered a review of the carrier version of the Joint Strike fighter, the F-35C, there was no doubt expressed by the pilots at today's roundtable about whether they would prefer to fly a fourth-generation plane — like the F-16 or F-18 — or a fifth-gen plane like the F-35 for the Air Force: "The capabilities we are bringing are better than a fourth-gen aircraft. I would not want to go back and take an F-16 back into Red Flag," Watkins said.
By the way, Navy electronic warfare EA-18G Growlers did fly at this Red Flag, with an Australian Wedgetail aircraft, along with British Typhoons, F-16s and F-15Cs.
How did the F-35A fare at striking targets with bombs? They dropped 27 bombs and hit 25 targets "exactly within a foot of where it was supposed to hit." The two weapons that missed were caused by weapon failures, not the jet, Watkins said.
Although they don't have an updated figure, the pilots told us that the F-35 kill ratio was higher than the 15-1 figure they initially reported. While F-35A pilots continue to say that their success against Integrated Air Defense Systems and ability to bomb targets is at least as important as their ability to kill enemy fighters, the fact is that the kill ratio is a simple baseline against which the plane can be judged.