The first three F-35Bs to leave the United States land in the United Kingdom today, having left the US this morning. The Air Force's two F-35As leave tomorrow.
Perhaps the highlight of this year's Farnborough Air Show and Royal International Air Tattoo (RIAT) will come when the B models, used by the US Marines and Royal Navy pilots flying to and from the Queen Elizabeth aircraft carriers, perform a refueling with a KC-130 airborne tanker at both events.
I hear the Bs may also perform a flyover of the HMS Queen Elizabeth, first of her class. Royal Navy pilots will fly F-35Bs from the Elizabeth and Prince of Wales carriers. (When not aboard ship, they will be based at RAF Marham.)
The B models will also perform hovers at the air shows, though I don't think they will land. Also, the aircraft will not stay at Farnborough. Instead, they will fly from RAF Fairford and return there after each flight.
The F-35As will fly as part of that the Air Force is calling its heritage flight, as pictured below. These aircraft are flying at 11 air shows across the US this year, as well as at the UK shows.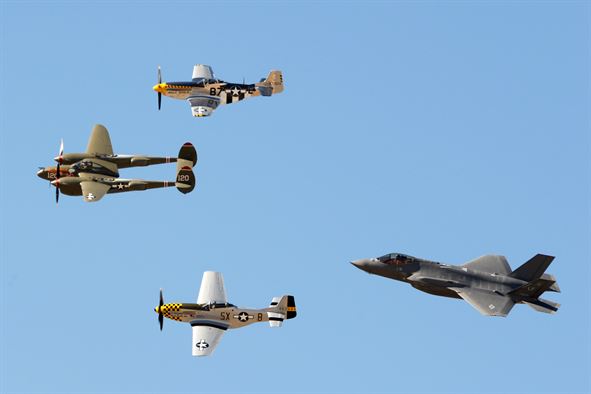 The flights will be testament to Britain's early commitment to the F-35 program, as well as proof that the planes can do what they'll need to do on the Queen Elizabeth class aircraft carriers being built with them in mind. The flights will also be a counter to the Russian and Chinese aircraft being hawked at the shows. While doing airshow appearances doesn't prove combat capability, they do demonstrate that the planes are reliable enough to fly across the Atlantic, that they can be refueled in flight, and that they demonstrate something the Navy pays a great deal of attention to — presence.
The planes' flights at RIAT will give the air chiefs assembled from around the world — including presumably the Chinese — their first closeup (legal) look at the F-35.
In addition to the flights, RIAT will boast a host of senior officials from F-35 partners countries, including Norway. We hear there will be a July 7 briefing by US Air Force, Marine Corps, Norwegian and British pilots.
Gen. Hawk Carlisle, head of Air Combat Command, is expected to brief reporters the same day as the pilot briefing, the day before RIAT officially starts. On the show's first official day open to the public, senior officials from the British Defence Ministry will speak with us, in addition to Marine Deputy Commandant for Aviation Gen. John Davis and Gen. Frank Gorenc, commander of U.S. Air Forces in Europe.
All in all, presuming all goes as expected, this year will stand in stark contrast to the last UK shows, when much of the news focused on whether F-35s would show up and then why they didn't.