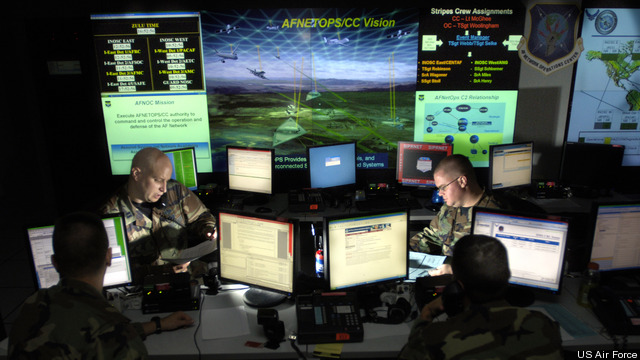 PENTAGON: The world's biggest office building is about to get a little less busy. Starting today, the Office of the Secretary of Defense is going to shrink by about 200 government personnel and a to-be-determined number of contractors by 2019, Sec. Chuck Hagel announced this afternoon.
Reducing OSD's staff below 2,200 is just the start of a much broader push to cut all military headquarters' budgets by 20 percent, and the $1 billion that today's move will save over five years is a just tiny nip in the Pentagon budget, whatever Congress ultimately decides it should be. But more important than how many staffers go away is who goes away, who stays puts, and who moves. The big winners?
"We're actually going to give more attention to that office as we streamline," Hagel told reporters this afternoon, "so that the Secretary of Defense has more access, more direct access [without] two or three other layers in between."
Boosting the Homeland Defense office is not just a managerial issue: It's a strategic one.  A smaller world with higher technology makes it ever easier for adversaries from al-Qaeda to North Korea to Chinese hackers to hit the United States itself.
"The homeland is no longer a sanctuary," Gen. Martin Dempsey, the Chairman of the Joint Chiefs of Staff, said. "Some strategic seminars we ran about a  year ago [showed that] if we're engaged in a conflict virtually anywhere in the globe there is likely to be some effect in the homeland, whether it's potentially ballistic missiles or cyber."
"The homeland is actually achieving greater prominence in our discussions of future strategy than at any time in my forty years, as it should," Dempsey said. "[That's] one of the things that is coming out of the QDR," the congressionally mandated and much-derided Quadrennial Defense Review.
Hagel emphasized, however, that the QDR has not made its final recommendations: "The results of the QDR are not in yet and I've not seen a draft of it."
What's more, this review faces a problem unlike any QDR before it: The Department of Defense has to think through its future without any clear idea of how much money it will have to spend. "I have to first point out how difficult it is doing a QDR right now in this environment of budget uncertainty, because any strategy worth anything has to balance ends, ways, and means," Dempsey said — that is, what you want to do, how you want to do it, and how you're gonna pay for it.
Hagel emphasized that "the dollar savings generated by the OSD reductions – at least a billion dollars over five years – are a small percentage of the sequester-level cuts," the 10-year, $500 billion cut to defense spending which he decried as "irresponsible" and "an unnecessary risk."
Hagel expressed some very guarded optimism that negotiations now underway in Congress might at least slow sequestration down by reducing the annual cuts for, say, the next two years. At the very least, he said, "I would hope that the Congress would take some action before they go home for Christmas and not let us to continue to dangle."