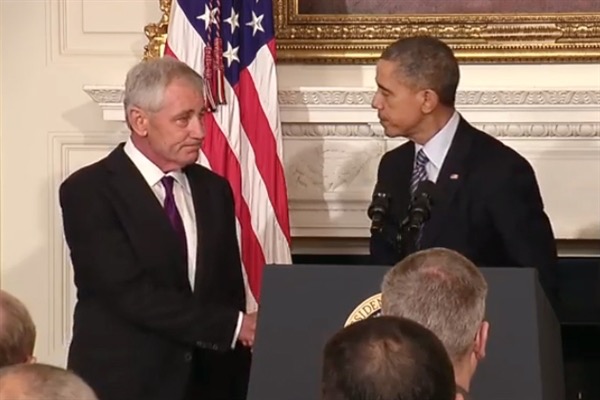 UPDATED: Flournoy Pulls Herself Out Of SecDef Running
WASHINGTON: Beset by a drubbing at the polls, a wildly troubled world, doubts about his strategic abilities, and after one of the weakest and most troubling nomination hearings in post-World War II history, Defense Secretary Chuck Hagel is now on his way out the door.
The White House clearly shoved Hagel toward the door but President Obama did not fire him and the White House made no immediate public statement as did President Bush when he removed Donald Rumsfeld from the Pentagon after Democrats handed the White House a stark electoral defeat in 2006. In fact, Obama brought Hagel to the White House and gave the outgoing Defense Secretary a big hug after announcing the resignation.
On the other hand, Rumsfeld's successor, the much-admired Bill (apologies — it's the poorer one) Bob Gates, was right at hand during Rumsfeld's farewell. No successor to Hagel is yet named.
"The timing is difficult to understand," said one well-connected retired general. Yes, the election was brutal for Democrats, but that means Hagel's successor must face a confirmation hearing in a GOP-controlled Senate. And why would the Administration seek to switch horses at this particularly precarious point in mid-stream, amidst the rising waters of the 2016 budget process, the return of sequestration, and crises in both Europe and the Mideast?
"That has to make you wonder," the general said. Why the White House think this had to happen now? "This goes a lot deeper" than we know.
One of the questions all this raises is, can the White House listen to criticism of its strategies in Syria and Iraq? Hagel made it open that he didn't agree with aspects of the White House approach and now he's gone after an election during which national security issues played a very muted role. Former Obama Defense Secretaries Leon Panetta and Robert Gates both have made very clear in books and in public comments that the White House often didn't want to listen to outside views. Our system is set up so that, behind closed doors, senior advisors and top military leaders may present the president with tough and honest advice. That is supposed to help ensure the president can make the best policy and operational decisions.
Hagel's ouster, which has been compared to Rumsfeld's, is very different from that of Dick Cheney's partner. Rumsfeld personified the Bush administration's policies in Iraq and those policies were repudiated by the electorate during an election when war was a central issue.
A corollary of the criticism question is, did the recent public critiques of administration policy — Syria and defense spending — by Gen. Martin Dempsey, chairman of the Joint Chiefs, play a role in Hagel's removal. One experienced defense Democrat believes the new Defense Secretary must hold a tighter rein on the Joint Chiefs. This appears to be reflective of the White House's perspective.
I think it also should raise questions about the performance and judgement of Susan Rice, the president's National Security Advisor. Our experienced defense Democrat writes that Rice "creates a wake as she goes, [which is] not always good for coherent policy development."
A GOP Hill staffer cited National Security Council "micro-management" as a factor in Hagel's departure: "Most (Republicans) will see this as a discouraging sign that a Secretary who was just trying to make what progress he could and do the job to the best of his ability couldn't overcome NSC micromanagement and the politicization of national security."
Sen. John McCain, the incoming chairman of the Senate Armed Services Committee, who will lead the next secretary's nomination hearing, issued this statement about Hagel's departure:
"Chuck and I have worked well together, and we have often seen eye to eye on our biggest national security challenges – ISIS, the conflict in Syria, the war in Afghanistan, a rising China, and most of all, sequestration. I know that Chuck was frustrated with aspects of the Administration's national security policy and decision-making process. His predecessors have spoken about the excessive micro-management they faced from the White House and how that made it more difficult to do their jobs successfully. Chuck's situation was no different.
"I hope the President will nominate a secretary of defense with the strength of character, judgment, and independence that Bob Gates, Leon Panetta, and Chuck Hagel all exhibited at their best."
Nomination hearings are not likely to begin until January, we hear. Outgoing House Armed Services Chairman Rep. Buck McKeon said on CNN he was "flabbergasted" to hear the news of Hagel's resignation this morning and said he thought the new nominee might face difficulties because of the President's recent immigration actions. Of course, McKeon is on his way and is not a senator, but he's got pretty good political antennae.
"Even with the cards stacked against him, he led the Department with efficiency and aplomb," McKeon said in a statement today. "The Obama Administration is now in the market for their 4th Secretary of Defense. When the President goes through three Secretaries, he should ask 'is it them, or is it me?'"
Who'll be No. 4?
"If I were picking the three [top contenders], I would take Michele Flournoy, [Bob] Work, or [Ashton] Carter," the retired general said, echoing other insiders. All three have the street cred with both parties to ease the agonizing process of confirmation, he said. "Having said that it'll probably be somebody I never heard of," the general added with a chuckle, "[but] those three people at least have enough pentagon experience that they wouldn't get captured by the bureaucracy of the Pentagon."
Did Hagel get captured? "He did, to a point," the general said. "He came in to downsize and streamline and do all the other stuff and then we ended up with ISIS, we ended up with Ukraine, so many other things that have gone bad, that I think he was overwhelmed."
It's an overwhelming task for anyone to take on. Here are a few names, with some analysis of their strengths and weaknesses.
Michele Flournoy. This administration loves to appoint women to top positions. Michele has enormous cachet within the party. Still, she left the Pentagon after her stint as Defense undersecretary for policy looking and sounding exhausted and clearly has relished returning to her family and civilian life. Also, she has been a reasonable and softly-spoken critic of some administration's actions since leaving the Pentagon. Would the White House — which seems to find criticism almost unbearable — be comfortable nominating Michele and would she accept the job with its enormous physical and emotional demands?
An experienced defense observer, who knows Flournoy well, says we can "strongly assume Michele wants the job under Hillary," which would mean she would decline the nomination.
UPDATE: As we thought might happen, Flournoy has withdrawn her name from consideration for Defense Secretary. She did so Tuesday in a letter to the board of the think tank she co-founded, the Center For A New American Security. She will remain CEO of CNAS and have time for her family. But that may only be until Hillary Clinton runs for president. UPDATE ENDS
Ash Carter. He won plaudits for his handling of logistics and some acquisition issues while head of acquisition and deputy Defense Secretary but Carter was passed over for Hagel. How would he fare in confirmation hearings? In private counsel he's known to not shy away from offering his opinion. Would the White House be comfortable with such a person? Our defense Democrat says this: "Probably the best technical knowledge of what the building buys and some strategy issues (nuclear). DoD experience, decisive decision-maker. Good if he holds the line on resources. Does he have the heft to hold the Chiefs accountable?"
Our experienced defense observer notes that Carter "left on a wave of goodwill and kudos and accolades and all that. And of course we all know he really really WANTS the job!"
Bob Work. Hagel's deputy is a very solid manager and has reinvigorated policy and the senior ranks of the Pentagon since returning to the building. He should be easily confirmed if his last outing was any indication. Work is a known and respected strategist, whose Marine style would seem to offer the administration a candidate with the chops to deliver good advice and bad news. But the administration may want to keep Work in the deputy job to provide continuity and precisely because he has shown some skill at managing the building, which is perhaps the most important work the deputy does.
Our defense Democrat says this: " Work a reach, I think, a bit new to suddenly be thrust into the top job."
The experienced defense observer who knows Work well thought he'd do a good job but said he faces some obstacles. "Work could do it but has no name recognition outside of 100 people in DC, half of them include people like you and me. Obama's shown he wants stardom-level people for this job in the first 6 years."
Frank Kendall: The Pentagon's head of acquisition is a calm and effective leader who has reformed how the Pentagon buys and how effectively it does it. Sadly, our defense Democrat does not think Kendall has a solid shot at being nominated, although he writes these kind words: "Kendall strong on management; impresses me most of the senior leadership."
Sydney Freedberg contributed to this story.