Here's the final piece of Bill Greenwalt's blueprint for a new defense acquisition system. As Bill points out in this, the third piece: "now comes the hard part." Congress and the Pentagon have proven clumsily adept at tinkering with the acquisition system over the last 20 years. But no matter how well intentioned, weapons just kept costing more and taking longer. Now we face a critical juncture in America's military enterprise and we must make major changes to how we buy weapons. Does Congress possess the political will to make fundamental changes? Can the Pentagon juggle the war in Afghanistan, our rivalry with China (let's not kid ourselves; they are a rival) declining budgets and the waning years of an administration and come up with a plan for Congress to react to? I'm starting to get depressed already, but I remain hopeful that enough intelligent people know the current system doesn't work and can summon the energy to build a newish one (much of what Bill argues for would really be back to the future — of the 1950s). Read on. The Editor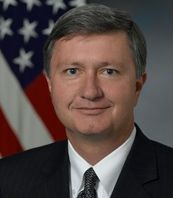 Now comes the hard part.  During the wars in Iraq and Afghanistan reforming the acquisition system was sometimes compared to trying to changing the engine of a moving car. While the current defense budget downturn offers the best chance in a generation for an engine change, the car is still moving down the highway. Thus, reform requires a focus on maximizing benefits from the legacy system while concurrently creating a process capable of building a brand new acquisition system.
The first priority should be to wall-off enough resources to maintain current production lines. It would be a huge waste of taxpayer dollars to break multi-year contracts, close lines and write off billions of dollars in investments that were made to get to the point where the Pentagon can finally produce operational capability for our forces and our allies.
Without some type of budgetary firewall, even harder choices about future production are looming. Fewer weapons will be bought with more money as unit costs skyrocket; Nunn-McCurdy breaches will become commonplace, and termination fees will rise. Some production lines might survive on life support through reliance on foreign sales or maintenance contracts (think the Lima tank plant).  The better option is to find the money to keep current production lines open to support a larger force when the next crisis hits.
The second priority should be to build breakthrough capabilities. Future capabilities need to be nurtured and design and development teams should work on real programs — not science projects. In the place of traditional 15-year major development programs the Office of Secretary of Defense should focus on building operational prototype systems using Other Transactions Authority (OTA) that can be deployed within a three- to five-year timeframe. These operational prototype systems should provide U.S. forces with real capabilities and not be technology demonstrators designed to sit on a shelf.
The 1950s Are Cool!
The Defense Department, with an eye to 1950s acquisition practices, should focus on potential technological "game changers" such as rail-guns, lasers, missile defense, advanced propulsion systems and unmanned systems, as well as building next-generation prototype upgrades to current systems. Under OTAs, consortiums of defense unique and commercial companies and the defense labs could be pulled together to build competitive prototype systems to test these technologies and concepts in an operational environment.  A similar tier of capabilities that can be deployed in a very rapid one or two years should make use rapid acquisition authorities. These two categories of prototypes (short-term and medium-term) can serve as the basis for future programs as the budget situation improves.
Sadly, the mitliary should plan on sequestration not going away, so paying for maintaining production and new operational prototypes requires a shift in money and an emphasis on personnel reform and changing the way the Pentagon does business. Business reform is critical.  Plain and simple, if business transformation cannot be accomplished, then the Pentagon's leadership and Congress will preside over the hollowing out of the military in the coming decade. Overhead will crowd out warfighting needs.
The easy cost-cutting exercises have already been done over the last several years as part of the Better Buying Power program, such as negotiating price reductions on individual contacts. To save real money, DoD must look at its own bloated overhead and processes that create limited value and increase government and industry costs.
To drive overhead costs down, we should resurrect the 1990s concept of adopting best business practices.  Lessons learned can be adapted from the commercial market, other government agencies or from our allies who have already faced even more severe budgetary downturns than the US is contemplating.
Anything that reduces the operations and maintenance tail should be considered – public-private partnerships, rationalizing the organic base, PBLs (Performance Based Logistics), adopting proven solutions in logistics, IT, training, maintenance, construction, and outsourcing or insourcing. Whatever is  cheaper or qualitatively better for DoD's business needs should be embraced. Commercial contracting procedures and incentives will be key in adopting these practices and enticing the right industry talent that can revolutionize DOD's operations.
Where To Start The Acquisition Revolution?
Congress and the Pentagon are likely to spend much of the next few years addressing short-term production programs, prototypes and business reform. While these efforts will be essential, they will not be enough. We must also begin the process of long-term acquisition reform, but where to start?  The acquisition system needs to undergo a zero-based assessment that determines the need for current acquisition laws, rules, regulations and practices, but it is first necessary to have a firm criteria of what should replace it.
Forests have been sacrificed on the altar of acquisition reform producing hundreds of studies. Another study that gathers dust is not needed. But, because of the limited time that senior officials can spend on these issues, a trusted group of outside experts is required who understand what is at stake and can give the Pentagon and Congress specific advice on what to do next. Two panels, one strategic and one tactical, each with different but complementary missions should be established to provide guidance on the framework of a new acquisition system.
Two Panels To Guide Them
The first panel, ideally led by former Defense Secretary William Perry or someone comparable, should provide strategic guidance about what kind of industrial base the military needs and what kind of acquisition system would encourage its creation. The key point here is that the required industrial base should shape the acquisition process instead of the current system, where acquisition rules that ignore the industrial base force the composition of a base that is often detrimental to the Defense Department.
The second panel would be similar to the Section 800 panel established in 1991 and it should look at translating the first panel's strategy into legislation and regulatory language while scrubbing existing laws, regulations, policies and practices to conform to this strategy. The Section 800 panel was most successful when it provided Congress with line-in, line-out changes to legislation so new legislation could be easily written. This new panel should provide the same service but for laws, regulations, policies, and practices.
None of this will be easy. It will require strong political leadership from the Pentagon and Congress to keep the car from careening off a cliff. Still, we are approaching a TINA moment in defense acquisition, and I am not referring to the Truth in Negotiations Act. Think of Margaret Thatcher's "There is No Alternative" context.  The time for real acquisition reform is now.