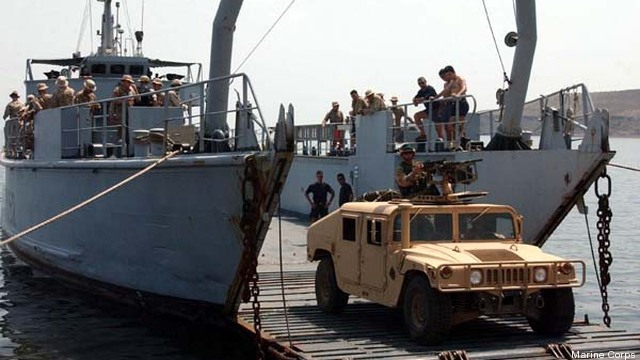 WASHINGTON: Defense firms working on the Humvee upgrade effort are setting their sights on the Marines after Pentagon officials killed the Army-led program, industry sources say.
Marine Corps officials who observed testing on some early industry designs for the Modernized Expanded Capability Vehicle — the official moniker of the Humvee recapitalization program — were more enthusiastic than their Army counterparts about the program, according to an industry source. Marine observers were asking questions and making suggestions on how to improve the MECV design, whereas Army observers simply "stood in the back taking notes," the source said. Humvee builder AM General, a Textron-Granite Tactical team, along with Navistar — which builds a version of the Mine Resistant Ambush Protected vehicle — were seen as the top contenders for the MECV program.
But with the Army's decision to cancel the MECV, industry partners are looking to the Marines to breathe new life into the program. But this isn't the first time defense firms have pitched the MECV to the Corps. The Marines scuttled any idea of buying the MECV last October, but noted the Corps would be open to plucking certain elements of the program for their Humvee fleet. The MECV capabilities sought by the Army were simply overkill for the Marines, Dan Pierson, deputy program executive officer for land warfare systems, said at the time. But industry teams tied to the MECV want to take one more shot at the Corps. This last-ditch effort, if successful, will ensure the millions of industry dollars invested in MECV won't be a complete wash, according to the industry source.
The Marine Corps are facing the same difficulties with their Humvee fleet as the Army, despite the smaller size of the Marines' tactical wheeled fleet. Unlike the Army, the Marines would likely be more open to upgrading the current Humvee fleet since that solution could be fielded faster and cheaper than the next-generation JLTV, a top defense consultant noted. The Army and Marine Corps retooled the JLTV's requirements last October to cut costs on the program. The new per-truck price is roughly $230,000, which is drastically lower than the initial $350,000 per truck price. That initial price tag prompted congressional lawmakers to kill JLTV in the fiscal 2012 defense spending bill. Armed with that revamped per-unit cost, the Army issued a formal industry solicitation for JLTV development today. However, the money saved from the MECV cancellation won't be used to support the new vehicle's development.