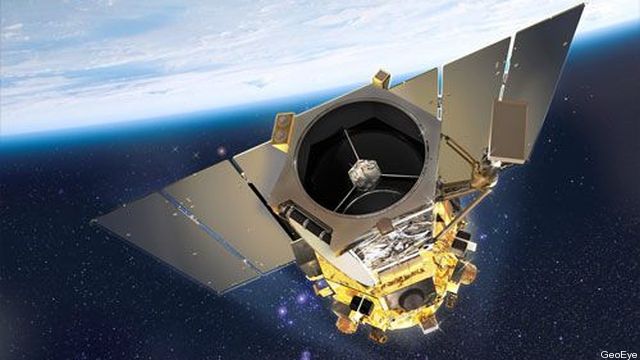 CORRECTED: We Inflated The Value of Digital Globe's Most Recent Government Contract
San Antonio: You can smell the fear and worry here at the annual Geoint conference. The budget cuts that Director of National Intelligence Jim Clapper outlined yesterday may be as deep as $40 billion over the next 10 years, sources here say. The consensus number is closer to $25 billion, but more than three sources cited $40 billion.
How much of that comes from next year's budget is, at this point, anyone's guess. For purposes of scale, the intelligence community spent $80.1 billion in the fiscal year ending Sept. 30 last year. Clapper told the Geoint annual conference yesterday that the intelligence community faces "double digit cuts" over the next decade.
The magnitude of the intelligence cuts– however deep they really are — has executives grasping for information and reassurance where they can find it. One of the biggest targets in the intelligence world may be two companies — Digital Globe and GeoEye.
They provide commercial geospatial imagery to the U.S. government and commercial clients. They depend heavily on contracts with the National Geospatial Intelligence Agency. The most recent deal, called EnhancedView, was inked last year. It's total value –IF all options over 10 years are exercised — would be worth as much as $3.8 billion. Given that GeoEye raised $400 million from Wall Street and must pay that money back with interest, they must be closely tracking how much money may flow from government customers.
DigitalGlobe, GeoEye's competitor in this market, signed a smaller deal with NGA worth roughly $3.5 billion.
In his comments yesterday, Clapper clearly hinted that the National Geospatial Intelligence Agency — which he once led– will bear the lion's share of the intelligence cuts. While he pledged that he would do everything possible to avoid the dread "salami slice" approach, he offered no comfort that the cuts might be forestalled.
Since Clapper's remarks I've spoken with five senior executives at companies that sell either geospatial intelligence hardware or software and they are all watching their government customers like hungry hawks worried their prey will escape into the underbrush.
The strategic question the intelligence industry faces is: how much intelligence, surveillance and reconnaissance products will be needed over the next five years. As America withdraws from Afghanistan and Iraq, how much will commanders and the intelligence community continue to depend on ISR assets such as Global Hawk, Predator variants and satellites.
The consensus here is that no one really knows, but there are two clear schools of thought. One group, which we might call the status quo ante bellum, thinks the demand will remain stable or even increase. Since we won't have as many people on the ground watching Pakistan, Afghanistan, Iraq and Iran, they argue that we will have to rely as much or more on airborne and space surveillance. The other school — let's call it the world-is-ending group — thinks Clapper plans to slash NGA's budget as demand for ISR shrinks and the ISR pipe will shrink to a pipette.
One entity that deals with ISR is unlikely, Clapper made pretty clear, to suffer cuts: the National Reconnaissance Office, which builds and operates the nation's highly classified spy satellites. He said the U.S. "must sustain a robust overhead architecture," which is intel speak for the NRO's spy satellites. Clapper said the highly sophisticated birds satisfy "many, many target demands." Since targeting information is a crucial tool for the military to deter foes and provide the military with absolutely crucial data, you probably can scratch NRO off your ISR budget cut list.