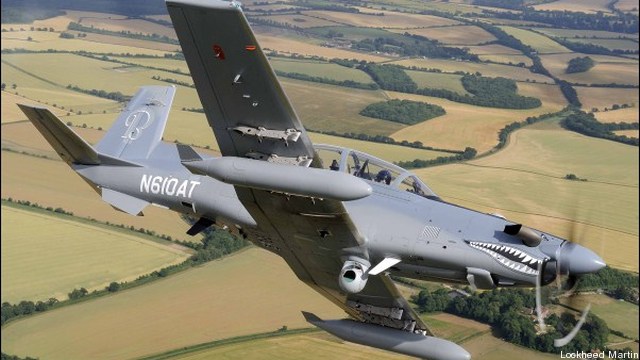 National Harbor: A light-attack aircraft may yet find its way into the hands of U.S. aviators, but not with the service that some may have thought.
Lockheed Martin and Hawker-Beechcraft are considering pitching its AT-6B light-attack counterinsurgency plane for the upcoming Navy-led Combat Dragon II program, according to sources familiar with the effort.
The Navy recently shifted over $17 million into the Combat Dragon II program, designed to prove that a small, turboprop-driven aircraft can be used for "high end/special aviation" missions in Afghanistan.
The program was driven by the need coming out of from Central Command to have aircraft do close air support missions that larger fighters and bombers could not do, specifically in support of Naval Special Warfare units.
The Navy tried to fill that requirement through the Imminent Fury program, using the Brazilian-built Embraer Super Tucano. But that program fizzled out shortly before the planes headed out to Afghanistan for operational tests.
Combat Dragon II, which is set to kick off in Afghanistan by next spring, will use modified, Vietnam-era OV-10 Broncos, sources say. But the Lockheed Martin-Hawker Beechcraft team are pushing the Navy to include their plane in that mix.
While no decision has been made on whether to roll the AT-6B into Combat Dragon II, its inclusion could breath some new life into the program.
To date, the only firm commitment to buy a light-attack aircraft has come from the Afghan Ministry of Defense to support its fledgling air forces.
The Air Force was looking at the AT-6B, along with the Super Tucano, to build a fleet of aircraft specifically to train partner nations in counterinsurgency and counterterrorism operations. But to date, the Air Force has yet to formally solicit proposals from industry for that international training effort.
Moreover, Air Force leaders — including Air Force Chief of Staff Gen. Norton Schwartz — have said the service will never field a light-attack aircraft of its own, despite the fact the Joint Requirements Oversight Council and Joint Requirements Board validated the need for the plane, sources say.
But since the AT-6B already uses the same fire controls as the venerable A-10 Warthog, and that it can be fitted with key sensor and communication systems needed for counterinsurgency missions, makes the plane a good fit for the Navy or whoever needs a light-attack airplane, Lockheed Martin Business Development chief Bob Silva said.