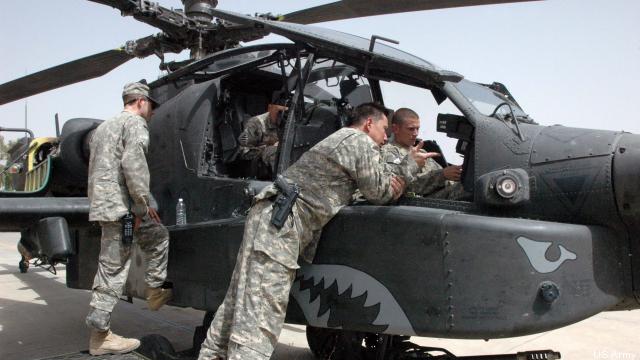 Washington: After a series of successful flight tests in New Mexico last week, a version of the Joint Tactical Radio System could be back in the Army's arsenal as soon as next fiscal year.
An airborne version of the Lockheed Martin-built radio, known as Airborne/Maritime Fixed JTRS, flew several test flights aboard the Army's newest Apache attack helicopter last week. The tests coincided with the service's ongoing Network Integration Experiment at White Sands Missile Range. The AMF-equipped Apache flew one of its six operational "vignettes" as part of the NIE, Mark Norris, Lockheed's vice president for AMF JTRS, said. The other five were conducted by company officials, he said.
Program officials put the AMF through its paces during the drills. The first two tests looked at the radio's effective range and ability to connect with ground units, said Doug Booth, director of business development for the system. The next three exercises examined how fast the radio could reconnect with ground units after a signal loss, as well as the system's ability to transmit imagery from the Apache's on-board camera. The final test, with the Army, looked at how AMF performed within the the service's network. Without going into operational specifics, Booth said the radio passed all six tests "with flying colors."
Service officials will decide whether to move AMF into initial production in early fiscal year 2013.
That decision will coincide with service plans to replace the handheld version of JTRS known as the Ground Mobile Radio. Excessive costs and schedule delays prompted the cancellation of that Boeing-built JTRS variant in October. Lackluster performances at past NIEs helped seal the program's fate, Army acquisition chief Heidi Shyu said at the Association of U.S. Army's annual conference that month.
Overall success of AMF aside, there are a few things the Lockheed team still has to work out on the program. Getting the radio to work flawlessly with both the Apache and the Army communications network is one of those challenges, noted Alex Moore, AMF business development lead for Lockheed. "Integration is going to be a big piece . . .and we are just trying to take it one step at a time," he said. During the imagery tests there was some difficulty between the Apache and AMF with collecting the images, he said. But once the data was moved into the Army network, the data moved "seamlessly", Moore added. That issue among others were just "small pieces that [we] have to work through," Booth said.
Just getting the AMF-equipped Apache ready for live-flight tests was a significant achievement on its own, Norris explained. Lockheed officials outfitted the helicopter with AMF, synced up the radio with the helicopter's own communications systems and got it flying in a matter of weeks. "I would challenge anybody to do that," he said.