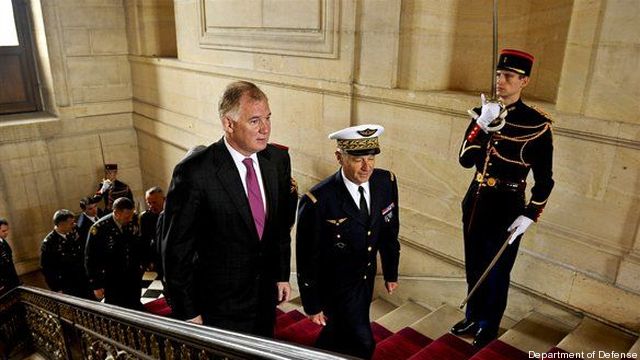 Paris: One of the biggest topics being discussed by defense industry experts here as they rev up for the Paris Air Show has little, at first glance, to do with planes: cyber war.
Much of the chatter was sparked by Deputy Defense Secretary Bill Lynn's speech in which he discussed nothing – nothing – but cyber warfare. Perhaps it was just as well that Lynn spoke only of a threat that would draw allies together in light of what his boss, Defense Secretary Bob Gates, has said recently about NATO allies failing to step up and commit blood and treasure to NATO missions.
Lynn noted, as he has in the past, a 2008 cyber attack believed by many to have been launched by China. By getting a thumb drive into the hands of an American, a "foreign intelligence agency" did "something we thought was impossible. It was our worst fear: a rogue program operating silently on our system, poised to deliver operational plans into the hands of an enemy," Lynn said.
The threat is so dire that the Pentagon decided to do something about it and begin coordinating with defense companies, who keep huge amounts of classified data on their computers.
In this cyber pilot program the Defense Department is "sharing classified threat intelligence with defense contractors or their commercial internet service providers along with the know-how to employ it in network defense. By furnishing network administrators with this threat intelligence, we will be able to strengthen the existing cyber defenses at defense companies.
In the voluntary program the government, said Lynn, will "not be monitoring, intercepting, or storing any private sector communications." Instead, the government will warn the companies when they are under threat.
The Pentagon clearly is more than just worried about a new conceptual threat. From the recent (Chinese?) espionage to what Lynn called the "most dangerous cyber threat: using code to destroy physical structures. "This development-which would mark a strategic shift in the cyber threat-is only just emerging. But when you look at what tools are available, it is clear that this capability exists. It is possible to imagine attacks on military networks or on critical infrastructure-like the transportation system and energy sector-that cause severe economic damage, physical destruction, or even loss of life," he said.
The tone of Lynn's speech and the fact that the deputy Defense Secretary of the United States came to Europe and spoke about nothing else deeply impressed several industry officials with whom I spoke. They did not want to be identified. It was clear from their comments that they saw potential business – as well as a threat – both in Europe and the United States. Given the near certainty that the American defense budget will shrink for several years, while cyber spending is growing by leaps and bounds, they thought it an especially attractive proposition.