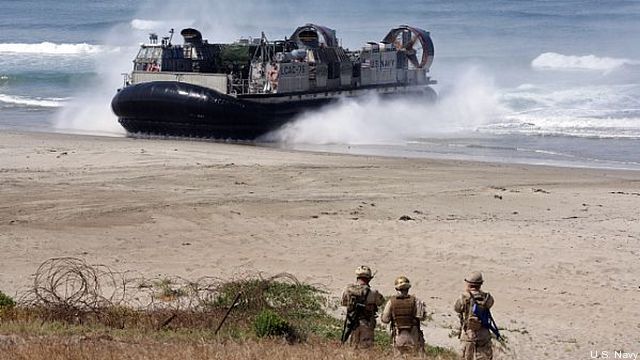 Washington: A series of war games led by a special Marine Corps task force could dramatically change the way the service fights their way from ship to shore in the future.
The Marines' Amphibious Capabilities Working Group kicked off its first war game this week at Marine Corps Headquarters in Quantico, Lt. Gen Richard Mills, head of Marine Corps Combat Development Command told me. This is the first of two the working group will conduct over the next few months, Mills said. This week's war game will test and examine core Navy and Marine Corps tactics and see how they can be adapted to the modern battlefield. The follow-on war game will explore how other services and "governmental agencies" can sharpen those core capabilities, Mills added.
Every aspect of amphibious ops is under the microscope, the three-star general said, from how far offshore the Marines launch beach assaults to the way they secure a beachhead. One scenario being fleshed out is how to integrate special forces into service-led amphibious missions, Mills said. Traditionally, those missions are carried out by Marines alone.
These games will be the first real test of the group's preliminary proposals to change the way Marines do amphibious operations. The group briefed Assistant Marine Corps Commandant Gen. Joseph Dunford earlier this week on their progress. The early proposals briefed to Dunford will likely spur major changes to the Marines' amphibious warfare doctrine, according to Mills. "They're looking at [changing] tactics, techniques and procedures and those sorts of things," Mills told me yesterday.
The group is also looking at changing the way Marines are resupplied after storming a beach head, Mills explained. Marines usually carry supplies and equipment on board their assault vehicles during a mission so that units can carry on the fight from the water's edge without resupplying. But what if supplies were airlifted to Marines after the beach head is secured? What will that do to the Marines' ability to press the battle inland? Group members plan to answer those questions and myriad others during the war games, Mills said.
In some cases, long-standing service concepts for amphib ops may end up on the cutting room floor. Iconic beach assaults on Tarawa and Inchon — staples of Marine Corps lore — may not fit into the working group's vision for future amphib ops. "There are different ways of getting [amphibious] missions accomplished," working group co-chair Col. Michael Groen told me during a September visit to the group's headquarters at Quantico.
One thing that will remain unquestioned is the need for amphibious operations in U.S. national security strategy, Mills told me today. "The theory is solid; we need it," said Mills. Marine Corps Commandant Gen. James Amos staked the entire future of the service on amphibious operations. In a September letter to Defense Secretary Leon Panetta, Amos made clear the future of the Marine Corps lay on the shoreline and not as a "second land army."