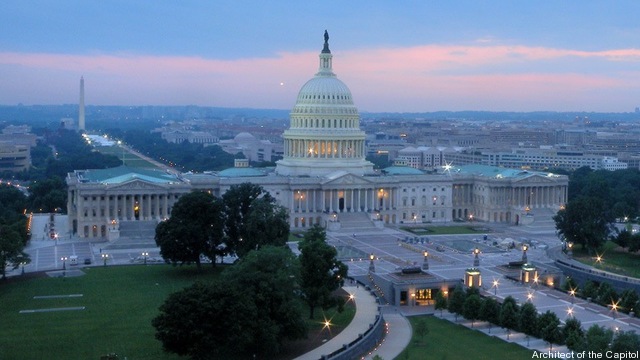 CAPITOL HILL: Defense Secretary James Mattis fired off a new letter to House Armed Services leadership on Tuesday, asking lawmakers again to vote in favor of waivers for certain countries Washington is trying to sway into its orbit, but who continue to do business with Russian defense firms.
The letter was delivered to HASC chairman Rep. Mac Thornberry and Ranking Member Rep. Adam Smith on Tuesday, a day before the full House was set to vote on the 2019 National Defense Authorization Act containing language broadly supporting the waivers.
In the missive (which can be found here) obtained by Breaking Defense, Mattis asked for the Secretary of State to be given the ability to waive sanctions so the United States could "sell military equipment and enable countries pulling away from the Russian orbit." He wrote that the waivers "would not benefit Russia; it will only benefit the U.S. and countries willing to pursue a security relationship with us."
The House is expected to vote on the bill Wednesday night, while the Senate is slated to vote next month on the $716 billion defense spending package.
But any waivers would give the green light to countries such as India and Vietnam — who have long relied on Russian weapons — to avoid American sanctions. It would, in the end, benefit segments of the Russian defense industry since it would remove any economic pain from continuing the relationship.
For India in particular, the waivers would be a huge boon to the modernization of their armed forces, which use an often motley mix of Russian, American, and European-made weapons.
India currently has about $12 billion worth of Russian arms deals in the works, one of the biggest a proposal to buy five advanced S-400 air defense systems.
India and Russia are also close to finalizing a $1.1 billion deal for 48 additional Mi-17-V5 military transport/utility helicopters, with final signatures expected during Russian President Vladimir Putin's October visit to India. According to local reports, the contract will mandate that 30 percent of the work be done by the Indian defense industry, as part of the Modi government's push to build up the Indian manufacturing sector.
Mattis was careful to say that the Pentagon supports slapping sanctions on Russia for its interference in the U.S. presidential election in 2016, as well as for its occupation of Crimea, but "we are faced with a once-in-a-lifetime opportunity to decrease Russia's dominance in key regions, to build closer relationships with strategic partners."
Appearing before the Senate Foreign Relations Committee on Wednesday, Secretary of State Mike Pompeo praised the Countering America's Adversaries Through Sanctions Act, or CAATSA, provision, telling lawmakers that "if we deny [allies] the capacity for spare parts…we are likely to drive them into the hands of the Russians."
Qatar is also reportedly considering the S-400, but there is no indication that the deal is anywhere close to being finalized.
Indonesia and Vietnam — two countries Mattis has mentioned as potential recipients of the waivers — also buy plenty of weapons from Russia. Jakarta closed a $1.14 billion agreement for fighter jets recently, while Vietnam is also looking for more Russian-made aircraft.
In their respective versions of the Pentagon spending and policy bills approved earlier this year, the House included waiver language for allies, while the Senate version did not. But when thee two sides came together in conference earlier this month to hash out a deal, the waiver language made it back in.
"There is absolutely nothing in this conference report that reduces current sanctions on the government of Russia, a company, an entity or a person," a congressional staffer told reporters on Monday. "This has all been about (the fact that) the Russian government has figured out a way to go in like the mafia and at very low cost, stranglehold some countries that we think — from a diplomatic and interoperability perspective — that we should have closer relationships with."