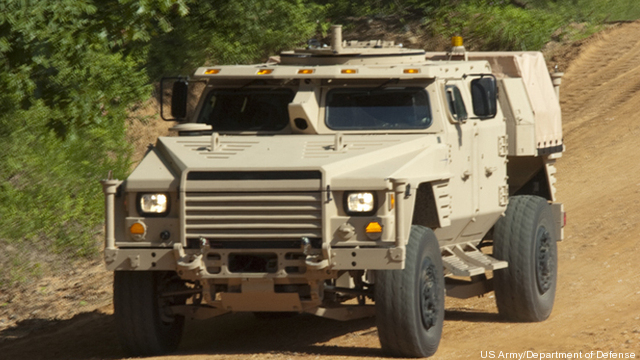 Washington: The Army is keeping an open mind on all options for its Joint Light Tactical Vehicle, but rejected using an upgraded version of the Humvee.
The Army is willing "to take a look" at all potential vehicle alternatives that can meet the JLTV's cost and performance goals, Secretary John McHugh said during today's Defense Writers Group breakfast. McHugh was vague on what current alternatives are under consideration. But one possibility was not on the list. "We are done with the Humvee," he said regarding using an upgraded version of the truck to fill the JLTV's requirements.
Some inside the Beltway argue the Army could get JLTV-like capability for a fraction of the cost by using revamped Humvees. That argument picked up steam earlier this month when the Army and Marine Corps lowered their expectations for the new tactical vehicle.
The services dramatically reduced JLTV costs by axing several key features from the combat truck's design, saving the services over $100,000 per vehicle. The cuts were designed to soothe tempers on Capitol Hill, which is growing increasingly impatient with the program. House appropriators axed $50 million from the program, while their Senate counterparts opted to kill the JLTV all together.
But the downgraded requirements also made the truck virtually indistinguishable from the retooled version of the Humvee, some outside the Pentagon claim. McHugh made clear to reporters today he is not one of those people.
There is simply no comparison to what a upgraded Humvee can do and what a JLTV is designed to do, he told reporters. The Army does not expect that assessment to change anytime soon, he added.
There is no way the Humvee could be modified to the point where it could replace the JLTV, even if the Army wanted to, a top service officer says. The Army has "hit the max capacity" on what the Humvee can do, Lt. Gen Robert Lennox, chief of the Army office in charge of funding service programs, told me last week.
McHugh conceded Congress could force the Army to change its tune on Humvees-for-JLTVs. But the Army cannot afford to take anything "off the table" given the incredible fiscal pressure it is under, he said. That said, the Army isn't quite ready to cross the bridge from the JLTV to the Humvee.