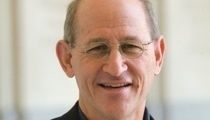 It is with great sadness I must tell our readers of the untimely death of Michael Adler, our most excellent reporter on the long-running Iranian nuclear crisis.
Sigh. Even though we write about war and its relatives here at Breaking Defense, it never really entered my mind that one day I'd have to write about the death of one of our writers. Most of us are creatures of Washington and spend little time in harm's way.
Michael died of a heart attack.
A ridiculously experienced reporter for the French news agency Agence France Presse, Michael Adler lived the life of which many reporters dream. He was a foreign correspondent and worked in Bangkok, Kuwait, Sarajevo, Bonn, Berlin and finally, Vienna, before coming home to work on Iranian nuclear issues at the Wilson Center. (Click on the link to Wilson for a more traditional obituary.)
Our readers will remember his fabulous score when he scooped the world and got an interview in November last year with the Iranian foreign minister, Javad Zarif, at the height of the breakthrough talks.
He could reach the head of the International Atomic Energy Agency (IAEA) when he needed a quote and, sometimes, an exclusive interview. Russian Deputy Foreign Minister Sergey Ryabkov laid out for Michael just how nuclear talks in Moscow had gone and why. Senior White House officials and diplomats from just about anywhere spoke to him, sotto voce, about what was really happening and was likely to happen. Like many good reporters, Michael often knew better than his editors what really mattered. A top notch lunch was on that list.
He really wanted to live the rest of his adult life here in Washington and hoped to work more closely with us. We would have been honored. Our condolences to his two daughters, whom he loved dearly, and to his mother.