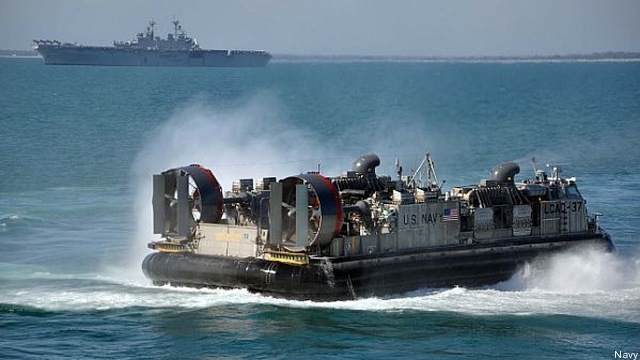 PORTSMOUTH, VA: People tend to think of the Marines as square-jawed jarheads, not tech geeks. But after a decade of wartime investment in network technologies, Marine commanders have acquired lots of high-tech gear — so much so that now they're returning from long land wars to Navy ships, they can't always find a place to plug it all in.
"Frankly, a lot of the Marine units have come on board, they've got new command and control items, they're ready to go, they've got the USB port, and we're standing there with the three-prong plug — and we say, hmmm," said the Chief of Naval Operations, Adm. Jonathan Greenert, at last week's expeditionary warfare conference here. "We've fallen behind."
Consider last year's Bold Alligator exercise, the first time in years that brigade-sized Marine headquarters had embarked on Navy ships for large-scale live wargames. (Smaller Marine Expeditionary Units, MEUs, have been at sea in continuous rotation throughout the two land wars, but they conduct simpler operations with simpler networks).
So when the full-up Marine Expeditionary Brigade headquarters came aboard, Greenert recounted, the Navy people kept asking "what's all this new fangled stuff the Marines have?"
The Marine response? "They say, 'we've been busy developing command and control for ten years — what have you been doing?'" Greenert said. "And we go, 'uhhhh, HADR?'" (That's Pentagonese for "humanitarian assistance and disaster relief," important work but hardly as challenging to command and control as counterinsurgency).
The blame falls mainly on the Navy, said Greenert. "We've sort of atrophied a little bit," he told the conference. Exercises like Bold Alligator and Dawn Blitz "pretty much showed the same thing: You guys are a little out of synch in your command and control; as you move to the future that's where you really ought to work."
It's not just the Marines that have compatibility problems with the Navy, either: It's also the select parts of the Navy that have spent most of the last decade ashore. That includes the famous Navy SEALs, who have spent more time since 9/11 in the deserts of Iraq and the mountains of Afghanistan than on Navy ships at sea.
"The communications systems are always a challenge," said Captain Travis Schweizer, the SEAL who runs the "Special Warfare Branch" on the CNO's Pentagon staff, when I talked to him at the conference. "Some of them [are] standalone systems, but that plug-and-play piece is essential," he said, and it will take some serious work to make SEAL systems plug-and-play aboard Navy ships again.
"I think it's pretty simple," added Capt. Tim Rudderow, the CNO's chief staffer overseeing Navy Expeditionary Combat Command, whose bomb squads and construction battalions (CBs), the famous SeaBees, have spent most of the last decade inland. "The Marines have been operating ashore, the ships have been afloat, they just haven't integrated in so many years — very much similar to us with explosive ordnance disposal [and] the SeaBees: We just haven't been integrated for years."
So how does the Navy close that gap, I asked Greenert at a roundtable he held with reporters. The long term solution is something called CANES (Consolidated Afloat Networks and Enterprise Services), which will replace the array of often-antiquated networks on ships today, which range from five separate systems on smaller ships to a whopping 41 on a nuclear aircraft carrier. But the process of installing CANES on ships is moving slowly, and sequestration, shutdown, and continuing resolutions have only slowed it further.
"CANES, we've had that program in place for a while, but it takes time," Greenert told me and the other journalists. "We can get some high tech quick turnaround solutions to come in — and they're more temporary."
In particular, such patches won't address Greenert's top priority, securing the Navy's systems against cyber and electronic-warfare attack. "They may not be jam resistant, but that's really an overarching problem" that the whole fleet has to deal with in the longer term, Greenert said. "Most of the operations we do today are not in electromagnetic contested areas," he said. (The Western Pacific off the coast of China is, of course, the great and dangerous exception).
As far back as 2006, Marine Corps Forces Command staff told me in an email, the two sea services established a "Naval Amphibious Baseline (NAB) to address the modernization" of onboard command facilities for Marine Corps units. Originally a three-step program, NAB has now added a fourth phase to reflect the specific problems revealed by Bold Alligator 2012.
Part of the problem is simply that Marine units go through their modernization cycle faster than Navy ships, MARFORCOM explained. Marine Expeditionary Units go through an 18-month cycle of getting new equipment and personnel, training, and deploying. Navy ships typically get new tech installed during a major maintenance "availability" every four years or so. "The end result means that Marines 'refresh' faster than their assigned shipping," said MARFORCOM, "[and] recently identified MEU requirements are identified 'too late' in the Navy modernization process" to be implemented on the Navy ship that will be carrying that Marine unit.
The stopgap solution, of course, is to slip in incremental, interim upgrades onto Navy ships. The problem, of course, is that right now the Navy and indeed the entire Defense Department are delaying not only modernization but basic maintenance right and left because of budget cuts. In fact, Congress can't so far settle on what their budgets even are. Until Washington resolves this fundamental logjam, a lot of Marines are going to be stuck trying to fit three-pronged plugs into USB ports.