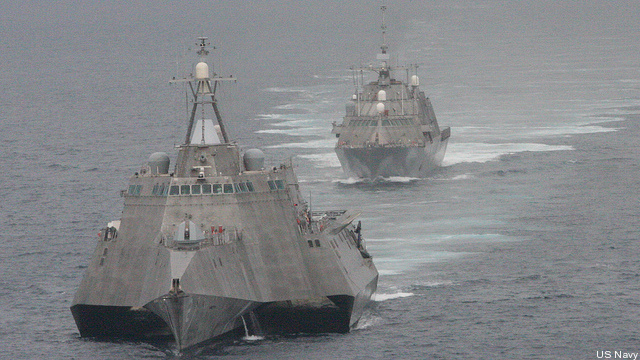 WASHINGTON: While the Littoral Combat Ship is not suited for the front lines of a war with China, it would provide vital protection to US supply lines in such conflict, said Under Secretary of the Navy Robert Work, and against Iran, LCS would be in the battle from "day one," with eight LCSs ultimately operating out of Bahrain. Indeed, the two potential theaters of war are so different that the Navy may consider focusing the "much more maneuverable" Lockheed Martin version of the LCS on fighting fast attack boats in the narrow waters of the Persian Gulf, while the very different General Dynamics design, with its larger flight deck and fuel tanks, operates primarily in the vast reaches of the Pacific.
"We like having two options," said Work, one of the Navy's most passionate advocates of the controversial LCS, speaking this afternoon at the libertarian Cato Institute, where three other panelists all questioned the Navy's decision to buy two distinctly different designs. The Navy might one day have to choose one over the other "if the bottom falls out of the budget," Work told reporters afterwards, or if one design proves simply superior across the board after several years of real-world experience.
Those scenarios aside, however, Work said, "we're committed to two different classes" – a rare official acknowledgment that the two LCS designs are not mere variants of a single class of ship but two different classes altogether. Work rejected the idea that buying only one LCS design would be significantly more cost-efficient, arguing that the planned 27-28 buy of each version is far more ships than many Navy ship classes in the past and quite large enough to get efficiencies of scale in spare parts, maintenance, and training. Besides, Work said, the Navy is addressing the biggest incompatibility already by moving both versions to the same electronics for their combat systems and communications.
Most public and Congressional criticism so far has focused on LCS-1 Freedom, built by Lockheed Martin and its partner Marinette Marine on the Great Lakes. So far LCS-2 Independence, built by General Dynamics and Austal on the Gulf Coast, has taken far less flak: "Unfortunately, I haven't got my hands on any LCS-2 whistleblowers" – yet – said Ben Freeman of the Project On Government Oversight, which has led the charge against LCS-1, speaking at the same event as Work.
Work made sure to tout each version's distinct advantages. LCS-1 looks like a conventional warship but at high speeds operates like a giant speedboat, its steel hull skimming over the waves. LCS-2 is an all-aluminum "trimaran" whose triple hull supports an extraordinarily broad flight deck for helicopters.
"LCS-2 has an enormous capability as far as aviation," Work said, as well as longer range. That's a powerful combination in the Pacific, where he saw the LCS's primary wartime mission not as challenging the Chinese fleet and land-based defenses head-on but as protecting the fleet's long and vulnerable supply lines. "What you need is something to escort your combat logistics ships," Work said, particularly against the threat of submarines. The LCS "mission module" for anti-submarine warfare, originally intended to form a relatively static barrier zone against enemy subs, is being redesigned with this much more mobile long-range escort mission in mind, Work told reporters.
By contrast, "LCS-1 is really our swarm killer," Work said, being "much more maneuverable" to take on large numbers of fast attack boats. That's a favorite Iranian tactic, and in the narrow confines of the Gulf, LCS-1's shorter range would be much less of a problem in the Pacific. In addition, compared to LCS-2's all-aluminum design, LCS-1's steel hull makes it much easier to upgrade the main gun from 57 mm to 76 mm, although Work thinks that a smaller gun with more ammunition is still a better bet against swarms of small boats.
So, Work speculated, "maybe over time the LCS-2 becomes the Pacific ship," while LCS-1 operates mainly in the Atlantic fleet – although he took care to tell reporters afterwards this division of labor was strictly "hypothetical."
What's not hypothetical is that the very different demands of the two theaters make for important differences in how the Navy would use the LCS. Against China, said Work, attempting to clarify earlier remarks by Chief of Naval Operations Adm. Jonathan Greenert, "what he was saying was you weren't going to send the LCS into the Western Pacific," where Chinese land-based missiles and aircraft pose the most intense threat. Instead, said Work, LCS would be further out to sea watching for Chinese submarines that might threaten the Navy's long supply lines across the Pacific. "It would be operating as a combat logistics force escort," he said. "It would still be in combat."
By contrast, against Iran, "on day one in the Gulf this ship will be fighting in the [fast attack boat] threat underneath the air defense umbrella of the fleet," Work said. LCS would serve as a kind of naval skirmish line to keep Iranian small boats away from the Navy's destroyers, cruisers, and carriers, which would in turn protect the LCS force against airstrikes and land-based missiles.
In either theater, Work emphasized, "This ship will sail in the fleet, it is a warship, it will be ready for war, and I guarantee you that sailors who fight this ship are going to be darn glad they're on it."
No matter what, two LCS – one of each type – are already in the fleet and two more on their way, with twenty more – ten of each – under contract. So, said the Congressional Budget Office's naval expert Eric Labs, "We're going to have a bunch of LCS's around, we're going to have at least a minimum of 24." But as those current contracts wind up, said Labs, speaking at the same event as Work, "come 2015, the Navy's going to have another decision point, [to] continue both types of ships or just one" – or neither.
Work understands that the burden of proof is on the Navy here. "This ship is so different, it's so different from anything we've put to sea," he said. "We had to prove it, we have to show everyone."