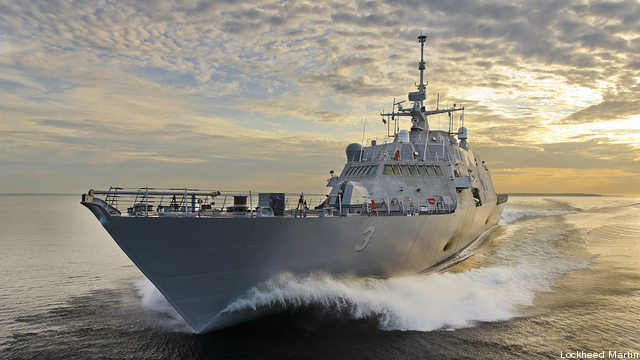 The Navy defended its troubled Littoral Combat Ship in advance of a House Armed Services subcommittee hearing on a forthcoming GAO report that advises putting the LCS program on pause and rejected the report's key recommendation to slow procurement of Littoral Combat Ships to a "minimum," Rear Adm. Thomas Rowden said.
And the service only "partially concurs" with the Government Accountability Office's recommendation to reconsider the purchase of the plug-and-play "mission modules," still in development, which are to be loaded on LCSs for specific missions such as minesweeping, sub-hunting, or defeating Iranian-style fast attack boats, Rowden told reporters yesterday.
"When you look at all of the other requirements that you have for the mission modules, I think it necessitates the number of mission modules we've been procuring," Rowden said Tuesday morning. (The Navy embargoed the briefing until 2 pm today). "There's mission modules that go on ships and then there's mission modules we have to test, mission modules we have to maintain, there's mission modules we perhaps have to preposition" in foreign ports – such as Bahrain or Singapore – to allow forward-deployed LCSs to swap one set of equipment for another without sailing back to the US.
The Navy has backed off from optimistic early concepts for popping modules in and out of LCS rapidly enough to change, say, an LCS sub-hunter into a minesweeper within days. But it still argues the modular equipment will provide not only short-term tactical flexibility but long-term adaptability to new tactics and technologies. It's much easier to upgrade the mission modules on an LCS, Chief of Naval Operations Adm. Jonathan Greenert himself has said, than to take a traditional warship back to port and rip out obsolete equipment hardwired into the hull.
"This the beauty of these ships," said Rowden. "As industry innovates, as we innovate, as our enemies and potential enemies innovate and come up with different ways to work against us, we have the opportunity to cost effectively and affordably address the changes [and] field those capabilities sooner."
"I'm not worried about the mission modules at all," Rowden said.
Another GAO concern has been how uncertain the Navy's estimates are of the long-term "life cycle" costs of the LCS ships — not just the cost to build them, but the cost to operate and upgrade them over the decades. "Given the operational concept for these ships is so different than what we've experienced in the past, it's difficult for us to wrap our arms around the current model for estimating life cycle costs," Rowden acknowledged.
There's only so much smart people can do sitting around a computer running cost models, he went on – which is the value of getting the first Littoral Combat Ship, USS Freedom, into real-world operations in the Pacific. "The execution of the Freedom deployment to Singapore is going to give us some very good data," he said, "that I think will allow us to then update the models and give us some additional clarity [on] what the life cycle costs will be."
The House Armed Services seapower and power projection forces subcommittee, chaired by Rep. Randy Forbes, is holding a hearing on LCS tomorrow at 9:30 a.m.