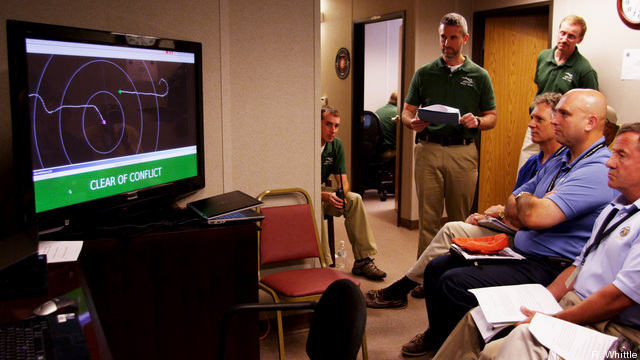 WASHINGTON: The Army has put together and demonstrated a system of ground-based "sense and avoid" technology that should show the Federal Aviation Administration the military can safely fly drones in civilian airspace without ground observers or chase planes, the project's leader tells Breaking Defense.
"We're ready now to start getting the system certified," said Viva Austin, product director for Unmanned Systems Airspace Integration Concepts in the Army's Program Executive Office for Aviation. "Once this system is certified, I think we have cleared a major hurdle. I think we're there."
The system was tested for about two weeks in early June and then demonstrated in a day-long series of actual flights and computer exercises at Dugway Proving Ground, Utah, on June 20. In one of seven "vignettes," the Ground-Based Sense And Avoid (GBSAA) system was demonstrated by flying two RQ-7B Shadow drones toward each other on a collision course until computer algorithms warned the Shadow operator using the GBSAA console not only to change course but also what heading to choose.
"They flew right at each other and the maneuver algorithm said 'turn right to 140,'" Austin said. The game of "Shadow chicken," as observers dubbed it, ended well when the Shadow operator using GBSAA put his aircraft on a course of 140 degrees and the two drones "ended up separating successfully by about two miles," Austin said.
Austin said the exercise, in which two other Army unmanned aircraft were flown and several "synthetic" sense-and-avoid scenarios were acted out using actual air traffic control radar returns from Salt Lake City and Boston, was praised by experts who attended. Those present included representatives of the Pentagon's Office of Test & Evaluation, the Army Training and Doctrine Command and companies and laboratories that helped develop and integrate the radars and software that make the GBSAA system work. The latter included Syracuse Research Corp., MIT Lincoln Laboratory and the Johns Hopkins University Applied Physics Laboratory.
"The system did exactly as we expected it to do," Austin said. "People who have never seen it before were impressed with it. People who had worked with it a long time were very impressed with how it did."
Making GBSAA work to the FAA's satisfaction is a critical step for the military toward being able to routinely fly unmanned aircraft systems (UAS) in civilian airspace for training and transit – something the Army, Air Force and Marines desperately want to be able to do as they bring their drones back from the war in Afghanistan. The issue is also important but less critical for the Navy, which owns only about 135 of the roughly 7,500 UAS in the U.S. military inventory and uses them primarily at sea.
The FAA, which has taken a wary approach toward the prospect of unmanned aircraft flying in the National Airspace System (NAS), has a mandate from Congress to ease access to the NAS for drone operators by Sept. 30, 2015, but only to the extent that can be done safely. The FAA is expected to issue new rules soon to let small UAS – the size hobbyists can fly if they stay under 400 feet and keep them in sight – be flown for law enforcement and business purposes. The larger unmanned aircraft the military flies, though, will have to be able to ensure against collisions and conflicts with other aircraft by using sense and avoid systems with capabilities equivalent to the "see and avoid" ability the FAA requires of manned aircraft.
The Army has been leading the armed services in developing GBSAA while the Air Force heads up efforts to develop Airborne Sense and Avoid systems, a much more difficult engineering task because the sensors will have to be on the aircraft, adding weight and using up electrical power.
The Army's sense of urgency about GBSAA stems partly from the fact that the service plans over the next couple of years to station Predator-derivative MQ-1C Gray Eagles at Fort Stewart, Georgia; Fort Riley, Kansas; Fort Campbell, Kentucky; Fort Bragg, North Carolina and Fort Hood, Texas. Without routine access to the NAS, Gray Eagle operators will find it difficult to train at those bases with their divisions.
The Army GBSAA system demonstrated at Dugway combines the returns of an ASR-9 air traffic control radar owned by the Air Force and located at nearby Cedar Mountain with those of two SRCTec 3D LSTAR radars, which in addition to the longitude and latitude shown by conventional air traffic control radar detect the altitude of objects in the air for a range of roughly 30 miles. The three sets of radar returns are fed through a series of data fusion computer programs that track and classify local air traffic and depict the recent flight paths of aircraft in the vicinity on a screen so the UAS operator can see not only where they are but where they have just been.
"You don't just see a dot on a screen," Austin said. "If it has a tail on it, then you can see where it has been, and kind of intuitively decipher where it's going." Beyond that, she said, the software determines which returns are actual aircraft — as opposed to snow or birds, for example – and which are on paths that could conflict with the UAS. It also color codes them red, yellow or green to tell the drone operator "what the possibilities of you running into it are," she said. For those that pose a potential conflict, the software tells the operator how close those aircraft are and, in one version of the program, how best to maneuver away.
Austin said her office was ready to ask the Army's air worthiness authority, the Aviation Engineering Directorate at Redstone Arsenal, Ala., to certify the system. After that, she said, the Army will seek an FAA Certificate of Authorization (COA) to use the GBSAA system routinely for Gray Eagle flights in the vicinity of the five bases where the MQ-1C will be stationed. The system could be used elsewhere as well, though GBSAA is only a partial solution to key issue of making it possible for UAS to mingle safely with other air traffic throughout the NAS.
"This system is intended to be put anywhere," she said. "It works with any platform and it works at any location and any operational need."
Getting the FAA to issue a COA for a GBSAA system would be a first. By eliminating the need for the ground-based observers and chase planes the FAA usually requires before it will issue a COA for drone flights in civilian airspace, then new system could save the armed services significant amounts of money, Austin said.
"We expect it'll take about a year or a little more before we get this system perfect, the way we want it, so we can go to the FAA and get a COA approved," Austin said. "We expect by March 2014, we have FAA approval and we are up and running."