Once in a while we feel the need to remind the world that we've done something fabulous and are glad to see the competition catch up. Today is one of those days. The New York Times, in a story we are sure will garner close attention on Capitol Hill, at the Pentagon and at NATO and Five Eye headquarters around the world, notes that China is moving into Djibouti.
We helpfully provide the coverage we did of this issue in May. Read on. The (deeply content) Editor.

WASHINGTON: China is pushing hard for either special port access or basing rights in the former French colony of Djibouti, a key center where US and French special operations forces operate from against terrorism in both Africa and the Middle East.
I confirmed with a senior allied official today that China is seriously pursuing a favored position in Djibouti, which also dominates the western side of the Bab al Mendeb — the Gates of Grief. The government of the allied official with whom I spoke would not allow him to be identified by position or by country, making clear just how sensitive this issue is right now.
The news broke when Djibouti's President Ismail Omar Guelleh told Agence France-Presse that talks were underway with the Chinese for what the article described as "a new military base."
"France's presence is old, and the Americans found that the position of Djibouti could help in the fight against terrorism in the region," Guelleh told AFP. "The Japanese want to protect themselves from piracy, and now the Chinese also want to protect their interests, and they are welcome."
China and Djibouti signed an agreement last year allowing PLAN ships to call, something America unsuccessfully opposed. The US signed an agreement last year with Djibouti for a 20-year lease on Camp Lemonnier, from which anti-terrorism forces operate. France also has a much reduced presence of French Foreign Legion and other troops in the former colony. The legion unit that was based there for almost 50 years left Djibouti three years ago and moved to Abu Dhabi.
The last time China visited Africa for any time — except for sending workers and investing  — it was the early 15th century. A Chinese coin and pottery from the period have been discovered along Kenya's coast and DNA tests appear to confirm reports that a Chinese junk sank off the coast near Malindi and the survivors intermarried with the locals. The ship was one of a fleet commanded by the Ming dynasty Admiral Zheng He, who reached Malindi in 1418.
Dean Cheng, a well-respected expert on the Chinese military at the conservative Heritage Foundation, said China would almost certainly describe the enriched relationship with Djibouti by referring to Admiral Zheng He's voyages. The famous eunuch led seven voyages to the barbarian edges of the world. Cheng noted that many Chinese military experts have said China made a huge strategic mistake when it allowed China's impressive ocean-going capabilities to whither after the admiral's last voyage.
However, it is unclear whether what is being discussed with Djibouti is actually a military base or a port where civilian and military Chinese ships could replenish food and fuel. If China were to actually build a military base, with guarded and secure perimeters, an armory, advanced communications and all that goes along with a military base that would be a first for China.
Rep. Randy Forbes, chairman of the House Armed Services seapower subcommittee and a close watcher of things Chinese, issued a statement yesterday warning that China is actively expanding its global reach.
"China's decision to establish a permanent base in Djibouti is the latest sign of Beijing's desire to project power and maintain a forward presence far beyond its near seas. From the Western Pacific to the Indian Ocean and now the Gulf of Aden, the potentially global reach of China's military expansion has become clear,:" Forbes said in a statement. "China's determination for permanent bases far outside their traditional area of influence should remind Washington that Beijing sees itself as a global power even while many in the United States seem content with seeing our influence recede around the world."
China has traditionally argued its expansion to ports it helps improve in places like Colombo, Sri Lanka and Gwadar, Pakistan are part of an effort to build a "string of pearls," securing its economic relationships with select countries. Last year that concept appeared to expand considerably when Chinese President Xi Jinping spoke before the Indonesian parliament, and called for a "maritime Silk Road."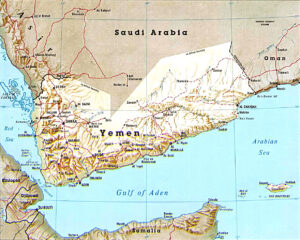 Just what form this "base" in Djibouti will take and who will run it for China will be a key factor in assessing China's intentions for the region and its wider global aspirations. "It will be very interesting to see how they characterize such a facility in their own terms, if it happens," Cheng said.
If a permanent facility is built in Djibouti it won't be China's first in Africa. A tracking, telemetry and command station to support China's manned space program was built in Namibia in July 2001, following an agreement signed the year before in Beijing.
Traditionally, China has mocked so-called hegemonic powers like the United States and Great Britain for what the Chinese see as their neocolonial pursuit of military bases and global power projection. By contrast, the Chinese cast themselves as helpers of the oppressed who seek improved trade, economic and diplomatic relations with those to whom they cozy up to.
Also, China's historic view of itself as the Middle Kingdom, the center of human civilization surrounded by barbarians hardly worth noting, has meant that for most of its history the country has worried only intermittently about relations with countries beyond its immediate neighborhood.
I aksed Cheng what precedent a military base would set for China. Would it mean the end of the Middle Kingdom paradigm? He was wary of responding and would say only that if China were to build a military base –which is not clear — then it would be operating in a fashion "very similar to those of hegemonic powers."
Cheng noted that China has made 16 maritime deployments to the Persian Gulf area. The first time they went the Chinese vessels were not allowed to call at foreign ports for replenishment. He said crew morale was lousy and the Chinese changed their behavior as a result. Now they have learned how to do underway replenishments and they call at foreign ports for fuel and food if they need to.
"In this context it should not be surprising the Chinese would think about how to do naval operations in this part of the world," Cheng said.
He noted that the Chinese are also pursuing military access to the Maldives, the tiny islands off of the Indian coast.
However, not all the Chinese efforts have gone well as they expand their maritime reach. A Chinese submarine and a sub tender docked at Colombo last October when the Chinese president visited before the Sri Lankan elections. Since then, Cheng said, the new government of Sri Lanka has ordered a review of Chinese contracts, saying many appeared to be mired in corruption, "throttled back on Chinese investments" and would probably not allow that Chinese sub to dock the next time Chinese leaders visit.
Also, "the Indians are not going be happy about this (base in Djibouti) because it's a strategic outflanking of India," Cheng predicted.
But China is clearly eyeing a wider military role in the world. On the northern flank of the Red Sea, Russian and Chinese ships are performing joint maneuvers in the Mediterranean "as we speak," noted Cheng.