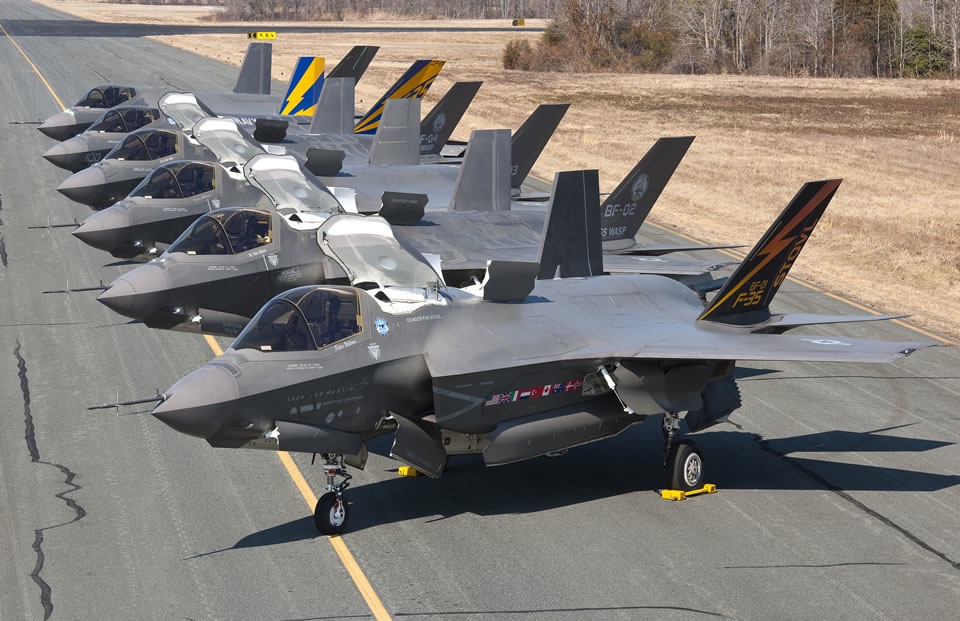 UPDATED: Safety Engine Inspections Make Trans-Atlantic Flights Impracticable  
FARNBOROUGH AIR SHOW: That whoosh sound you just heard was the air rushing out of all the Pentagon officials, Lockheed Martin employees and the myriads who still hoped the F-35Bs would fly here.
Rear Adm. John Kirby issued this statement at 7 p.m BST during a Pentagon press conference, less than 12 hours after news broke about the fleet's grounding being lifted:
"This is a limited flight clearance that includes an engine inspection regimen and a restricted flight envelope which will remain in effect until the root cause of the June 23 engine mishap is identified and corrected.
"That said, I can confirm that the Department of Defense — in concert with our partners in the U.K. — has decided not to send Marine Corps and UK F-35B aircraft across the Atlantic to participate in the Farnborough air show.
"This decision was reached after consultation with operational commanders and air worthiness authorities, despite the decision by air worthiness authorities to clear the aircraft to return to flight.
"When we consider deploying aircraft operationally we look at many factors, to include operational risk, weather and ground time. All these factors were weighted appropriately in making this difficult decision.
"While we are disappointed, we remain fully committed to the program and look forward to future opportunities to showcase its capabilities to allies and partners.
"As Secretary Hagel made clear, safety – as always — remains our top priority."
UPDATE BEGINS: At his Pentagon press conference yesterday Kirby went on to reveal that the F-35 fleet is "limited to a max speed of 0.9 Mach, 18 degrees of angle of attack. They can go from minus one to a positive three Gs and a half a stick deflection for rolls.
"More critically, after three hours of flight time, each front fan section of the — of each engine has to be inspected with a borescope. So after every three hours of flight time, you got to do a borescope inspection of the front fan section of the engine. That was a pretty significant limitation in terms of being able to fly them across the Atlantic," he told reporters.
Finally, Kirby said the military believes the F-35 fleet will be restored to"full operational capability in the near future." UPDATE ENDS
I didn't bother contacting Lockheed officials about this one. We all know what they would say.