WASHINGTON: At least the US military is attending the Paris Air Show in some force this year, but right now none of the American aircraft pictured below are scheduled to fly at the show.
Some 90 US military personnel will be on hand to maintain the aircraft and safeguard them. Here's the list of military aircraft that should appear at the show (note there'll be two F-16s and one of each of the others):
Among the other military aircraft that will be on display at the air show, which begins a week from today, is a P-51. I believe the P-51 will fly. It seems unlikely any orders will be placed for it… Also, Bell Textron's Scorpion aircraft will be on display.
One of the most intriguing aircraft to come to the show is the Pakistani JF-17 Thunder, designed and built jointly by China and Pakistan. Three of the aircraft left yesterday for Paris from Pakistan. One will fly, one will be on static display and the other is, presumably, a backup. The aircraft is presumably being shown to see if Pakistan and China can attract any export customers. It's currently scheduled to fly on Tuesday afternoon.
Perhaps the most important flight will be that of the Airbus A400M. A plane crashed on May 9, killing four and injuring two crew members. The cause has been identified — incorrectly installed flight software — and all aircraft checked and cleared, Airbus says. The cargo aircraft is slated to fly only once at Paris, on Wednesday.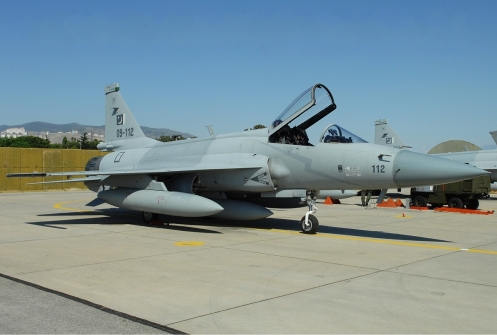 Since this is the Paris Air Show, we will see plenty of French aircraft. A Rafale fighter is scheduled to take to the air, on Wednesday. Also on hand for the crowds to see on the ground are the Mirage 2000, the CASA 295, the Eurofighter Typhoon, and a NH90 helicopter.
How many aircraft will be on display there in total? 120. For those getting ready for the show, the weather forecast for Paris looks much better than it did last week. And don't forget to download the Paris Air Show app. It looks much improved.