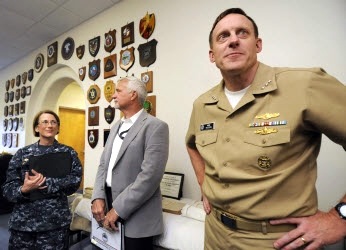 PENTAGON: Vice Adm. Michael RogersRogers is a cryptologist who has sailed to the pinnacle of his speciality. He is commander of the Navy's 10th Fleet and U.S. Fleet Cyber Command.
A source with long experience in NSA and Cyber Command was pithy in his assessment of Roger's future as he replaces Army Gen. Keith Alexander at NSA and CyberCom. "Let's face it, this will be a disaster recovery mission above and beyond all the glass balls falling when hurricane Alexander leaves — the man is a force of nature keeps a lot of balls in the air by sheer force of will — but as a result there will be a lot of wreckage when he leaves, as there is going to be a huge vacuum in the wake of his departure. What a lame, no-win position to walk into at this point in the agency's history," the source said. These comments aren't so much about the wreckage wrought by Edward Snowden's illegal disclosures as the pressures that have built up over the unresolved policy conflicts between Cyber Command, NSA, Strategic Command and the Department of Homeland Security.
In fact, the argument can be made that Rogers, not being responsible for what NSA did before his arrival, will have something of a clean slate and be able to make decisions with much less chance of automatic second-guessing by some in Congress and civil society. His nomination hearings are likely to be lively.
Hagel was, predictably, much more optimistic about Rogers' future, especially in terms of the post-Snowden period. "I am also confident that Admiral Rogers has the wisdom to help balance the demands of security, privacy, and liberty in our digital age." Hope so.