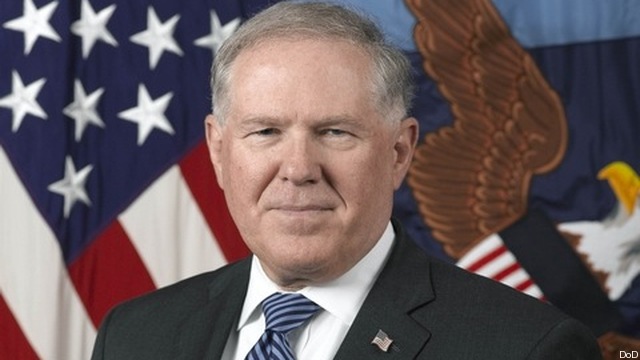 PENTAGON: Once upon a time there was the Packard Commission, convened during the Reagan Administration to find fixes for the Pentagon's terrible record in buying weapons. They took too long, cost too much and often didn't do what they were supposed to do. Since then, things have only gotten worse: weapons continue to cost too much, take too long and often don't do what they are supposed to do.
The Packard Commission, which produced its report in 1986, called for creation of an acquisition czar and recommended an array of other changes to what it then said was not a "rational system" for buying and building America's weapons. Frank Kendall, who occupies the position of czar (known formally as the undersecretary of defense for acquisition, technology and logistics) today announced the Obama Administration's second iteration of a rash of reforms he hopes and expects will begin to fix things.
The odds, I have to say, are not in his favor given the Pentagon's performance over the quarter of a century since the commission met. During his news conference here today, I asked Kendall what he could do that would really make a difference across the Pentagon's many weapons programs. After all, the Government Accountability Office and others have documented that acquisition has not improved on average since the Packard Commission.
His response is well worth noting: "One of the things I am motivated by is the enormous extent of our poor performance."
Given that no one can accuse Kendall of not wanting things to improve, let's look at the 36 items he laid out as Better Buying Power 2.0.
Among the more compelling:
Exportability: The Pentagon will try harder to design even highly capable weapons systems so they can be exported, or at least can be built with changes so they can be exported. As the defense budget shrinks over the next five years defense companies will rely more heavily on their ability to export systems and thus make better profits. One of the systems currently being tested as a model for this is the sensitive Next Generation Jammer, being fought over by four companies.
Workforce Rewards and Accountability: The Defense Department must reward those who perform well in managing the highly complex and costly weapons programs, recognizing them with better jobs, Kendall said. But there "should be consequences for poor management also," he said. He said people have been punished but it is usually done "quietly." One wonders what the effect would be if people were fired and it was made very public. Of course, the opposite must occur as well: program managers who save money and bring programs in as promised (or better) should be publicly praised and rewarded.
Enforcing Affordability Caps: "After two years of imposing affordability caps, we are now at the the point where this initiative will have to be enforced if it is going to be successful at preventing spending on products that will be too expensive to be procured in meaningful quantities," Kendall wrote in a Nov. 13 memo announcing BBP 2.0.
Eliminate Redundancy: This will be one of the toughest things Kendall and his colleagues will try to accomplish. In fairly plain English, it means that the regular practice of each service building its own weapon — even though someone else may be building something very similar — must be curtailed. At its root, this means truly policing the requirements process — which acquisition officials don't have much influence over. Kendall's memo offers this rather daunting prescription: "The department will identify synergies for existing and planned programs across the services during MDD reviews, Program Budget Reviews (PB build) and across all levels of the buy." Hmm.
To the end of eliminating redundancy, Kendall also things they must "build stronger partnerships with the requirements community to control costs." This will depend almost entirely on personal relationships and the exercise of leadership, unless laws and regulations can be changed.
Don't Use Fixed Price Contracts For Development: This will worry Congress. But Kendall said in response to a reporter's question that he is "nervous about fixed price in development,"
a response space acquisition experts will nod sagely about. No one in the space business believes fixed price works during the riskiest portion of buying and developing a program. Development is exactly when the government should be willing to flex a bit on costs, many acquisition experts believe. It sounds as if the rest of the Defense Department is learning the lessons the space enterprise developed at such great cost over the last decade.
Increased Use of Fixed Price Incentive Contracts in LRIP: When you get to the stage after development you want to be able to punish and reward your contractor. Doing so during the "earlier lots" of Low Rate Initial Production is particularly useful, Kendall's memo makes clear.
Create A Superior Supplier Incentive Program: Although this was first mentioned during BBP 1.0, it "has not been implemented." The Navy is building a pilot program so the Pentagon can reward contractors "who demonstrate superior performance by focusing on cost, schedule performance, quality and responsiveness," Kendall's memo says.
Finally, an idea first implemented by John Young when he held Kendall's job, is back: competitive prototyping. The first program this was really used in was the Joint Air to Ground Missile (JAGM), a vigorous competition between Raytheon and Lockheed Martin. But Kendall said a study done of 10 such programs found that the approach was not doing the job of reducing risk during the Technology Development phase of a program. Instead, he said, industry wanted to win the contract so it could move to the next phase and was more intent on providing good capabilities. The study Kendall cited looked at JAGM as well as: Small Diameter Bomb II; Joint Strike Fighter (CD phase); Ground Combat Vehicle; Joint Light Tactical Vehicle; Joint & Allied Threat Alerting System; Nett Warrior; and the Integrated Air & Missile Defense/Battle Command System.