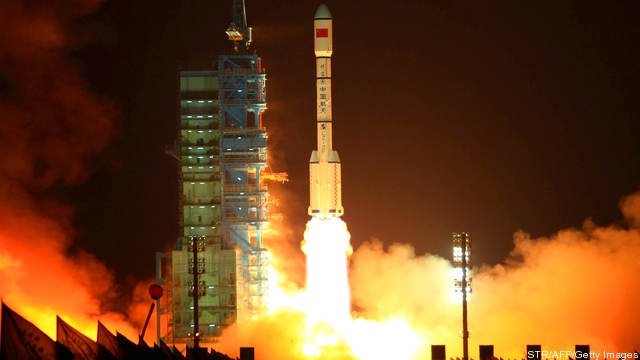 WASHINGTON: The Pentagon's Defense Science Board announced Friday it is holding a series of classified meetings in California next week to chew through issues the Pentagon might not see coming for its forthcoming "2018 Summer Study on Strategic Surprise" report.
The study is slated to consider "what potential technological capabilities may not be sufficiently acted upon by the Department of Defense in the decade to come, that will lead to U.S. regrets in 2028," according to a memo sent to the board by Under Secretary of Defense for Research and Engineering Michael Griffin.
Griffin and other Pentagon leaders have made no secret of their concerns over technological advances made by China and Russia in recent years in areas like ballistic missiles, undersea warfare, space, and electronic warfare, all made while the U.S. military was pouring hundreds of billions of dollars into fighting insurgents in Iraq and Afghanistan.
"We've been on holiday for 25 years and maybe a little bit more," Griffin said at the Hudson Institute earlier this year, noting that since the end of the Cold War, the Pentagon has only fielded a handful of truly new weapons systems.
Meeting with reporters last month, Griffin highlighted his concern over hypersonic weapons, a field in which the Chinese and Russians have made considerable headway, leaving the Pentagon concerned about the growing parity with its own capabilities.
"We are, have been, will remain the world leader in this research area," he said, though he noted that Washington hasn't done as much as it could have in recent years to stay ahead. "We didn't see a need for it. But our adversaries get a vote, and they voted. So we're going to see their hand and raise them one, in both offensive and defensive capabilities."
To that end, Griffin promised, "you're going to see our testing pace stepping up, and you're going to see capability delivery from the early '20s right through the decade."
But it's not only hypersonics. The Pentagon is also busily buying new sonobuoys to track Russian submarines, and is working through ways to counter the standoff capabilities that China is building up in the South China Sea.  
Military leaders are also trying to put the finishing touches on a few long-delayed reports that speak to some of this anxiety.
The Missile Defense Review — initially expected around February — is still churning through revisions and additions after its focus on ballistic missiles was widened to encompass the range of possible threats not only from Iran and North Korea, but China, Russia, and advanced insurgent groups with access to powerful weapons.
Likewise, the Defense Industrial Base report, submitted to the White House in April, still awaits final signoffs somewhere in the bowels of the West Wing. As Breaking Defense reported exclusively this week however, it likely won't be as expansive as many had hoped, instead focusing on near-term fixes that could be crucial in the event of an unexpected war.    
The series of day-long briefings in California next week will be conducted by DoD officials and board members in the National Academy of Sciences building in Irvine California, about as far away — at least physically — one can get from the Pentagon and remain in the continental United States.
The final meeting on Friday will include "a classified briefing to invited senior DOD leaders to provide the DSB's advice and recommendations," according to an announcement in the Federal Register.
The Pentagon did not respond to questions from Breaking Defense about who from the Pentagon will be attending the meetings, and if Griffin will attend.
The meeting will be hosted by Craig Fields, the DSB's chair, and Eric Evans, co-chair.