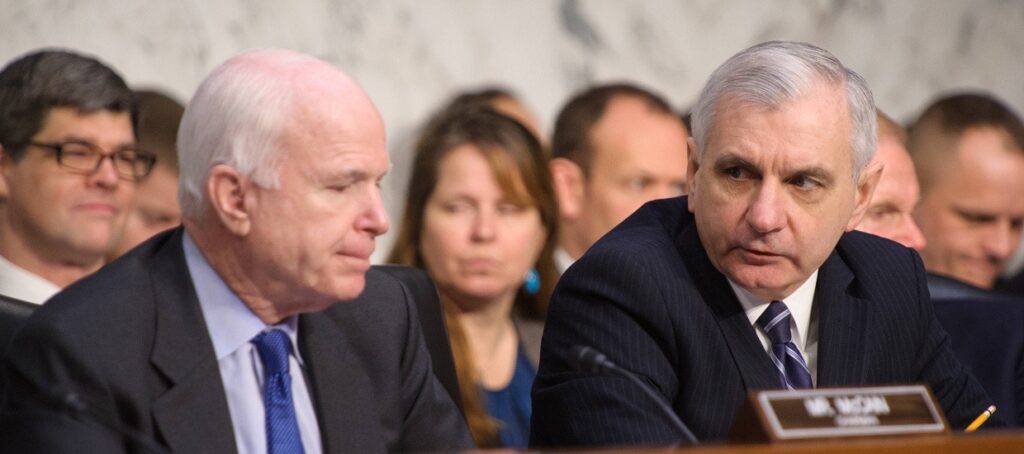 CAPITOL HILL: Two chairmen, two very different personalities, two different approaches to one goal: fixing Pentagon procurement. Now their bills are heading towards what may be a happy marriage or an ugly collision.
On the south side of Capitol Hill today, House Armed Services chairman Mac Thornberry is shepherding his committee's version of the 2016 National Defense Authorization Act towards the House floor. The deceptively soft-spoken Thornberry, one of the sharpest and most effective defense legislators around, has pursued a characteristically cautious, consensus-seeking approach to acquisition reform — albeit accompanied by a more than-year-long drumbeat of publicity.
On the north side, meanwhile, the normally gloriously irascible Sen. John McCain was uncharacteristically reticent about his committee's acquisition reform plan. We understand the Senate Armed Services Committee package is significantly more ambitious than Thornberry's slow-and-steady approach on the House side. When Sydney asked the Senator for a comparison today, however, he demurred.
"I'm supposed to get together with Mac Thornberry next week, [but] except for broadest outlines, I have not seen their proposal," McCain told the reporters pressing in around him. "They have some of the changes that I think are good and they have some that are not in ours."
McCain declined to critique the House package. "My job is to try to get results," he said. "That means that sometimes I may have to make compromises, as terrible a word as that is."
Could the Senator give specifics of his bill, another reporter asked? "No, not yet, because they have not been vetted, they're in the full committee markup" — scheduled for tomorrow — "and so if I told you something that gets changed in the process, it would not be legit."
Isn't it hard for the famously outspoken Senator to hold his tongue like this? McCain just chuckled.
Much of the acquisition reform package, though not, falls under the Senate Armed Services subcommittee on readiness, helmed by McCain protégé Kelly Ayotte, which held an open but cryptic session to mark up their portion of the 2016 NDAA. Ayotte herself introduced language to end lowest-bidder competitions ("Lowest Price, Technically Acceptable," or LPTA) for lifesaving gear like body armor. Otherwise, however, the markup didn't detail any of the 50-plus provisions on acquisition reform in the bill, it just passed them: Staff had briefed the senators beforehand in private.
Overall, senators and staff stayed elusive today, exchanging information-free pleasantries with reporters or hurrying past with carefully averted eyes like a too-busy waiter at a restaurant. Unlike its House counterpart, SASC traditionally keeps its markups behind closed doors. This year, three of six sessions were actually open, but that didn't necessarily mean informative. (We have a difference of editorial opinion at Breaking Defense about whether more openness is a good idea: Sydney thinks Congress's post-Watergate crusade for greater transparency has led largely to grandstanding and paralysis at the expense of getting anything done; Colin thinks Sydney is a bit ignorant).
On the House side, Thornberry met with reporters in what is charmingly termed "a gaggle" to discuss the House bill's prospects as it presumably heads to a Thursday night or Friday morning floor vote. There are over 350 amendments already registered with the House Rules Committee.
(For those who don't follow the ins and outs of Congress, the Rules Committee is the hammer of the House leadership. It is stacked with more majority members than minority so the majority wins every time. Rules chairmen are hand-picked legislative thugs who clear the House of bills the leadership doesn't like. Nothing gets to the House floor until it goes through Rules. If the House leadership wants to stop something with brute force that's where they can do it. It's also where favors can be done for those who think "correctly." If you want a glimpse of just how important Rules is, read this from the committee's own website: "The Committee is commonly known as "The Speaker's Committee" because it is the mechanism that the Speaker uses to maintain control of the House Floor, and was chaired by the Speaker until 1910. Because of the vast power wielded by the Rules Committee, its ratio has traditionally been weighted in favor of the majority party, and has been in its "2 to 1 1" (9 majority and 4 minority members) configuration since the late 1970s.")
Thornberry didn't let drop a lot of news of interest to our readers. I asked him about the amended multiyear authority he wants to pass. It would strip the current legislation of the requirement that a program demonstrate savings of at least 10 percent over the period of the multiyear authorization. Thornberry argues that the current goal is too inflexible. If we can save money — even if it's not as much as 10 percent — let's do it. Frank Kendall, the head of Pentagon acquisition, likes to wield that 10 percent to not so gently nudge industry to get savings that are as high as possible.
Thornberry said he'd met with Kendall recently and discussed this. He acknowledged Kendall's views but made it pretty clear that he didn't agree. However, he also said that the legislation can change as the bill goes forward and seemed to indicate he was willing to listen. Losing a handy prod like that percentage requirement would, I think, weaken DoD's ability to push for cost savings. For an example, look at the battle between former SecDef Gates and former Rep. Todd Akin over F/A-18 multyear savings. Akin really wanted multiyear authority to help keep the Boeing production line open. Gates really wanted at least the minimum savings required by law and regulation. I'm betting McCain is loath to lose that prod and that this will drop out in conference.