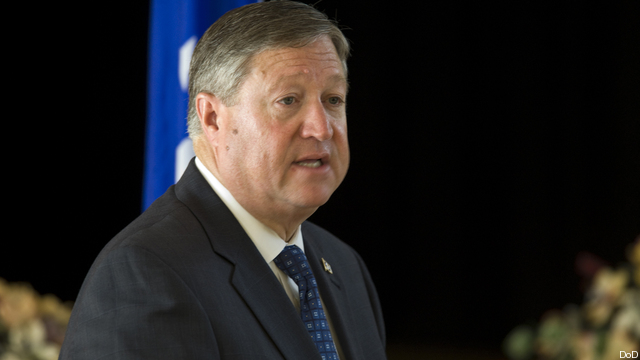 AFA Winter, ORLANDO: The latest looming casualty to the congressional budget mess is Boeing's KC-46 tanker contract, which is in peril unless Congress approves roughly $1 billion in funding.
If you want some idea of just how much uncertainty and confusion sequestration and the Continuing Resolution are generating, this latest mess is a good example. The Secretary of the Air Force cannot tell exactly how much money is needed or when because of the overlapping confusion caused by the CR and sequestration.
"There are too many variables in there," to pin down exactly how much money is needed and when it is needed Donley told reporters during a Q and A session with reporters at the Air Force's annual conference here.
But the effect will be pretty certain. No money, no contract. It took more than a decade to award a contract for the airborne tanker, at least one major scandal and a politically damaging miffed contract award and now, because of Congress' inability to pass a defense appropriations bill and the prospect of the automatic budget cuts known as sequestration, the current fixed price contract — praised as a good deal for taxpayers by many — is endangered.
Boeing did not provide any detailed information when I contacted them, taking refuge in a canned statement:
"It is too early to speculate on what deep defense budget cuts might mean for individual programs or the facilities that support them. That said, Boeing has been anticipating declining U.S. defense budgets for several years and we have been making the changes necessary to compete and grow in this environment." OK.
There are many more potential disruptions caused by the twin threat of the CR and sequester cited by Donley and Air Force Chief of Staff Gen. Mark Welsh:
It will cost America an additional $1 billion to buy the next Space Based Infrared System (SBIRS) and the Advanced Extremely High Frequency (AEHF) satellites due to interruptions in work flow. That's $1 billion for both satellites, not $1 billion for each one.
As many as 8,000 airmen could be delayed promotions because they won't be able to travel and take required courses.

Aspiring pilots won't be able to be certified to fly their planes. Donley said "curtailing pilot training could take over a decade to remedy."

Delays in major maintenance at depots "would affect more than 30 aircraft types and ground some aircraft," Donley said.

Conferences will continue to be canceled or whittled back. Three more Air Force conferences have been canceled and more will be. It ain't saving much money, as Donley made clear, noting that $4 million has been saved so far.
I'd characterize the overall atmosphere here at AFA as glumly resolute. Nobody can quite believe that Congress is going to be as stupid and irresponsible as it looks likely to be, but most people figure that they can cope with the disruptions, uncertainty and extra costs that will result because, after all, we're Americans. But, as one industry observer put it wryly yesterday: "Can you believe those guys on the Hill?"