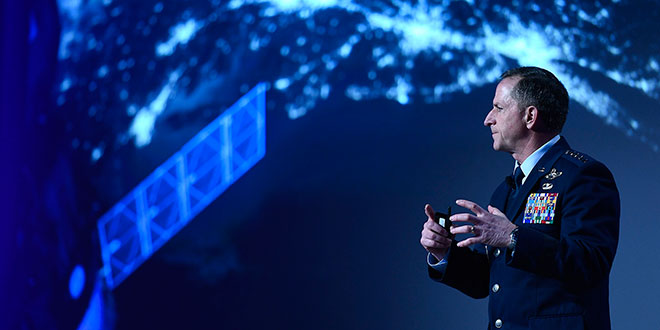 WASHINGTON: The first concrete step to creating an independent force of trained and equipped space warriors occurred today — but that's not the most important step on space the nation should take, the Air Force Chief of Staff said today.
Setting up Space Command, so the US can more effectively fight any war that involves space assets, is the more important than creating an independent space force. That was the gist of what Gen. David Goldfein said this morning a few hours before President Trump signed a directive directing the military to create the Space Force.
The service, as has been reported, will be nested within the Air Force. Goldfein made the relationship clearer today, comparing the head of the Space Force's relationship to him as comparable to the one between the Marine Commandant and the Chief of Naval Operations. Both will report to the Air Force Secretary. (This "Space Corps" model was actually proposed by then-House Strategic Forces subcommittee chairman Mike Rogers last year, but Air Force leaders rejected it as too radical a reform — until Trump decided to jump in).
This structure means Air Force Secretary Heather Wilson will continue to preside over the space budget, but it also means that the Space Force will have leverage it can use outside of the Air Force to lobby (er, educate) Congress to get more money, as the Marine Corps has long done. While the culture of the Space Force is unlikely to be as free-wheeling and appealing as that of the Marines, being a separate entity would seem to give them the freedom to talk to Congress and the defense industry in ways space warriors haven't had before.
From what we're hearing, the force's headquarter's budget will be tiny, less than $100 million. It's another clear sign of lack of support within the Pentagon for a major shift to its organizations to please President Trump's sudden adoption of the Space Force. (I'm looking forward to the Ph.D analyses of rhetoric's role in the president's decision to create both Space Command and the Space Force. If they didn't sound so cool, would the changes have been made?)
Space Policy Directive 4 directs the Defense Secretary to write a legislative proposal for Congress to set up the Space Force and create a civilian undersecretary of the Air Force for space, who will be a Senate-confirmable position. it also recommits the administration to creating Space Command, a more complicated, and potentially, expensive enterprise than the Space Force, most of which already exists.
Very importantly, the Space Force will not include any elements of either civilian space — NASA and NOAA — or satellite intelligence — the National Reconnaissance Office and National Security Agency. However, the Pentagon and Director of National Intelligence "shall create and enhance mechanisms for collaboration between the Department of Defense and the United States Intelligence Community in order to increase unity of effort and the effectiveness of space operations." How, exactly? Well, they're to provide a report within 180 days with the details.
The first congressional reaction to Trump's signing of SPD 4 came from one of the staunchest opponents to a Space Corps or Space Force, Rep. Mike Turner, ranking member of the House Armed Services strategic forces subcommittee. It was a much softer take than we've heard before. He said it "is the first step in a process which may create the capabilities we need to ensure our success in the domain of space. I believe it is important that space capabilities remain under the Air Force's domain. As we look towards Congress's responsibility in legislating further on this issue, I look forward to working with my counterparts on the Strategic Forces Subcommittee to ensure that the President's proposal satisfies our space needs, is cost effective, and results in increased capabilities."
It goes without saying that Turner's comments don't carry as much weight as they once did, since he is a Republican in a Democratic House. The Democratic chairman of the House Armed Services, Rep. Adam Smith, remains a pretty staunch opponent of a Space Force. Add to that the fact that Sen. James Inhofe, chairman of the Senate Armed Services Committee, is decidedly lukewarm on the whole Space Force concept. Without Senate approval and support, the administration plan is highly unlikely to go anywhere — presuming it ever makes it out of the House.
One other space-related tidbit. The chief of staff said the air chiefs from 16 countries had so far signed up for the first-ever global meeting of chiefs to discuss space. It will be held April 1st, during this year's Space Symposium in Colorado Springs (which we will be covering.) That suggests a range of coordination on space warfare that should really irritate Russia and China. Look for them to increase the pressure in international fora for support for their proposed space guidelines, which have little support among other space-faring nations.
Goldfein touched a number of other issues, including the upcoming budget. Only tidbit about the budget? It will include $135 billion for weapons that can penetrate China and Russia's A2/AD zones. That presumably will include everything from stealthy B-21s and F-35s, to the decidedly unstealthy KC-46 tankers that refuel them, to a host of other sensors and weapons. But Goldfein was not specific.
Fighter Fight
What about new F-15s? While they might not be part of Goldfein's $135 billion figure, since they are not considered weapons likely to be used in the first few days of a major war, we know our colleague Tony Cappaccio reported today that "the F-15s will be proposed in the fiscal 2020 budget, expected around March 11, as the first of a potential 80-plane purchase over the next five years." And Tony is rarely wrong on budget issues.
I pressed Goldfein for details on the F-35's performance at the latest Red Flag exercises at Nellis Air Force Base. He offered none, but did say the plane "met or exceeded our expectations at prosecuting targets and surviving." More importantly to him, he said commanders "are seeing the greatest strides" forward in the plane's ability to gather, analyze and share information from and to a wide range of sources across all five "domains" of warfare: land, sea, air, space, and cyberspace.
"That is why you are hearing the Israeli Air Chief saying, 'I'm not integrating the F-35 into my air force; I'm integrating my air force into the F-35."